Toronto Billboard and OOH Advertising
Bring your business to new heights with customizable and versatile Toronto Billboard & OOH advertising.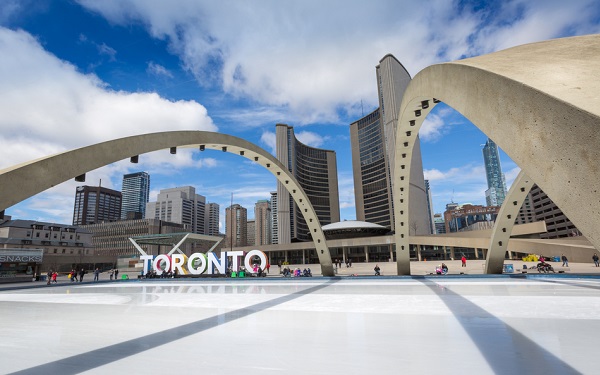 Why OOH in Toronto?
Make your Toronto billboard a fixture in all seasons. A major metropolis with cultural festivals, natural scenery, outdoor activities, and a thriving sports scene, this Canadian city is the perfect home for fast-paced, outdoor and digital billboard campaigns. Toronto is also the state capital of Ontario, which means that it's an international finance and business hub that attracts savvy consumers, trendy residents, international visitors, and more.
Where to OOH Advertise in Toronto
Canada's largest city features countless venues visible by foot, car, and plane. Locate your downtown Toronto billboard amid upscale Bloor Street's boutiques and shopping destinations or situate your digital poster in one of the city's multistory mall complexes.
Explore a giant digital billboard in downtown Toronto or the beautiful Younge Dundas Square. Offering a location in close geographical proximity to New York, Toronoto can help get your company's advertisement in front of locals and tourists alike.
When your outdoor advertising stands tall along Highway 401, it's easy to captivate audiences on the go. It's also easy to reach tourists and locals at Toronto International Airport, the country's busiest and largest travel hub.
No matter which Toronto location you choose, our world-class services and intuitive management system ensure that your brand will garner widespread attention and appeal.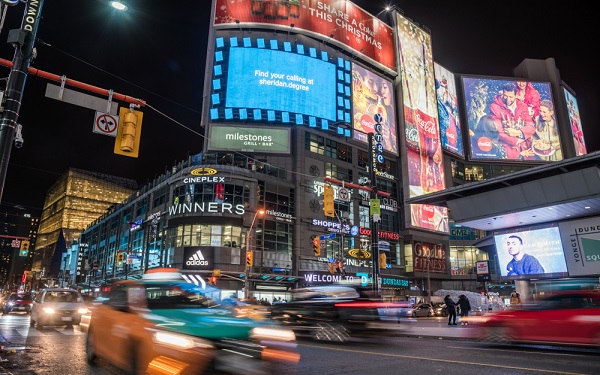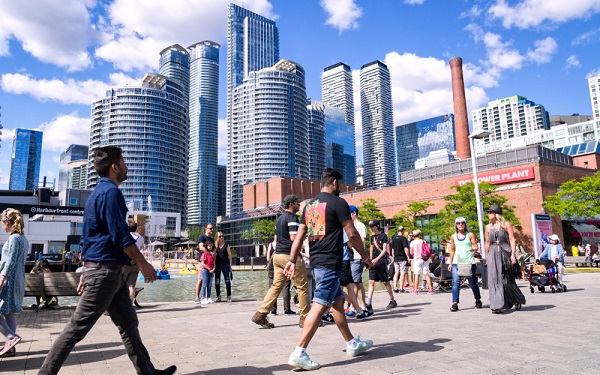 Demographics of Toronto, Ontario
In this diverse metropolitan area, there are as many potential audiences to spread your brand awareness as there are neighborhoods. Craft and refine your unique marketing campaign amid Toronto's international business, renowned university campuses, rich cultural communities, and more. Despite the city's varied interests, there's one thing that Torontonians share: a powerful love for the city they call home. What does this mean for any person living in Toronto? Happy residents, enthusiastic consumers, and a lasting impact.
Costs and Prices of OOH in Toronto
Toronto billboard advertising cost varies by size and type of billboard. But no matter which option you choose, you're receiving the benefits of diverse audience options, high urban walkability, and carefully curated advertising venues to bring awareness to your campaign.
The average cost of different outdoor advertising billboards hovers around: 
Large and medium bulletin billboards: $800–$5,000

Large and medium digital billboards: $1,000–$7,000

Street furniture: $500–$5,500
No matter which style of OOH you select, you'll enjoy peak visibility and premium downtown locations. When you invest in your brand through OOH advertising in Toronto, the sky is the limit.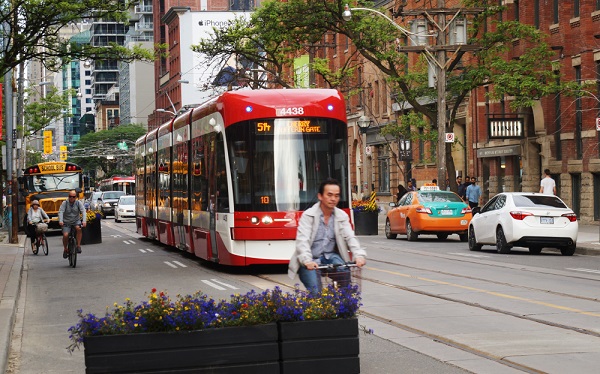 Start Your OOH Advertising Campaign With True Impact Media
Advertisers can easily launch a lasting marketing campaign in Toronto with True Impact Media. We've streamlined our advertising process for long-term ease and adaptability. With everything from tailored planning and design to an intuitive management platform, you'll control your brand image throughout the entire process. Get more information today and learn how to make the most out of your advertising campaign in Toronto today. 
Contact us today to make your mark on this magnificent city.