The Future of Buying Outdoor Advertising is Here
The fastest, easiest and smartest way to find, buy and manage billboard advertising campaigns
Millions of available advertising spaces
Interactive online
inventory map
Powerful and flexible planning tools
Detailed campaign analytics
Feel the power of our platform
Build a successful advertising campaign in 3 steps!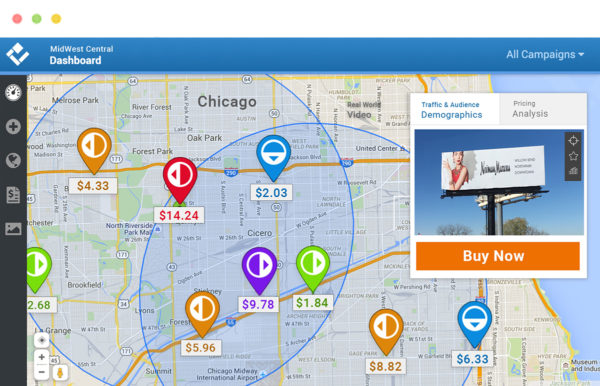 1.CREATE A REQUEST FOR PROPOSAL
Easily create RFP's that get granular so you can find Out-of-home (OOH) media that matches your location, time frame, budget, and reaches your audience best. Set parameters that meet all your KPI's.
2. REVIEW ALL OOH AVAILABILITY ONLINE
Review available OOH operator inventory across all desired markets in a one-stop-shop experience.  Maximize marketing dollars using our OOH platform; plan and filter to best optimize toward the campaign objectives.
3. BOOK AND LAUNCH YOUR CAMPAIGN
Confirm the selected inventory and buy with confidence.  True Impact Media will handle the rest; worry-free and on-time printing, shipping and installation
Build Your OOH Campaign Here.
Build your campaign in just few clicks
Outdoor advertising all over the US
Find an OOH advertising medium that fits your campaign best
Billboards
Bulletins
Digital Billboards
Posters
Junior Posters
Wallscapes
Street Furniture
Bus Shelters

Bus Benches

Newsracks

Newsstands

Phone Kiosks

Urban Panels

Digital street furniture
Transit
Airports
Digital Airports
Buses
Rail/Subway
Digital Transit
Mobile Billboards
Taxis
Digital Taxis
Truckside
Place-based OOH
Cinema
Arenas & Stadiums
Wall Murals
Digital Place-based
Interior Place-based
Exterior Place-based
Digital Shopping Mall
In-Window Street Ads
Shopping Mall Indoor Ads
Let True Impact get your business in front of potential advertisers