While QR codes or "Quick Response codes" have been around for a while now, they've only recently become a normal part of our day-to-day lives. They've become a quick way for businesses to pass information to their customers without contact.
QR codes have since become a valuable tool in various industries, and one major benefactor is the out-of-home (OOH) advertising sector.
In this guide, we discuss the application of QR codes in interactive advertising, OOH marketing tips, and how the two come together as a driving force behind your advertising campaign's success.
#1 Engage Users Instantly
With an QR code OOH ad, you have a few seconds to pass your message to the target audience before they're distracted by, say, a passing bicycle. Even so, most people may not remember the ad for long enough to take action unless they see it again.
QR codes increase the value of OOH ads by giving the audience a chance to take immediate action.
For instance, if you're offering a flash sale on your e-commerce website, a billboard on a busy highway will attract numerous glances from passersby. If there's a QR code accompanying your campaign, those interested will scan it on their mobile device and get directed to your landing page instantly. Even if they don't end up buying anything in the sale, they'll have visited your website and increased your traffic.
#2 Tap Into More Creative Spaces
A bus stop poster is a small space to fit all the details of a local rock concert:
Band lineup
Venue
Time
Date
Ticket price and purchasing information
All of that information in one poster could be a little too much to absorb.
This is why, traditionally, OOH ads could only hold a simple and memorable call to action. Something like "follow us on social media" or "visit our website" was the most you could do to attract leads.
Thanks to QR codes, businesses can now pack as much information as they like in an ad campaign. The bus stop poster can now hold only the vital information, with the rest of the juicy details stored in the code. When someone scans it, they'll be directed to your portal, where you have a little more time and creative space to convince them.
#3 Facilitate Data Collection
In any marketing campaign, data is the fuel that keeps things running, and the compass to let you know if you're headed in the right direction.1 A QR code puts a tag on every OOH ad, turning it into a rich source of customer data.
You'll be able to track every click from the starting point to the end, giving you insight into things like:
Ad formatting
Ad placement
Campaign messaging

From there, you can gain a better understanding of how these factors affect the rates of engagement and conversion. This way, you'll know the tactics that don't work and refine them accordingly, and repeat the ones that are effective for better results.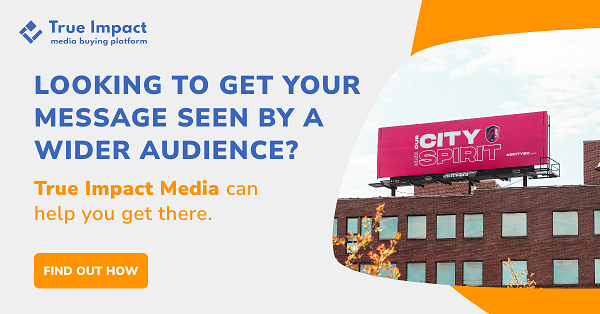 How to Use QR Codes Effectively in OOH Advertising
If you've decided to include QR Codes in your digital OOH marketing campaign, here are a few tips you can apply when placing them to get the best result.
Place the Code at Eye Level
The QR code should be placed at the convenience of the target audience. The best placement is at eye level with your target audience whenever possible. If the code is on the door of a store, you want it to be somewhere everyone can see it easily when standing.
Choose the Right Size
Since OOH ads come in different sizes, from tiny hand posters to gigantic billboards, there's no one-fits-all size you can use. You should ensure that the QR code is big enough to be scanned from a distance, but not too big that it distracts the viewer from your ad.
A rule of thumb is to ensure that the code is visible and scannable from at least seven feet away since not all customers will be up close and personal with the ad. They should find it easy to point and shoot even if they're on the move.
Use Only One Code
Having an abundance of choices can be downright overwhelming. This is why it's good practice to use only one call to action with each ad in your campaign.
In an OOH ad with a QR code, the end goal is to get the potential customer to take out their device and scan away. When there are multiple codes to scan, the consumer could find it hard to know what to focus on, and they may end up not scanning any of them at all.
Incorporate QR Codes into Your Next OOH Campaign with True Impact Media
Out-of-home advertising is alive and kicking, and you might be missing out on its benefits. Fortunately, we're here to help.
At True Impact Media, we've been helping organizations with their out-of-home campaigns for decades now, and have access to all of the OOH ad units you can imagine. Contact us today and let us take your marketing campaign to the next level with QR codes and other exciting technologies.
Sources
ISACA. The Importance of Data Analytics in an Organisation https://www.isaca.org/membership/membership-benefits/benefits-partner-content/career-guidance-articles/the-importance-of-data-analytics-in-an-organisation
Forbes. Innovate Or Die: How A Lack Of Innovation Can Cause Business Failure. https://www.forbes.com/sites/biancamillercole/2019/01/10/innovate-or-die-how-a-lack-of-innovation-can-cause-business-failure/?sh=2c105ee82fcb