More and more companies are taking advantage of mobile advertising. When it comes to options for out-of-home advertising (OOH), there are many time-tested ways to reach consumers. From the classic static billboard along the highway to innovative digital kiosks, all kinds of OOH advertisements are flourishing in the digital age.
However, there's one option that effortlessly blends the appeal of large-scale billboard design with a level of mobility and versatility that other methods can only dream of. We're talking about the mobile billboard.
Curious to learn more about this unique and compelling advertising method? Keep reading for all you need to know about mobile billboards—plus, the top five benefits they have to offer.
What Are Mobile Billboards?
Mobile billboards are a type of transit advertising. Large poster advertisements are attached to trucks that drive those advertisements around, attracting the attention of pedestrian consumers, motorists, and other commuters.1
Mobile billboards are a tech-savvy way to reach consumers on the go, featuring options for advertising styles that include:
Static advertisements
Electronic advertisements
Video advertisements
Although mobile billboards can be found almost anywhere, they're featured most prominently in metropolitan areas, such as large and mid-size cities. Effectively, they're ads on wheels that are uniquely positioned to meet audiences wherever they are, whenever they go there.
Five Key Benefits of Mobile Billboard Advertising
Mobile billboards offer a range of advertising benefits for companies. From increasing conversions to capabilities for more highly-targeted advertising, mobile billboards are an excellent way to accelerate your OOH advertising efforts.
To that end, here are the top five benefits of advertising on a mobile billboard truck
#1 They're Highly Targeted
When your ad is emblazoned on the side of a mobile billboard, it can go wherever you want it to go. On the surface, this might not seem like a big deal. After all, can't you find bulletin options in various sizes and formats in most areas?
While it's true that OOH advertising is a robust market, you shouldn't mistake the prevalence of ads for the ability to take those ads to the neighborhoods where the consumers who are most likely to respond live.
When it comes to targeted advertising, a mobile billboard offers the following advantages:
Route planning – When your billboard is cruising all over town, you can choose specific routes that boost your chances of being seen.2 You can plan your route based on elements like traffic conditions, demographic details, and special events happening nearby.
Audience-specific – You can also target specific audiences in areas at any time of the day or night based on your ad, services, and consumer habits.
#2 They Reach Large Audiences
For most billboard advertising, proximity to the advertised business is a key element to success, especially in attracting potential customers.
They rely on foot and vehicular traffic to turn nearby commuters into in-store consumers. But their stationary nature may limit the number of new eyes likely to see your ad.
On the other hand, mobile billboards can reach much larger audiences. Instead of being confined to a single wall or location, the entire city is their canvas. They go everywhere, increasing your chances of being seen by motorists, pedestrians, cyclists, and everything in between, all over town.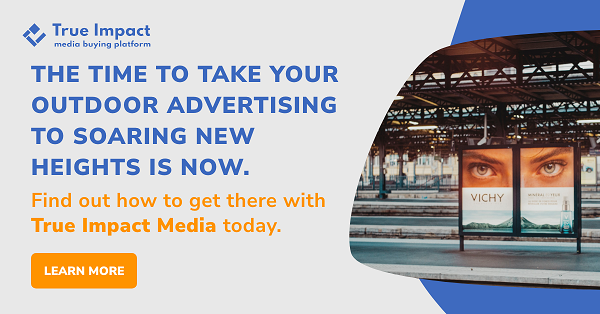 #3 They're More Affordable Than Other Options
Among advertising options, you'd be hard-pressed to find a bigger bang for your buck than most OOH methods. Unlike internet ads, in-app promotions, and other online ways of advertising, transit advertising guarantees you greater visibility for a better price.
Even compared to other forms of OOH advertising, like static billboards and print ads, mobile billboard trucks can earn you more impressions on the dollar.2
#4 Know Where Your Ad Goes
GPS technology makes it possible for you to plan and track where your ad goes and how it gets there. Aside from audience targeting, knowing where an ad has been can give you valuable insight into how your marketing campaign is performing in various areas, allowing you to:
Streamline your marketing strategy
Optimize your advertising efforts
#5 They're Electronic and Digital-Friendly
Although mobile billboards come in static options, they're exceedingly popular options for electronic and digital advertising as well. Eye-catching, dynamic visuals are a clever way to get them to stand out on busy streets.
Plus, digital billboards, even on mobile trucks, offer valuable tools to advertisers like:
Real-time updating
Business customization
Time-sensitive messaging
Get On the Road to OOH With True Impact Media
For centuries, out-of-home advertising has been adapting to technological and industry changes and meeting the demands of businesses seeking to increase their marketing reach. But even as technology changes the face of OOH, one thing remains true: it's still one of the most effective ways to reach consumers.
True Impact Media makes it easy for brands and businesses of all kinds to break into the world of OOH. Our innovative platform streamlines the entire OOH buying process, from campaign planning and design to implementation and installation. That way, all you have to worry about is watching for results.
Ready to see how OOH advertising can impact your business? Ask the experts at True Impact Media today.
Sources:
Out of Home Advertising Association of America. Mobile Billboards. https://oaaa.org/AboutOOH/OOHBasics/OOHMediaFormats/MobileBillboards.aspx
Linked In. What Are the Advantages of Mobile Billboard Advertising? https://www.linkedin.com/pulse/what-advantages-mobile-billboard-advertising-ali-horuz