Lights! Camera! Los Angeles is where you can find the action. Beyond the bustle of tinsel town where they make the movies and television shows that we all love, there's another type of action that is pretty unmissable if you've spent any time driving around the city.
That's right—we're talking about billboard advertising.
Out-of-home (OOH) advertising can be found just about everywhere in the City of Angels. But how much is a billboard in Los Angeles? A billboard advertising cost can range from $1,000 to $10,000 on average.1 Of course, this is a very broad range, so it's difficult to know where your OOH advertising campaign might fall. To help you understand your options and their price points, we'll take a closer look at the OOH advertising scene in LA.
Types of OOH in Los Angeles
First things first: $1,000 to $10,000 represents an average range for Los Angeles as a whole. There are places where you will spend considerably more on a billboard (for example, Sunset Strip). There are also places where you may find an open billboard for less. That's because many factors play into the price.
The first component worth considering is the type of outdoor advertising you'd like to employ. Out-of-home (OOH) advertising represents more than billboards alone. While billboards are famously eye-catching, some businesses may find other types of OOH more effective. Let's take a closer look at some of your options.2
Traditional OOH
This category encompasses most of what might come to mind when you think of OOH advertising (traditional billboards included). There's a cardinal rule that will affect the price you will end up paying for traditional OOH: Size matters. While the temptation is always to go big, you may find savings by looking at smaller options.
Moreover, smaller billboards can sometimes help you reach your target audience more effectively.
Some of the likely size options you'll come across for traditional OOH are:3
Bulletins – When you're stuck in traffic on Highland Avenue heading toward Santa Monica Boulevard and you look up to see the latest movie release being advertised on a billboard, you're probably seeing a bulletin. This is the standard billboard size, though there's still a little variation within the category. Bulletins can be:


14' high by 48' wide
10' high by 40' wide
10'6" high by 36' wide


Posters – Not all of Los Angeles is a highway (no, really, it's true). When you're on surface streets, the large size of a bulletin may not be necessary. That's why posters can be perfect options. Posters' standard size is 12'3" high by 24'6" wide. As a result, they'll likely come with a lower advertising cost.

Junior Posters – Even smaller than posters, junior posters are effective options for densely populated areas that see significant foot traffic. While the junior poster's smaller size may make it a little less eye-catching, it does allow for some creativity as you can orient it horizontally or vertically and use more text since people will likely encounter it on foot. The standard size is 5' high by 11' wide.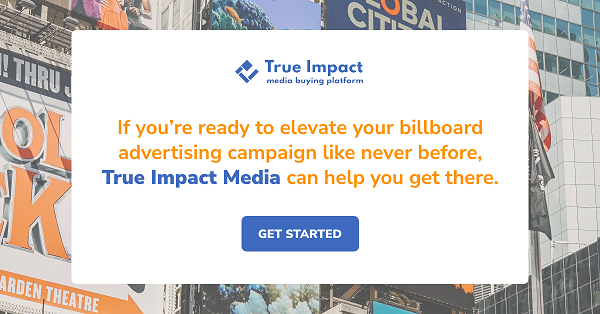 Street Furniture
Street furniture is an outdoor advertising option ideally suited for targeting potential customers based on their preferred modes of transit and their habitual routes. It uses existing structures like bus shelters as advertising opportunities. This means you can focus on one area or take advantage of the lower cost to make sure your brand awareness has a farther reach across the city. In addition to bus shelters, some examples of street furniture include:
Benches
City Trash Cans
Street Banners
Urban Panels and Kiosks
City Info Pillars

Transit
LA is known for its car traffic, but the city also boasts extensive public transit, including many buses and a subway system—not to mention its multiple airports including LAX, which is a major national hub.
Placing ads in any of these locales falls under the category of transit OOH advertising. Other examples include ads on:
Interstate Rail Lines
Rideshare Vehicles
Mobile Trucks
Place-Based Media
Los Angeles is full of outdoor malls, movie theaters, and other places where people congregate. These are all opportunities for your advertisement to reach your target audience. Examples of place-based OOH include:
Elevators
Bars and Restaurants
Guerrilla Marketing
Cinemas
Arenas and Stadiums
Shopping Malls
Digital Options
Another factor that affects the price of your OOH advertising is whether you opt for digital or traditional media.
Digital ads, such as digital billboards, provide plenty of creative options, and the extra technology-enabled effects can draw eyeballs. However, it will also likely come with a higher price tag. Finally, you may have to share billboard space and pay for time rather than securing a 24/7 advertisement.
Understanding the LA Market
Los Angeles is a big, sprawling city. While the city's landmass may not sound massive at 469 square miles, when you expand that area to include all of Los Angeles County, the figure balloons to 4,058 square miles.4 Unsurprisingly, that means billboard pricing can vary a lot depending on where in Los Angeles you're looking.
Remember when we mentioned the Sunset Strip as a place where the billboard cost Los Angeles might exceed $10,000? To get more specific, a full-sized billboard on the strip can cost between $35,000 and $100,000 per month.5 While that number may induce some sticker shock, there are reasons for the expense.
To get an idea of why a billboard ad can be so expensive in LA, it's worth looking at some basic market info:4
Population – The population of the city as of the 2021 census is 3,898,747. Zoom out to the county level and the population rises to 10,014,009. And that's just permanent residents. Add in tourists and you can start to see your potential advertising reach.

Demographics – Diversity is also important to consider when advertising and Los Angeles has a very diverse population. Looking at county numbers, the demographics are as follows:


Hispanic or Latino: 48.6%
White, not Hispanic or Latino: 26.1%
Asian: 15.4%
Black: 9%

That level of diversity ensures you're reaching multiple communities with your OOH. You may find that a billboard in a city with similar demographics, like a Miami billboard, might help you reach your target audience and expand your campaign.

Transit time – As we've shown, there's more to OOH than just roadside billboards, but roadside billboards are still a great option. The average time people spend traveling to work is over 31 minutes. That's a lot of time in traffic peering out your windows—likely at billboard ads.
The Sunset Strip is at the extreme high end of pricing because of its popularity among both tourists and residents alike. However, there are plenty of other opportunities in Los Angeles where the price tag will be lower and you'll still be able to have increased brand awareness.
Why Advertise in Los Angeles?
If the population numbers alone don't show you why OOH advertising in Los Angeles can be a good idea, perhaps this argument will: it works.
The amount being spent on OOH is a clear indicator of effectiveness. In 2021, spending on OOH advertising went up 16.7% over the previous year. In addition, 79% of the 100 top OOH advertisers increased their spending.6 We can infer that this wasn't based on hope but on past positive results.
While this shows a trend among major spenders, we can also look more locally to see proof of OOH advertising effectiveness.
Luxury Auto Case Study
In an attempt to attract customers and educate them about a new Hybrid Sedan offering, a luxury auto dealership took out digital billboards in the San Francisco and Los Angeles markets. The bulletins were placed on busy freeways near HOV lanes. So, how did the Los Angeles marketing fare?7
0.85% of people unexposed to the OOH visited the Los Angeles dealership. There was a 20% increase among the people exposed to the OOH campaign.

Across both markets, visitor rates rose 65% when people were exposed to the OOH seven or more times.

People were willing to drive after seeing the OOH. Across both markets, 56% of people traveled 15 or more miles from where they saw the OOH to visit the dealership. 48% traveled over 10 miles from where they lived or worked.
This is just one example, but it reinforces the idea that when people see OOH advertising, it makes an impact. With so many people in the Los Angeles area, that represents a huge opportunity. Billboards can have a large impact in many cities including Chicago. Chicago billboard advertising prices may vary compared to LA though.
Find Your OOH in Los Angeles with True Impact Media
So how much does a billboard cost in Los Angeles? It depends. But across the Los Angeles area, you can see a good return on investment from OOH advertising.
Of course, if you're looking to advertise in Los Angeles, you'll want to get the most bang for your buck. That's where the experts at True Impact Media can help. Our interactive inventory map can help you find the best deals available. Then, our detailed campaign analytics will empower you to monitor your campaign's success.
When you're ready to start your OOH campaign, talk to us. We're always ready to help.
Sources: