The beginning of a new year is the perfect time to reassess your advertising strategies, take stock of what was successful last year, and tweak (or overhaul) your marketing efforts to ensure that your company dominates in 2023.
Fortunately, one pearl of wisdom is as salient this year as it's always been: Billboard advertising is an essential channel for modern companies that want to make an industry-shaking impact. This holds true whether you're a multi-billion dollar brand or a small, local business.
Could 2023 be the year your company embraces billboard advertising? Here are five billboard facts that might just convince you.
#1 Billboards Are Eye-Catching & Effective
As of 2021, there are approximately 350,000 billboards rising above America's busiest highways, interstates, urban streets, and rural roads, hosting advertisements from the world's biggest brands to your favorite local eatery.
There's one simple explanation for this widespread popularity; billboards and other types of OOH (out-of-home) advertising routinely rank among the most influential forms of advertising available.
According to the Out of Home Advertising Association of America, OOH advertising methods—including billboards—are between 38% and 86% effective at provoking a consumer response. Meanwhile, digital forms of OOH—including digital billboards—are between 46% and 84% effective. These phenomenal ratings place OOH billboards above almost every other leading advertising method, including:
Audio
Print, such as newspapers and magazines
Online ads
TV spots
Why? Partially because the majority of drivers at least notice billboard advertisements while they're driving. Reports indicate:
About 71% of American drivers at least glance at billboards while driving
About 50% of American drivers say they find billboard advertisements "highly engaging"
#2 Billboards Can Boost Online Traffic
Billboards are among the oldest outdoor advertising methods, but that doesn't mean they aren't 21st-Century-compatible.
Take digital billboards, which account for just over 9,000 of all billboards dotting the US skyline. While there are differences between digital billboards vs traditional billboards, digital advertising on billboards combines the familiarity of classic billboards with modern innovations that give advertisers more options for dynamic messaging, audience targeting, and more. And they could drive about 34% of the people who view them straight to your business's website. Overall, adding OOH advertising strategies to your media mix can help lift efforts across all of your marketing channels.
That said, even a traditional, busy, or minimalist billboard can complement your online marketing efforts. According to reports, an outdoor billboard ad encourages consumers to search for your business online and could even help bring traffic to your social media profiles, especially on platforms like: 
Facebook
Instagram
Twitter
#3 Billboards Inspire Action
Catching the eyes of potential customers is the easy part, once you've nailed the right location for your billboard ad and have considered looking into hyperlocal advertising. Once you've got the attention of your target audience, you've got a slim window of time to convince them that your company is the solution they've been looking for.
Billboards are uniquely suited to attracting consumer notice and making customers out of commuters, travelers, and anyone on the move. With a flawlessly designed billboard in the right location, you could convert over half of your viewership into customers who:
Visit a location
Purchase goods or services
Conduct an online search for your business
And the numbers are even more impressive when it comes to digital billboards, which report a 65% conversion of impressions to actions.
#4 Digital Billboards Drive Up Engagements
Although static billboards continue to offer advertisers a satisfactory return on their investment, digital billboards are lighting the way—literally—to an OOH future that's plugged in and powered up.
Digital billboards bring the power of the Internet to OOH. Glowing with vibrant LED lights, dynamic messaging that can connect with individual consumers via their mobile phones or GPS systems, and with always-current billboard information thanks to real-time updating, they maximize the appeal, reach, and effectiveness of traditional billboards.
It should come as no surprise, then, that consumers are just as swayed by digital as they are traditional billboards. According to surveys, half of the people who spot digital billboards almost always notice them on the road and find them highly engaging.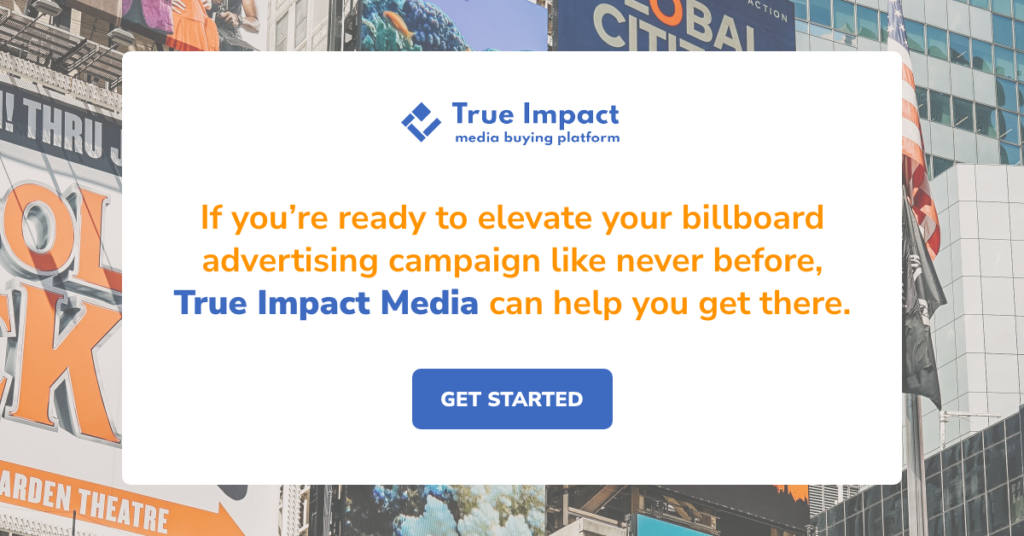 #5 Digital Billboards Can Drive Up Sales
Chief among OOH advertising facts is the power of digital billboards to elevate a company's OOH advertising campaign and drive up sales. Just over a quarter of people who encounter digital billboards end up seeking out the advertised business and making a purchase, according to the OAAA. And another 32% report visiting a store thanks to a digital billboard advertisement.
Moreover, digital billboards with directions to the nearest business location can be even more effective. Digital billboards have been known to yield the following results:
They may persuade up to 57% of viewers to check out your business within 30 minutes
93% of those visitors are almost certain to make a purchase
True Impact Media—Media Buying For the Digital Age
Whether your advertising campaign needs a few minor adjustments or you're starting from scratch, True Impact Media's media buying platform is for you. We provide the easiest way to find and purchase incredible billboard spaces, plan or revise your marketing strategy, and boost your brand awareness.
In 2023, billboard advertising is bigger than ever. With True Impact Media, your business can be, too. Contact us today.
Sources:
Statista. Number of billboards in the U.S. https://www.statista.com/statistics/686026/number-billboards-usa/#
Out of Home Advertising Association of America. Out of Home Advertising Produces Highest Levels of Consumer Recall Versus Other Media Channels, According to Solomon Partners 2023 Benchmark Report Estimates for the U.S. https://oaaa.org/news/out-of-home-advertising-produces-highest-levels-of-consumer-recall-versus-other-media-channels-according-to-solomon-partners-2023-benchmark-report-estimates-for-the-u-s/
Chron Small Business. Do Advertising Billboards Work? https://smallbusiness.chron.com/advertising-billboards-work-75826.html
AdQuick. Out-of-Home Advertising Can Amplify the Effectiveness of Your Entire Media Mix. https://www.adquick.com/blog/out-of-home-advertising-can-amplify-the-effectiveness-of-your-entire-media-mix/
Out of Home Advertising Association of America. 2020 Nielsen Digital OOH Advertising Report. https://oaaa.org/resources/2020-nielsen-digital-ooh-advertising-report/
Out of Home Advertising Association of America. Nielsen: OOH Most Effective in Driving Online Activity. https://specialreports.oaaa.org/wp-content/uploads/2017/05/Nielsen_042417.pdf