There are a lot of questions when it comes to OOH advertising. You may be wondering what the difference is between geo targeting vs geofencing or how to calculate impressions in your OOH campaign. Today we will cover the basics of OOH advertising costs. For many brands, out-of-home advertising (OOH) is one of the most effective advertising options available. Even in the age of digital marketing, smartphones, social media, tablets, and instant connectivity, studies show that consumers are as much as 48% more likely to engage with an online ad if they've already seen the product advertised off-screen.1
Knowing the importance of outdoor advertising can be beneficial to your brand and budget. OOH isn't just effective—it can also be very budget-friendly. Every day brands are discovering that not only is OOH advertising like billboards, street furniture, and transit media pack an extra bang for the buck.
That said, finding desirable real estate for your outdoor advertisement can be overwhelming. With so many OOH advertising options available, how do you know which OOH campaign direction is right for your brand and your marketing budget? Knowing what you can expect to spend on the various types of OOH advertising can help you make these important decisions, so let's get started.
What Factors Determine the Cost of OOH?
There are several factors that can influence the cost of your OOH advertising campaign, from the type of outdoor ad you choose to the location you select.
Other factors that play a part include:
The size of your OOH media advertisement
The type of technology your OOH media ad implements
The duration of your OOH media advertisement
These factors and the influence they can exert will vary considerably based on which OOH ad format you choose. To that end, let's go over the various types of OOH advertising options and how much you can expect to spend on each.
Billboards
When you think of a traditional billboard, you likely think of the large mounted signs you pass on highways, expressways, and in other high-traffic zones. This is not totally incorrect. But "billboard" is a much more general term that can refer to small billboards seen in more localized areas, wallscapes, or wall murals.
You might be wondering what does reach mean in OOH Advertising? Billboards of all kinds offer vast reach and can help spread your brand's message far and wide to your target audience. But how much does renting one cost?
Depending on the size, location, and how long you plan to rent the billboard ad space, here's what you can expect to pay for the various types of billboard advertising:2
Bulletin – Traditionally, bulletins are 14' by 48' structures that offer static outdoor advertising options on a large scale. The cost of bulletin advertising fluctuates greatly depending on the specific location, ranging anywhere from $750 to $1,500 per month in rural areas and up to $30,000 in large cities. Remember that you'll also need to factor in the cost of the vinyl on which your ad is printed. For a large bulletin, you can expect to pay between $300 and $500 for the roughly 700 square feet you'll need.
Poster – Posters are somewhat smaller than bulletins and usually appear on heavily trafficked local roads. The cost of renting these 12' by 24' billboards ranges from $740 to $2,000 for a month.
Junior Bulletin/Junior Poster – Junior bulletins or posters are 5' by 11' static billboards and can range in cost from $300 to $750 per month. Prominent in neighborhoods and other urban areas, these can be a great option for smaller businesses hoping to have a large local impact.
Wallscapes/Wall murals – Painted directly onto the sides of buildings, wallscapes, and wall murals are stunning installations that do double duty as both advertisements and works of art. They can be as big as the building allows—and can cost a pretty penny. In general, the tab for wallscapes can range anywhere from $10,000 to $50,000.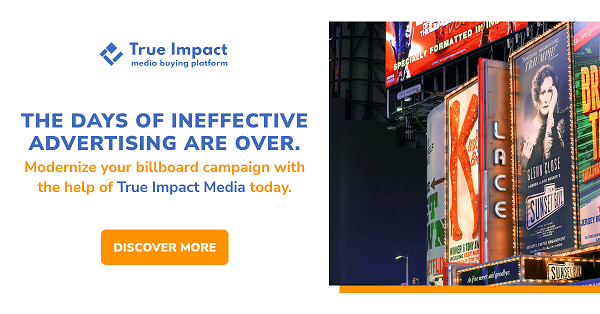 Street Furniture
Street furniture is a convenient way of getting your audience's attention during their day-to-day activities. Usually situated at or near eye level, street furniture ads can target both pedestrian and vehicular traffic.
From bus shelters to park benches, street furniture advertising offers many options to make sure your brand is front and center. The average cost of various street furniture advertising is:
Bus shelters – In some areas, you can snag bus shelter advertising space for between $150 to $1,500 for a month-long period. If your target is a higher-end market, though, expect to pay between $4,000 and $6,000 for the same duration.
Benches – Effective and useful, bench advertising, can be had for as little as $75 to $500 per month.
Kiosks – Telephone and newsstand kiosks can range in price from $750 to $15,000, again depending on location and the size of your advertisement. Newsstand kiosk space tends to be more expensive.
City info pillars – Information panels, like those above subway entrances or attached to bike-share docks, are a great way to reach both pedestrian and vehicular traffic. Depending on location and whether your advertisement is static or digital, it can cost between $700 and $2,000.
Transit Media
Transit media advertising offers several options for getting your brand or product in front of a broad and diverse audience—without breaking the bank.
From city buses to airport kiosks to transportation hubs, daily commuters and travelers of all stripes are a captive audience for your advertisements. Average costs of transit media advertising are:
Bus ads – For ads appearing on the exteriors of buses, expect to pay between $150 and $4,500 per month. Interior advertising can be even less experience, running between $20 and $50 per month.
Subway ads – $75 to $500 is the average cost of subway advertising monthly.
Airport ads – Airport advertising ranges from $1,500 to $14,500 per month, depending on the airport and OOH advertising type.
Taxi ads – For between $200 and $1,950 per month, your ad can be seen zipping all over town.
Place-Based Media
Place-based advertising is an ever-growing sector that offers brands innovative and interactive options. From the gas pump to the football stadium, brands turn to place-based solutions when they want to target a specific audience.
The cost of place-based ads can vary substantially depending on the venue where the ad is hosted. And going with a digital place-based option can raise the price even more.3
Gas stations and convenience stores – These days, gas stations offer a range of advertising opportunities, from video panels attached to gas pumps to signage on coffee cup sleeves. On average, you can expect to spend between $150 and $1,800 per month on this kind of advertising.
Supermarkets – Supermarket advertising options include grocery cart ads, ads on welcome panels and market information centers, and floor graphics. Prices range between $800 and $1,500 per month.4
Restaurants and bars – Bars and restaurants offer captive audiences in high-traffic areas. With options like table tents, posters, and digital ads, you can expect to pay between $300 and $950 per month.
Shopping mall kiosks – Shopping mall kiosks offer both static and digital ad options for between $750 and $2500 monthly.
College campuses – OOH ad space on college and university campus range from between $500 and $6,500 per month.
The cost of renting space in sports stadiums or other large venues can vary greatly, so you'll want to check your local options.
Digital Outdoor
Just because OOH advertisements don't appear online doesn't mean they can't have a little digital flair. Digital outdoor advertising in the form of digital billboards, digital place-based options, and spectaculars lets you present your brand to consumers in exciting and dynamic ways.
As with other types of advertising, the location and size of your advertisement will play a huge part in determining the final cost. Generally speaking, digital billboards, like bulletins and poster advertisements, will cost between $1,200 per month on the lower end and $15,000 or more on the higher end.5
Spectaculars—giant, brightly lit screens you see in places like Times Square and Atlantic city—are among the most expensive advertising OOH has to offer. Because of their giant scale and their ability to be seen by millions of people a day, they can cost upwards of $300,000 a month.6
The cost of digital placed-based options will vary depending on the format and the location of the ad. High-end locations will cost more, as will advertisements that use more elaborate technology like interactive screens or video ads. Expect to pay on the upper end of place-based price scales for these services.
Find Your Perfect OOH Fit with True Impact Media
OOH advertising is an effective and cost-efficient way of getting to consumers on the go, during their daily commutes, or while they're enjoying recreational time. When you choose OOH advertising, you choose when, where, and how you reach your audience.
At True Impact, we believe in OOH as a top-tier advertising solution for all kinds of businesses, from large-scale operations to smaller outfits. That's why we're leading the charge in changing the way you buy out-of-home advertising.
Our out-of-home media buying platform simplifies the entire process of finding and buying OOH ad space. From street furniture to transit media to billboards, we can help you find the advertising format that's best suited to your brand. Get in touch with us today!
Sources:
Tamoco. Out of Home Advertising (OOH): All You Need to Know in 2021. https://www.tamoco.com/blog/out-of-home-advertising-ooh/
BMediaGroup.com. How Much Does a Billboard Cost? https://www.bmediagroup.com/news/how-much-does-a-billboard-cost/
BlueLineMedia.com. Outdoor/Out of Home Static and Digital Ads. https://www.bluelinemedia.com/billboard-advertising
Supermarketadvertising.net. OOH In-Store Supermarket Advertising. https://supermarketadvertising.net/ooh-in-store-supermarket-advertising/
Indeed.com. How Much Does a Billboard Cost (And is it Worth It?) https://www.indeed.com/hire/c/info/how-much-does-a-billboard-cost#:~:text=How%20much%20does%20it%20cost,%2415%2C000%20or%20more%20per%20month.
Investopedia. The High Price of Advertising in Times Square. https://www.investopedia.com/articles/investing/022315/high-cost-advertising-times-square.asp