As a time-tested advertising method that consumers notice and trust, billboards are a top choice for any business that wants large-scale exposure. But a successful billboard takes more than eye-catching designs, clever catchphrases, and catchy slogans. If you want to see successful billboard conversion rate metrics such as impressions to boost business, there are three other factors you should also consider: location, location, location.
Why is billboard location so important in the world of billboard advertising rules? Read on for seven reasons billboard placement can make or break your OOH campaign, plus tips for choosing the best real estate for your ad.
#1 Demographics: Who Will See Your Billboard?
Insight into a location's demographic data—like ethnicity, economic background, age distribution, and education—can help you determine who is most likely to encounter your ad and whether the audience you hope to reach is among them.
But before you can choose the best billboard location according to demographic markers, you need to be able to answer three questions about your marketing campaign:
Who is my target audience?
Where do they live?
Where do they spend time?
Answering these questions at the earliest stages of planning can help you make better placement decisions. You can compare information about your target audience with demographic information about the potential site to guide your decision.
#2 Traffic: Busy Is Better
A successful out-of-home (OOH) ad campaign influences your target demographic, loyal customers, and potential customers you haven't yet considered (or who haven't yet considered you). Fortunately, the right billboard location enables you to reach each of those groups.
In most cases, the best locations in the billboard market for piquing consumer interest on a large scale are highly trafficked areas, like:
Congested highways and interstates
Crowded intersections
Busy local roads
Contacting the Department of Transportation in your state for up-to-date traffic statistics can help take the guesswork out of determining traffic patterns near your potential billboard location.
#3 Visibility: The Value of Being Seen
The most effective billboard location will ensure optimal visibility. All the traffic in the world won't have much of an impact if buildings, trees, or even other billboards are obscuring your ad from view.
For that reason, be sure to pay close attention to the following factors when you're scoping out your next ideal location:
How high is the billboard?
What direction is it facing?
Are there any sightline barriers?
#4 Land Use
Many of the most important factors in OOH advertising, like demographics, traffic patterns, and billboard visibility, are directly influenced by how the area is used. They're all impacted by whether the area is:
Commercial
Industrial
Residential
The area with the best billboard placement depends on your target audience and business goals. Commercial areas may offer a more diverse consumer pool, whereas industrial and residential settings may lend themselves to more targeted messaging.
#5 Proximity: Where Are You In Relation To Your Ad?
How close a billboard location is to the business advertised is also important. This is especially true if you're reliant on in-person sales in brick-and-mortar stores.
Knowing your target audience and having clear goals for your campaign helps here. If you're trying to expand your customer base or build brand awareness, a billboard can be effective even if it's not quite in your neck of the woods.
But if your goal is to bring in local consumers who turn into loyal customers, you should consider billboard placement that's closer to home.
#6 Be Intentional: Know What You're Striving For
At the end of the day, the goal of any OOH campaign is to boost business for brands and advertisers. But that doesn't always mean quickly driving up sales. Although that's a fine goal, your billboard placement needs may be different if, for example, your goal is to foster long-term growth by building brand awareness.
Likewise, your billboard may be subject to situational concerns. For example, suppose your business is switching locations or opening a new one. Placing billboards near the old location can alert your regular customers to the news, while placing billboards near the new location can cue your new neighbors into your arrival.
#7 Billboard Size: Know Your Options
The term "billboard" actually refers to three distinct sizes of OOH advertising. Each size is ideal in certain locations and less impactful in others. The standard sizes are:
Bulletins – These are the largest billboards available, offering about 672 square feet of advertising space. They're best for targeting daily commuters and long-distance travelers on interstates and highways.
Posters – These are generally 10 feet by 22 feet in size. They get noticed by vehicle and pedestrian traffic on busy local roads and in commercial zones.
Junior posters – These are the smallest billboards on the market. Posted at about eye level on the sides of buildings or freestanding structures, they're perfect for reaching local consumers, especially in dense urban areas.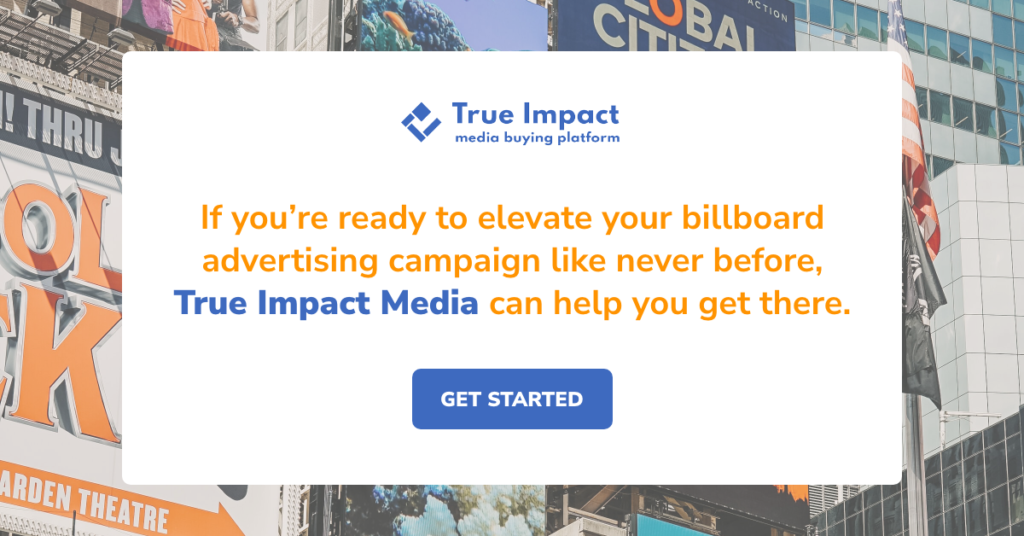 Find the Best Billboard Locations With True Impact Media
Launching and managing a successful OOH ad campaign means making many important decisions. But if you aren't familiar with the world of OOH, having an expert in your corner is a necessary safeguard against wasting money on ads that don't work.
At True Impact Media, we're committed to demystifying OOH advertising so that it's accessible and profitable for any business, no matter how large or small. Contact us today to start planning your project!
Sources:
Chron Small Business. Do Advertising Billboards Work? https://smallbusiness.chron.com/advertising-billboards-work-75826.html
Entrepreneur Hearts. 10 Tips When Creating Your Next Business Billboard. https://entrepreneurthearts.com/10-tips-when-creating-your-next-business-billboard/
Linked In. 10 Essential Tips for Billboard Advertising. https://www.linkedin.com/pulse/10-essential-tips-billboard-advertising-james-c-gillen
Fresh Business Thinking. Why location is key for outdoor advertising. https://www.freshbusinessthinking.com/purpose/why-location-is-key-for-outdoor-advertising/41025.article
True Impact Media. What is the Standard Billboard Size? https://trueimpactmedia.com/blog/what-is-the-standard-billboard-size/