In the advertising industry, the goal is to stand out from the crowd, which has become easier through digital marketing. Bright, dazzling colors and moving graphics. Motion-activated displays, rotating posters, and interactive advertisements. These are just a few of the hallmarks of digital billboards, one of the most exciting and effective forms of out of home advertising (OOH),
Digital billboards combine the classic appeal of traditional static billboards that consumers trust with the pizazz of the latest technological innovations. The result is an advertising medium that attracts the eye and sparks the imagination, engaging consumers and converting impressions to profits.
Before you start plugging in your billboard advertising, let's review some digital billboard best practices. Read on to find the best tips and tricks you need to know to start integrating digital billboards into your digital OOH campaign strategy.
What is a Digital Billboard?
Digital billboards use stunning LED lights to display digital advertisements.1 Imagine one of the old-fashioned billboards you've seen thousands of times on roads near and far. Now, imagine it pulsing with light, projecting an advertisement of such technicolor brilliance you can't help but stop and stare.
That's a digital billboard in a nutshell.
Plus, they're rapidly surpassing their static and electronic predecessors for the ease, options, and versatility they offer to brands and businesses that make OOH a crucial part of their advertising strategy.
Unlike their older incarnations, digital billboards, or DOOH:
Are entirely computer-operated – From the original design and installation to switching out information on special promotions, everything about digital billboards is entirely controlled by computers.
Offer multi-media options – Digital billboards are particularly appealing because of their options for multi-media advertising. Text, images, videos, animation—a digital billboard can handle it all.
Are easily adaptable – With the click of a mouse, you can change an entire digital billboard ad or simply alter the messaging. What's more, digital billboards can feature an assortment of rotating ads on a single structure.
But digital billboards aren't just flashy—they work. According to a 2020 Neilsen study, digital billboards were popular, effective, and memorable among travelers in the United States.2 The results of that study suggest that:
Consumers notice digital billboards – Of those included in the survey, 60% were able to recall having seen a digital billboard within the past week, while 75% were able to recall one from the past month.
Consumers remember them – According to the study, consumers don't just notice digital billboards, they find them engaging. Between 74 and 89% of the time, respondents could recall specific ads and businesses promoted on digital billboards.
They stand out to consumers – This last one is no surprise, considering how visually appealing digital billboards are. That said, it's still worth noting that 71% of consumers were more likely to notice a digital billboard over an ad they saw online.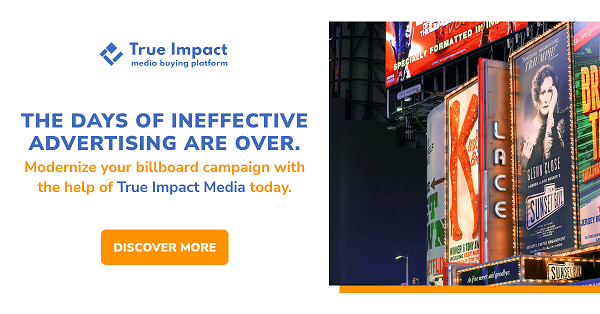 Digital Billboard Design Tips: What You Need To Know
Do we have you convinced that digital signage is a surefire way to boost your brand awareness and increase your conversions?
If you answered yes, then it's time to dive into the top 5 tips for designing spectacular digital billboards for any business.
#1 Simplicity Matters
Simplicity is the most important of digital billboard best practices.3 With all the options on offer, digital billboards can get pretty crowded. You don't want too many colors, flashy images, or distracting videos muddling your message.
To that end, when it comes to achieving a simple, streamlined design, keep these factors in mind:
Functionality – A digital billboard has one job: advertising your business or product. Sure, it has to look nice and engage consumers, but not at the expense of promoting your brand. Your billboard should be legible, easy to read and understand, and uncluttered by too many unnecessary features.
Succinct and direct – A successful digital billboard brings that simplicity of design to its content as well. Be sure not to overload your billboard with multiple messaging points that can confuse consumers. What you're selling, why consumers need it, and where or how they can get it is what's important. Use short, easy-to-understand words and sentences.
#2 Choose Your Font Wisely
Whether you're using a mobile billboard or a static one, font choice is always a crucial decision in advertising. But when your advertisement is towering hundreds of feet in the air, choosing legible, clear fonts that can be easily read from a distance is absolutely imperative.
What's that, you say? Typography isn't your forte? We've got you covered. Here's what to know about choosing the right font for your digital billboard:
The bigger, the better – Don't even think about using a tiny font on your digital billboard. Remember, a digital billboard is meant to make a big impression. That means using a big font.
Keep it simple – You should avoid decorative or fussy fonts and be wary of using italics. Stick with non-serif fonts and go for bold. Backing your text with a dark stroke can increase visibility and distinguish it from other aspects of your ad.
#3 Be Smart About Colors
Out of all the billboard design tips you can use effectively, smart use of color is probably the top tip. If you're thinking that overloading your billboard with an array of bright, bold colors will help get your advertisement noticed, think again. Busy billboards might stand out, but not for the reasons you want them to.
White washes out – LED lights use the primary colors of red, green, and blue to create all the other colors you'll use in your ad. If you think back to your second-grade art class, you'll recall that all three of those colors are needed to make white. Digital billboards are no different, requiring that each primary color is turned up as bright as it can be. As a result, white backgrounds tend to fade, dampening the entire design.
Use appropriate color files – Digital design requires specific technologies so that colorful features pop and saturate like they do in the real world. For digital billboards, that technology comes in the form of RGB color files, the only way to get truly vibrant colors onto your digital space.
Be bold – Although you should limit the number of distinct colors you use, feel free to go as bold and bright with the ones you do. Avoid complementary colors, opting instead for contrasting hues that offer optimal visibility.
#4 Select Your Images with Care
One of the most exciting aspects of digital billboards is what they accomplish with the use of images. From static stills to mutating logos, digital billboards rule the roost when it comes to making a visual statement.
That said, you need to be smart about the images and other visuals you use in your digital billboard. In general, avoid using more than three images. This includes images, headline script, and your company logo, so you'll have to choose wisely.
But limiting your image use doesn't mean you should be leaving leftover whitespace. Part of the advertising cost on a billboard is the space it gives you, so you might as well use it up. Don't shy away from supersizing your images; it's the best way to make sure they're seen. Similarly, going big with your logo is a winning strategy.
#5 Take Advantage of Technology
At the end of the day, it simply doesn't make sense to invest in digital billboard advertising if you aren't taking advantage of the latest technological innovations that make it such a compelling advertising method. When it comes to digital billboard best practices, lean into the tech.
Digital billboards allow opportunities for advertisers to wow consumers that other options just don't offer. When planning your digital strategy, you should be aware of the following tech trappings digital billboards offer, such as:
Real-time updating – Is your sports equipment store offering a special 48-hour sale on golf clubs? A digital clock that counts down the remaining hours can let consumers know that time's running out. Using this and other forms of real-time updating on your digital billboard campaign can give consumers a sense of urgency and encourage them to visit your business.
Multiple ads – Digital billboards can host multiple ads that play on a loop. You can use this to your benefit by creating a series of ads that extol the various services and virtues of your business.
Timeliness – If your restaurant only serves breakfast until 11 am, why advertise it all afternoon? Take advantage of the real-time updating and multiple advertising capabilities of digital billboards by running multiple ads that are relevant to the time of day or night they run.
Social media integration – These days, consumers want brands that feel like friends. That means connecting with them on the social media platforms and apps they use most. With digital billboards, consumers can interact with your ad via social media through surveys, giveaways, and special promotions, among other options. This can deepen their engagement and help build your brand image.
Digitize Your OOH Advertising with True Impact Media
Is it time to digitize your OOH advertising efforts and breathe new life into your marketing strategy? Then it's time you met the experts at True Impact Media.
At True Impact Media, we're die-hard believers in the power of out-of-home advertising to help businesses reach their full potential. But as exciting as it is, we understand it can also be challenging to know where to start. That's why we're committed to making OOH advertising accessible and understandable for businesses big and small.
Stand out from the crowd with True Impact Media.
Sources:
True Impact Media. Outdoor Advertising Options: Types of OOH. https://trueimpactmedia.com/blog/types-of-ooh/
Outdoor Advertising Association of America. Digital Billboards Engage Customers and Drive Action. https://oaaa.org/Portals/0/Digital%20Billboards%20Nielsen%20FINAL.pdf
99 Designs. 5 Rules of Effective Billboard Advertising. https://99designs.com/blog/tips/billboard-design-tips/