For businesses looking for new ways to connect with consumers and their target audience, the supposedly unlimited reach offered by online advertising and digital marketing might be a tempting proposition. But savvy brands all over the world know that out-of-home advertising (OOH) is still the best way to distribute an impactful advertising campaign that can't be blocked, closed, or skipped over by your local audience.
But with outdoor advertising options ranging from transit advertising to the exciting world of digital outdoor marketing, how do you know which outdoor marketing format is right for your business? Below, we'll take a look at the many different types of outdoor advertising options, the importance of outdoor advertising, and how these options can help your local business thrive.
Traditional OOH
Traditional OOH media like billboard signage and wallscapes are time-tested ways of reaching consumers. They are among the most popular OOH advertising options—and the most effective advertising option.
The types of traditional OOH options include:
Bulletins – These static, large-format billboards appear in high-traffic zones like highways and expressways. Directed at travelers and everyday commuters alike, bulletin space is sold by the year or according to a rotary program, where the bulletin changes location after a set number of days. Sizes can vary, but the most common are 14' by 48' or 10'6" by 36'. Junior bulletins are smaller options (5' by 11') with a more localized focus.
Posters – Posters are 12' by 24' static billboards. Sold in increments of one, three, six, nine, or 12 four-week periods, they appear on major local roads.
Digital Billboards – Digital billboards are sized the same as other billboard types, but feature computer-controlled displays of rotating advertisements using LED-lighting systems.
Wallscapes and Wall Murals – Among the largest OOH advertising out there, these are advertisements that are painted directly onto buildings or onto a vinyl that is then attached to the building. These are usually more permanent than other types of traditional OOH.
Brands of all sizes have long used traditional OOH advertising, from tech giants like Apple to locally owned grocery stores and restaurants.  Learn more about OOH advertising costs to see what OOH options are available with your budget.
Next, we'll take a closer look at some of the newer entrants to the OOH media landscape.
Street Furniture
A popular form of OOH, especially in densely populated urban areas, street furniture advertising appears on public amenities like:
Public benches
Public trash cans
Bus and transit shelters
The category can also include banners on light poles or media on public kiosks. In most cases, these advertisements appear at or close to eye level so they are readily viewable for a pedestrian or curbside vehicular audience.
If you're looking for a smaller ad that still makes an impact in brand awareness, street furniture advertising could be ideal for your local audience.
Transit Media
Transit media refers to any advertising that appears in or on various transportation vehicles or inside bus stations, train terminals, airports, or other transportation hubs.
From bus posters and wraps to subway ads to videos that play in taxis and rideshares, how we get around offers a wealth of options for in-your-face advertising. As an added bonus, you can target consumers who are likely to use a specific kind of transit or take a particular route.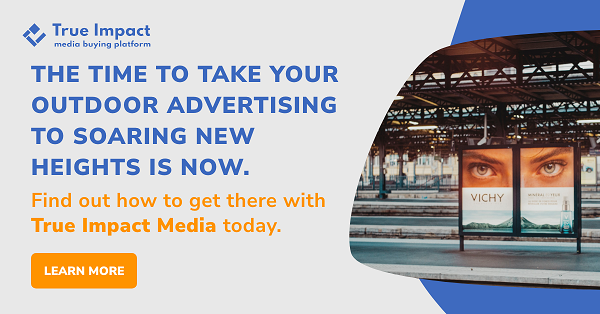 Place-Based Media
Place-based advertisements are advertisements that are located in places where specific groups of people gather for specific reasons, like:
Bars and restaurants
Arenas and stadiums
College campuses
Elevators
Shopping malls
Waiting rooms, convention centers, and parking garages are also popular sites for place-based ads. They are not format-specific, so they might appear as posters, digital billboards, or even video screens.
Place-based ads allow brands to target audiences that need their products most by meeting them where they are, in a format that makes sense for the location.
Digital Outdoor
Digital outdoor advertising is advertising that's been plugged into modern technologies, giving brands new options for taking a more dynamic approach to advertising.
Digital outdoor advertising includes digital spins on virtually every other type of OOH, including:
Placed-based media – Digital place-based options include videos that play on screens in taxis, grocery store check-out lanes, and gas pumps—plus a range of other locations.
Billboard, bulletins, and posters – Billboards of all kinds can be enhanced with digital elements that present high-quality static images or cycle through a rotating display.
Spectaculars – As the name suggests, spectaculars are large-scale digital advertising structures that catch consumers' eyes through their use of dazzling special effects and video. Because of their size, they're most frequently found in places where large groups of people gather for shopping or entertainment, such as Times Square or the Vegas strip.
From mall kiosks to bus shelters, digital outdoor advertising is changing the way brands think about messaging. The unique capabilities for tracking, personalization, and interactivity that digital outdoor offers put the power of technology right into your hands.
True Impact Media For All Your OOH Needs
These days, consumers have more control than ever over what advertisements they see and when they see them— that is, if they see them at all. OOH is one of the few remaining fields that take some of that power back.
But we know that the process of searching for and buying outdoor advertising space can be exhausting.
That's where True Impact Media comes in. Our out-of-home media buying platform is smart, efficient, and designed to manage every aspect of your OOH needs. We are your ultimate resource for anything regarding out of home advertising. Whether you are wondering what the difference is between geo targeting vs geofencing, how to calculate impressions, or what does reach mean in terms of OOH, we have you covered. From finding ad space to handling invoices and every step in between, True Impact media simplifies outdoor advertising so you can get back to business.
Sources:
Matrix Media. Bulletin Advertising – The Basics. https://www.matrixmediaservices.com/bulletin-advertising/
DashTwo. Get Wise to Size: Bulletin, Poster, Jr. Posters, and More. https://dashtwo.com/outdoor-advertising-ad-sizes/
BizFluent. What is a Digital Billboard? https://bizfluent.com/about-6311686-digital-billboard-.html
DashTwo. What is a Wallscape? https://dashtwo.com/what-is-a-wallscape/
Fliphound. What is Street Furniture Advertising? https://fliphound.com/outdoor-billboard-advertising-ooh-industry-terms-and-definitions-glossary/what-is-street-furniture-advertising
Fliphound. What is Transit Advertising? https://fliphound.com/outdoor-billboard-advertising-ooh-industry-terms-and-definitions-glossary/what-is-transit-advertising
OAAA.org. Place Based Advertising. https://oaaa.org/AboutOOH/OOHBasics/OOHMediaFormats/placebasedadvertising.aspx
ClearChannelOutdoor. Spectaculars. https://clearchanneloutdoor.com/products/spectaculars/