One of the trickier aspects of healthcare marketing can be patient outreach—once people have visited your office or clinic, your staff can inform them of the services you provide, hand out literature, and even point patients to informational videos that promote wellness and health.
But how do you get patients to your offices in the first place? Healthcare billboards and other forms of out-of-home (OOH) advertising may offer an answer.
This guide will go over traditional OOH and how it relates to the healthcare industry, touching on the effectiveness of OOH campaigns and tips and tricks to ensure your billboard advertisements are optimally designed and well received.
*It is important to note that in the healthcare industry, we advise that you review the rules and regulations for advertising that are determined by your company's governing body. For example, pharmaceutical companies, the FDA, or the FTC.
Is Billboard Advertising Effective in Healthcare?
When you think of a billboard ad, you might imagine a CPG brand, insurance companies, personal injury lawyers, or car dealerships billboard advertising.
When you think of billboards, your first association may be like retail, insurance sales, or car billboard advertising. That makes sense—when it comes to OOH spending, these industries are among the top 10 spenders.1
And there's a reason why these industries spend so much: Billboards and other forms of OOH work.
But can billboard advertisements work in an industry like healthcare, where your goals focus on providing value-based care and education, rather than promoting brand awareness? Yes. And knowing why OOH is effective can help explain why.
Digital Billboard Effectiveness Study
Anecdotally, we've all seen billboards when driving down the highway. Maybe you pay attention to some, such as a restaurant directional billboard when you're hungry, and ignore others. Maybe some intrigue you enough that you look up the company's website later or pull off on the next exit to peruse their offerings.
But can our reactions be extrapolated out to the larger community? In a 2020 study, Nielsen conducted surveys to figure that out.
After collecting 453 surveys during a one-week period in early 2020 that focused on the effectiveness of digital billboards, some interesting trends came to light:2
Awareness – Out of the 453 people surveyed, 62% said that they noticed digital billboards within the past month. Half of this group responded that they saw billboards "all" or "most" of the time.

Driving action – Out of the people who saw digital billboards, a surprisingly high number were driven to take some form of action. 65% said that they did something (this could be visiting the business, checking out the website, or looking at the business's social media). 52% specifically did actions involving mobile devices (scanned QR codes, visited websites, looked up hashtags, etc.).
While this study wasn't specific to the healthcare industry, it provides some clues as to how billboards can be used for healthcare. While traditional advertisements may be driving people to action with the hope of spurring purchases, healthcare billboards can drive people to actions that will improve their overall health and make them aware of the services in their community.
2010 Healthcare Industry Study
Of course, there is a difference between visiting an urgent care clinic and visiting a retail outlet. That knowledge makes it reasonable to question whether effectiveness in one industry will be replicable for healthcare.
Thankfully, that's something that has also been looked into.
In 2010, John L. Fortenberry Jr. and Peter J. McGoldrick did a field study to try to determine whether outdoor advertising for healthcare is effective.3 They monitored a specific urgent care clinic over 32 days to see if their billboard campaign would result in more people visiting the clinic. In talking to 1,640 patients, the results became clear:
People overwhelmingly noticed the billboards.

The general feeling about the billboards was a positive one.

The billboards were cited as a reason that people decided to visit the clinic.

While the billboards were quite effective at informing new patients about the clinic, they were also effective in educating existing patients about the clinic and services provided there.
While the results of this study were overwhelmingly positive, there were also some things to consider on the negative side:
After three weeks, the effectiveness (while still present) seemed to wane.

Corner tabs (specific calls to action placed on the corner of the billboard) did not seem to be effective.
However, even these "negatives" can be used to optimize your billboard design to ensure the greatest possible reach within your community.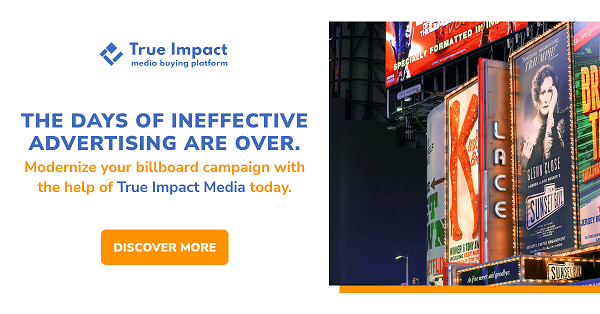 How to Design Healthcare Billboards
Speaking of optimizing billboard design, how can you do that? While specific design decisions will always come down to the goals and target audience of the campaign, there are some things you can keep in mind that will help with any OOH campaign.
Step 1: Be Creative
Easier said than done, right? What does "be creative" even mean? Well, since healthcare can be a serious subject, it is easy to fall into the trap of being overly staid when it comes to your outdoor advertising design. However, you need to remember that most people will encounter billboards while traveling and will only have brief moments to notice and take in information. Creativity can help you stand out from the crowd.
Let's consider Kaiser Permanente's airport campaign.
Kaiser Permanente Airport Campaign
When talking about creativity in OOH campaigns, it can help to look at an example. Between 2018 and 2020, Kaiser Permanente took an interesting approach to build their brand by transforming a security checkpoint in the Oakland airport into a peaceful and calming atmosphere, which aimed to promote travelers' wellness.
To implement this campaign, they used a few different techniques:4
Adding the sights and sounds of a California Redwood forest into the area
Creating a "blue sky" with artificial clouds
Transforming a 1,500 square foot wall into a "living wall" by adding plant life
Utilizing panels with relaxing messages such as "breath in" and "thrive"
Setting up stations where travelers could refill reusable water bottles
The intention of all this was to alleviate a normally stressful travel experience and associate their brand with peace and relaxation. The campaign received a highly positive response from travelers who experienced it.
It's this kind of out-of-the-box creative thinking that can help your campaign stand out and attract patients to your facilities.
Step 2: Look Beyond Billboards
You may have noticed that the Kaiser Permanente example had no mention of actual billboards. The reality is that while billboards are still the most prevalent form of OOH (and an effective one), they are not your only option. Depending on your goals and who you want to target, other forms of OOH may be better suited for your needs. Three other forms of OOH are:5
Street furniture – Public bench ads, bus and transit shelters, newsstands, and other urban areas all fall into this category.

Place-based – Ads in bars and restaurants, arenas, or shopping malls are some examples.

Transit – This is where Kaiser's airport campaign would fall. Any advertisements at transit hubs or on transit, such as buses and taxis, are also included here.
Doctor Office Advertising – Pharmaceutical companies, healthcare insurance providers, and medical services providers utilize doctor office advertising or point-of-care marketing to advertise their products and services.
Each category comes with different price points and can be effective for reaching different target audiences. It's worth spending some time considering what will be best for what you're trying to accomplish and who you're trying to target.
Step 3: Target Your Audience
Billboards, partly because they're so large, are often thought of like a blunt instrument used to get a message out to the most people possible like a real estate billboard trying to get you to use their agency. However, being more intentional with your campaign can help you reach your target audience.
To that end, smaller billboards will work better in lower-traffic areas or off of highways. Street furniture can target more urban areas.
In fact, John L. Fortenberry Jr. (who co-authored the study on healthcare billboards) and James K. Elrod, concluded that healthcare billboards can be an especially effective way to reach underserved communities that may not be responsive to other forms of outreach.6
Step 4: Be Concise
While it's natural as a healthcare provider to want to provide as much information as possible to current and potential patients, healthcare billboards should be succinct, while still providing value.
To that end, focus on one or two value propositions you want to convey through your healthcare advertising, like:
Low-cost healthcare services
Patient-centered care
Compliance with patient privacy
Advanced technological resources
Once you've attracted patients to your facilities, you can provide them with more information about your healthcare services—whether that's through personal consultations or informative brochures at your front desk that patients can pick up when visiting your clinic.
Additionally, informing your community of one value proposition at a time allows you to expand your OOH campaign to additional value propositions in the future. In other words, you can continue to keep your healthcare advertising fresh and your audience engaged.
Step 5: Use CTAs
A call-to-action (CTA) is something you can include on your billboard to direct people who may want more information toward your website or clinic. While the 2010 Healthcare Industry Study showed that corner tabs may not be the best way to do this, you can implement a CTA in numerous other ways:
QR code that passersby can scan that directs them to your online services
Phone number that potential patients can text to receive a free consultation
Offer that promotes a free or discounted in-office visit
Including a CTA on your billboard or OOH campaign can help to extend your reach far beyond a potential patient's first look—it allows passersby to continue to engage with your clinic and learn about your services. Essentially, it lets people know what to do next.
Get Your OOH Campaign Started with True Impact Media
The bottom line is that billboards can be an effective tool in the healthcare industry when building awareness around your facilities and imparting information to your community.
But the effectiveness of any OOH campaign comes down to the design and the execution. That's where True Impact Media can help.
Our easy-to-use platform makes it simple for you to browse available OOH locations in your area and design a campaign that people will notice. Our experts will ensure that you and your patients get the most out of your campaign. If you're ready to begin your OOH outreach, take your first step with True Impact Media.
Sources: