Chicago is sometimes known as the "the Second City," but it shouldn't be thought of as second. Chicago is home to the Cubs, the Bears, and the Bulls. It was the location of the world's first skyscraper, and it's the future home of the Obama Presidential Center. It also boasts the famed improv comedy group The Second City (apparently, they don't mind the nickname).
In other words, Chicago is a thriving metropolis full of culture and opportunities—and those opportunities extend to advertisers.
If you're thinking of marketing to Chicago residents, you may be wondering about Chicago billboard advertising prices. These billboard prices can fall anywhere between $2,000 to $12,000. In this guide, we'll look at the factors that determine pricing to get a better idea of what you might pay for billboard advertising.
Prices for Out-of-Home Advertising in Chicago
What accounts for the wide range of billboard pricing in Chicago? Much like real estate, price varies by location and by type of outdoor advertising.
A billboard on a busy thoroughfare will cost more than a billboard location on an obscure back road at the edge of the city.
Beyond the location, the size and media type of your out-of-home (OOH) advertising will affect your overall bill. Next, we'll take a closer look at your options and their associated costs.
OOH Size
The size of your advertisement is a factor in your total cost. The right size for you depends on your budget, your target demographic, and your advertising goals.
Some of the main options to choose from include:
Wallscapes or Wall Murals – Want to make a statement? Taking over the entire wall of a building will do just that. These large-form types of OOH are great for impact, but inventory can be hard to come by—and scarcity means high cost. Since the building will likely be in a largely populated area, this isn't always the best option for targeting drivers.

Bulletins – This is probably what you think of when someone says the word 'billboard'. Perfect for targeting commuters along busy freeways, these can provide lots of brand awareness. As we noted above, your billboard advertising cost will vary based on location and type of billboard. (We'll discuss digital vs. traditional billboards in the next section.)

Posters – If you want to target drivers but would prefer to focus on local commuters, posters may be what you're looking for. Rest assured that these aren't the size of classroom posters. With standard dimensions of 12'3" high by 24'6" wide, they're still plenty big enough to be seen, but they can also fit on roads that see lighter traffic.

Junior Posters – At 5' high by 11' wide, these aren't the best option for grabbing the attention of a driver moving at 65 miles an hour. However, they're great for targeting a smaller area. Junior posters also open up creative opportunities like using more text or employing vertical orientation.
A larger billboard advertisement will usually cost more than smaller junior posters. Keep your overall goals in mind as you choose your size.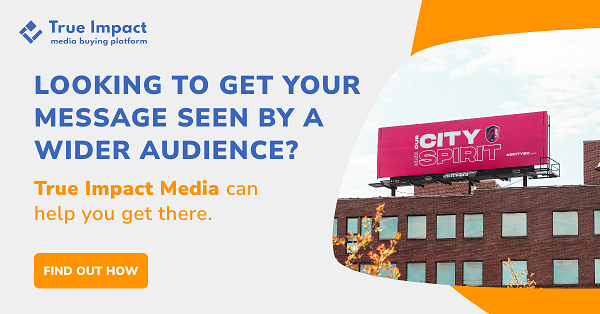 Digital vs Traditional OOH
Do you plan to use a traditional billboard or a digital billboard?
It should come as no surprise that high-tech digital billboards are more expensive than their static counterparts. However, digital billboard advertising offers some unique benefits:
Eye-catching graphics – The sleek, clean look of a digital billboard can be better at capturing people's attention than more traditional advertising. You can add movement to your message, drawing the eye in a way that's inaccessible with static images.

Room for creativity – As a kid, you probably wanted more than eight crayons—upgrading to the big box of 96 colors was the dream. Switching to digital can feel a lot like getting that big box of crayons as it opens new possibilities for what your creative team can do with your advertisements.

Instant adaptability – Digital options allow you to update your campaign while it's still running. As a result, you can react to your analytics and adjust on-the-fly so you don't get stuck running an underperforming campaign.
Of course, while there are advantages, digital billboards require a bigger budget—and depending on inventory, you may have to share time with other advertisers. This can defray costs, but it also means your ad won't be up 24/7.
Make your choice with your creative and financial goals in mind.
OOH Beyond the Billboard
OOH advertising is a broad category, and you don't have to limit yourself to billboards. Sometimes, smaller advertisements around the city can be more effective than one large billboard. Some of the other types of OOH you can choose to implement in Chicago are:
Ads on street furniture – This is an effective way to gain brand awareness within the city. By placing ads on bus shelters, benches, or even city information kiosks, your ad will reach people at places they already frequent in their day-to-day lives.

Transit advertising – Chicago's L train is famous and many residents use it to traverse the city. Buses are also popular. Finally, O' Hare is the third largest airport in America. All of these present advertising opportunities. If your target audience uses these options more than cars, transit advertising may be the best place to reach it.

Place-Based media – We mentioned many of the Chicago sports teams earlier. Why not advertise in their arenas? Likewise, you could advertise in a busy shopping center. You could even put your ad on the elevator doors of a Chicago skyscraper. Place-based media is yet another tool to reach your customers where they are and expand your reach.
Again, the price will vary based on location, size, and media type.
Understanding the Chicago Market
Chicago is the third-largest city in America with a population of 2,746,388 as of the 2020 census. It is also a tourist destination, so any OOH advertising in Chicago is sure to reach a large audience. If you are looking to advertise in a city you should also consider how much is a billboard in Los Angeles.
When considering billboards specifically, note that the average travel time to work for residents of Chicago is 34.7 minutes. That means you have over half an hour to reach drivers and public transit commuters on their way to work.
Beyond its size, Chicago's people are also a diverse group in terms of race, income, and beyond.
This diversity means that every OOH advertisement has the potential to reach many different groups of people—including your target demographic.
Why You Should Advertise in Chicago
The numbers above are enticing. But how can you be sure that OOH advertising in Chicago works? To answer that question, we'll look at a few examples of successful outdoor advertising campaigns.
McDonald's
Let's start with one of the largest advertisers in the world. While McDonald's has used OOH creatively and successfully in many instances, in this case, they specifically targeted the Chicago market to educate consumers that Hawaiian Punch was available as a fountain beverage in their restaurants.
McDonald's decided to focus their effort on bulletins and posters within five minutes of one of their restaurants. The numbers show how well the campaign worked:
After implementing OOH advertising, McDonald's saw a 36% increase in consumer awareness of where to find Hawaiian Punch as a fountain drink.

Surveyed parents reported a 20% increase in their likelihood of purchasing Hawaiian Punch at McDonald's.
Jacqueline's
Maybe McDonald's can make OOH work, but what about a smaller, more local business? For another example, we move to Highland Park where Jacqueline's, a local jeweler, started an outdoor advertising campaign to educate people on lab-grown diamonds. They focused their billboards along the Tri-State Expressway I-294. The results speak for themselves:
Over one year, the campaign reached 7.2 million people between the ages of 25 and 39. It also reached 5.4 million women between the ages of 20 and 54.

Surveys showed that 25% of people visiting the store came after seeing the billboards.

The number of new clients who bought an engagement ring or redesigned their older jewelry increased threefold.
So, whether you're a multinational corporation like McDonald's or a local company like Jacqueline's, OOH advertising in Chicago can work so long as you have a well-thought-out and well-executed campaign.
Design Your OOH Campaign with True Impact Media
Speaking of well-thought-out and well-executed campaigns, how do you actually create one? The first step is by contacting the experts at True Impact Media. We have the tools to make the most out of your OOH campaign at every step of the journey.
We'll work with your to locate available inventory, plan your campaign's creative execution, and monitor analytics to understand how your campaign is succeeding in real-time.
OOH advertising works. It works better when you rely on expertise. It works best when you work with True Impact Media.
Sources: