You may be wondering, are billboards effective? The resounding answer is yes. In the world of billboard advertising, your imagination is your only limitation. That's why the most effective billboards are the ones that think outside the box.
But, when your creative well is running dry, you might feel stuck trying to develop new, fresh ideas. Need to get through a creative block? All you have to do is look around. Other billboards are a fantastic source of inspiration and can teach you to push the boundaries while still promoting the product to the target audience.
Check out these six billboard advertising examples that are sure to inspire.
#1 "Builds Strong Teeth" Formula Toothcare Campaign
In terms of billboard design, this one takes the cake. To show that their toothpaste "builds strong teeth," Formula Toothcare's billboard in Indonesia displays a man using his teeth to rip his own billboard ad from its metal frame.
Instead of a generic toothpaste ad of someone with pearly white teeth, this ad choice is more memorable because it's personalized to fit their specific slogan and product. By including the structure of the billboard and using primarily visuals, they created an ad that onlookers and those in traffic won't soon forget.1
#2 "Life Comes at You Fast" Nationwide Insurance Campaign
This three-dimensional Nationwide Insurance billboard is an immersive ad that uses paint as a metaphor to demonstrate their slogan.1 But what makes this OOH ad effective?
The ad engages the audience when it extends beyond the billboard's dimensions and leaks onto cars and the parking lot.

The company uses bright visuals to convey its slogan and product instead of only words.

Also, they chose a visual that is easy to spot and understand from miles away.
#3 Giant Cadbury Bar Billboard
When it comes to food ads, you often see images of picture-perfect food. But, in this Cadbury ad, they show people greedily tearing their chocolate bar apart. Drivers passing by are much more likely to engage with it and perhaps feel compelled to buy a Cadbury chocolate bar since 68% of drivers decide on what to buy at the store while they're in the car.2
Billboard ads that go outside the conventions of their market are more likely to be memorable and to grab their audience's attention.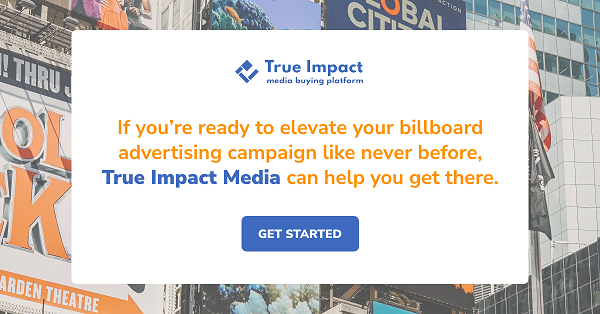 #4 Oldtimer Rest Stops' Tunnel Ad
The most effective way to engage your audience is to make them a part of the ad. Sometimes it can be harder to do with billboards on the side of the highway. Drivers can easily ignore the billboard ad as they go on about their day. But, this Oldtimer's1ad uses the tunnel space to become a part of the driver's commute, making it impossible to ignore.
Interested in why this ad works specifically? Here are two key reasons:
Interactive – To leave an audience with a lasting impression, the ad needs to engage with them. This ad takes advantage of the tunnel opening to promote their product and to have drivers physically interact with the ad.
Creative – The ad promotes the food at their "all you can eat rest stop" without actually using a picture of food. Instead, they turn the tunnel entrance into a mouth so the cars driving in represent the "all you can eat" aspect of the promotion.
#5 "The Day After Tomorrow" Billboard Campaign
Sometimes it isn't the ad itself that draws attention but the location.
In this campaign, the billboard promoting a film about a natural disaster is being submerged in the water. Because there aren't too many billboards drowning at sea everyday, this placement doesn't need to compete with other ads to get their audience's attention. Plus, it is still visible from a distance.
The location of your ad is important. You can have the most creative and innovative billboard ad, but if no one sees it, then it was all for nothing.
#6 Calgary International Film Festival's Crying Billboard
If you saw a crying billboard, wouldn't you stop to stare? This Calgary International Film Festival billboard 3takes advantage of the audience's curiosity to draw them in. It also appeals to their emotions, which ties into the theme of the festival's messaging.
This added dimension to the billboard makes their ad interesting and demonstrates that a billboard can be more than a simple image.
Reminders before getting your own creative billboard:
Eager to get your own billboard? Before you call the first New York billboard company you see, better ask yourself the following questions first:
How much does a billboard cost?
What billboard size should I get?
What are the types of billboards?
Finding the answers to these questions will help you establish the goals of your OOH campaign.
Get Creative with True Impact Media
Feeling inspired? Ready to see your ad idea come to life?
Get started with True Impact Media. Not sure how to rent a billboard? Or where the best location would be for your product? That's where we come in. We manage the entire process to guarantee that you reach your audience and grow your business.
If you're interested in finding out more, then fill out this form to get a demo. Let's work together to build an eye-catching campaign.
Sources:
Hubspot. 15 of the Most Creative Billboard Ads From Around the World. https://blog.hubspot.com/marketing/creative-billboards-around-world
Forbes. Does Outdoor Advertising Still Work? https://www.forbes.com/sites/marketshare/2011/10/10/does-outdoor-advertising-still-work/?sh=540bc53574a8
Ads of the World. Crying billboard. https://www.adsoftheworld.com/media/outdoor/calgary_international_film_festival_crying_billboard