Advertisers often overlook traditional media for advertising newer, more innovative ways to get the message out there. Digital advertising campaigns allow companies to focus on delivering personalized messages to consumers based on metadata and improve the impression you make.
Unfortunately, customers have far more control over ads they interact with on their devices. Whether they are viewing ads on social media, via streaming services, or through email, there are various ways they can hide or skip your advertising.
However, creative solutions can help companies combine the best aspects of digital marketing with the benefits of OOH to create meaningful, timely advertising that engages a broad audience. That's where experiential marketing works best.
Experiential OOH, otherwise known as out of home engagement marketing, focuses on creating an interactive, three-dimensional advertisement that customers can experience in the real world with all their senses. Done right, this method can increase the number of impressions your ad makes exponentially. The advertising that appeals to millennials and will probably be one of the common marketing tactics in future out of home advertising.
The Benefits of Outdoor Advertising
Outdoor advertising campaigns offer businesses the opportunity to display highly visible advertising in places that can reach hundreds, or even thousands, of potential customers every day. Better yet, you don't have to pay-per-click. The cost per view is surprisingly affordable, so even relatively small businesses can invest in OOH advertising and get an impressive ROI.
Outdoor advertising allows you to create geo-targeted ad campaigns in highly visible spaces. You can still tailor your ads to the type of customer that will be in the area, but you get a larger target audience and for an ad that can't be muted, blocked, or skipped. For example, airport advertising lets you target consumers that are traveling, while a shopping mall ad is visible to people who are ready to spend money on products. These can use traditional print.
While a billboard can't be skipped, muted, or ignored, but when you create a brand experience that can't grab the attention of a typical passerby, you increase your engagement and raise your brand awareness with a single focused effort.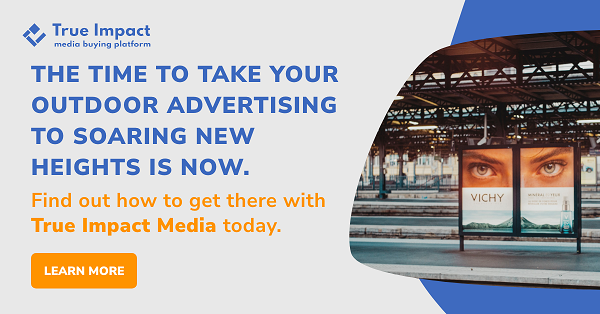 Elevate OOH with Experiential Installations
With creative thinking, the options for experiential advertising are endless. You can hire a street team to talk about your company, offer samples, or give demonstrations. Grab the crowd's attention with bold designs or videos using digital screens. You can create a unique brand experience with virtual or augmented reality or let your customers have some fun with games, bounce houses, or other activities while they connect with a brand ambassador.
Other ad campaigns may focus on creating a thought provoking piece that elicits an emotional response from the audience. You can create a visualization that highlights a problem and show the innovative ways your company can address them.
Planning Your Installation
With an experiential ad, you can cater your OOH campaign to a hyperlocal audience and further focus the messaging depending on the type. Experiential OOH advertising gives marketers the unique opportunity to flex their skills and develop multiple creative ideas to engage audiences in different spaces.
The possibilities for this type of ad are endless. You can set one up on the street during a busy weekend or create an installation in an airport or subway station. You can also plan a festival experience for a festival or other event and find people in a unique state of mind to experience something fun. Trade shows and conventions are also excellent places to target attendees that make important business decisions.
Preparing an experiential campaign can include working with social media influencers to spread the word about an event, or you can capture an ambush-style marketing stunt with a video team to use in later ad campaigns.
It's crucial to plan for maximum consumer engagement. Installations can increase the amount of time consumers spend with your brand, ensuring they will keep you in mind when they are ready to make a purchase. Better yet, you can create branded swag to take with them, such as stickers, keychains, bottle openers, or koozies.
Finding the Best Spaces to Make an Impact
If you want to expand your reach and maximize the impact of your brand message, there's no better place to start than outdoor advertising. At True Impact Media, we've created a platform to help businesses of all sizes plan and place outdoor marketing in coveted markets across the country. We offer technology-based, data-driven solutions to help your creative team every step of the way.
The act of placing a billboard campaign doesn't have to be a headache. Our universal platform can connect you with millions of ad opportunities and work with any budget, without having to keep track of estimates or contact multiple vendors. Unlike working with other advertising firms, you'll have total control of the implementation of your campaign.
Contact us today to find ad space for your business or learn more about the different types of OOH.