Since 1933, the non-profit organization known as Geopath (formerly the Traffic Audit Bureau for Media Measurement, Inc., or TAB) has been working to improve the way out-of-home advertising (OOH) campaigns are measured.1
Using survey data, visibility research, and demographic information from the U.S. Census, among other tools, the organization seeks to improve the OOH industry by helping businesses better anticipate where audiences are most likely to encounter their ads.
The organization ranks millions of nationwide outdoor advertising spaces, like billboard advertising and posters, so that advertisers know how many people will see their ads and who those people are. The ratings reflect how well a given location performs according to a variety of metrics.
Interested in knowing more about Geopath and how it rates OOH advertising? Keep reading.
Understanding How Geopath Rates OOH Advertising
In a sense, the best Geopath definition is that it's a rating system that uses state-of-the-art technologies to measure the viability of OOH advertising locations.
Geopath ratings harness modern technologies and couple them with traditional methods to make OOH a more intuitive and effective advertising model. The goal is to move OOH measurements beyond mere demographic considerations to include the behavioral habits of consumers. This audience location measurement includes where consumers live and how they commute or travel. For instance, this type of research is a great way to back up your purchase of a Miami billboard along the highway vs. amidst the Miami downtown environment.
In ranking OOH advertising locations, Geopath ratings are built on four main building blocks2. Those building blocks are:
Reach and frequency – Geopath uses anonymous consumer trip data from mobile devices to determine the number of people that pass by an advertisement. Mobile trip data is also used to determine where those people are coming from.
Demographics – Geopath combines data from marketing firms like Claritas, LLC; media research companies like GFR MRI; and official data from the United States Census. In conjunction with mobile trip data, this allows Geopath to gain insight into what kinds of consumers—married couples, single people, senior citizens, etc.—are likely to see an advertisement2. This leads to possibilities for enhanced audience targeting.
Visibility outreach – Using eye-tracking studies, Geopath is able to assess the visibility of a given billboard or other OOH advertising display. These studies take into account factors like advertisement size, proximity to the road, and the maximum distance from which it can be seen. They also consider the size of the road and whether there are any obstacles within the line of sight of the billboard.
Circulation counts – Finally, traffic counts provided by the Department of Transportation (DOT), along with mobile trip data that provides an accurate measurement of the frequency of consumers passing an ad space, are used to determine the potential circulation counts of a given advertisement site. This is similar to using the metric, Daily Effective Circulation.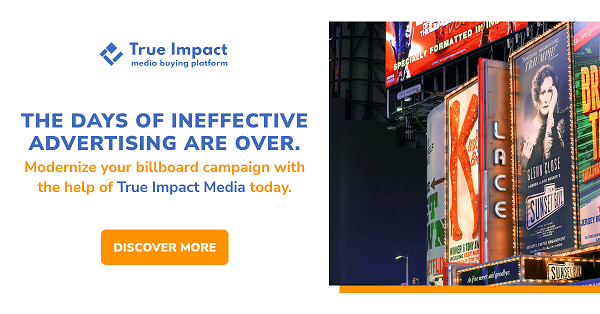 How Do Geopath Ratings Benefit Businesses?
When it comes to how OOH advertising real estate is measured, Geopath ratings provide businesses with some of the most accurate information available, updated daily3. Companies can use this information to pick the OOH advertising locations that reach their target audience and maximize their OOH campaign.
Geopath ratings allow brands and businesses to assess an advertising location with regard to several of the most important OOH metrics, including:
Impressions – Using mobile trip data, visibility outreach, and circulation counts, Geopath ratings can allow for a more accurate measurement of the number of consumer views an OOH ad space is likely to attract.
Reach – Geopath leverages powerful GPS technologies to determine how many unique individuals are likely to encounter a given OOH ad within a specific time frame. GPS data from mobile phones as well as DOT statistics allow for a better understanding of how many consumers are on the road—and how many could see your ad.
Frequency – Visibility studies and an understanding of where consumers go when they're on the move can help the OOH industry better estimate how often an individual consumer is likely to encounter an advertisement.
Audience targeting – Demographics have always been an important aspect of OOH measurements. Geopath ratings take it a step further, integrating location data and specific information about the routes your audience takes every day. This audience location measurement provides businesses the opportunity to place OOH ads in the most relevant locations.
True Impact Media
When it comes to measuring the desirability of a given OOH advertising location, businesses can rely on Geopath ratings for valuable insights about the audiences they hope to reach. There are also other advertising metrics that can be useful such as Daily Effective Circulation or you can determine your CPP calculation media costs to better plan out your advertising budget
With that being said, when it comes to planning, launching, and measuring OOH campaigns that wow consumers and drive growth, you need True Impact Media.
Our innovative platform makes it easy for brands and businesses of all kinds to find and purchase OOH billboard advertising space. Then, our experts work with you to build a campaign that reflects your goals.
The future of buying outdoor advertising space is here. Get started now.
Sources:
Geopath. Our Organization. https://geopath.org/our-org/
Geopath. Geopath Standards and Best Practices. https://geopath.org/wp-content/uploads/2019/11/Geopath-Standards-and-Best-Practices-Document__11-7-19_Section-1.pdf
Geopath. Geopath Releasing New Real-time Metrics. http://blog.geopath.org/index.php/2020/04/14/geopath-releasing-new-real-time-metrics/#