What does your local locksmith have in common with your neighborhood McDonald's, or your independently-owned grocery store with Snickers? They all use a form of out-of-home advertising (OOH) known as the junior poster.
When you think about traditional OOH advertising, your mind might immediately conjure images of bold, eye-catching bulletins that line the highway. And it's no wonder: Bulletins, spectaculars, and other large-format OOH options are so appealing to businesses—and so effective to consumers—partially because of their immense size.
But sometimes, going small can have a huge impact. And the junior poster proves this. Junior posters are small billboards that bring in big business for a variety of brands and businesses. So whether you're thinking of incorporating junior posters into your next OOH campaign or just curious to learn more, here's everything you need to know.
Your Guide to Junior Posters
Junior posters, or 8 sheets as they're called in the business, are a type of billboard advertising.1 With a standard measurement of 5' high by 11' wide, they're the smallest billboard size available. 
But wait a minute, you might be thinking, aren't billboards much larger than that?
The answer is both yes and no. Although when you think of a billboard you likely imagine their more popular, larger incarnations that tower over busy interstate highways, the term actually refers to a few different types and sizes of OOH advertising.
In addition to junior posters, these OOH advertising methods include:
Spectaculars – As the name implies, spectaculars are enormous, eye-catching billboards that can be as big as 20' high by 60' wide. You've probably seen them stretched across busy highways or gracing the side of prominent buildings.2
Bulletins – Bulletins are most likely what the word billboard evokes for you. They're between 10' and 14' feet high by between 36' and 48' feet, and the most popular billboard size.2
Posters – Posters, also called 30 sheets, are smaller billboards that appear mostly on well-trafficked local roads. They feature more targeted advertisements than bulletins and spectaculars. The standard size for a poster is 12'3 high by 24'6 wide.2
You might be thinking, why advertise with a junior poster when much larger, flashier options are available?
Well, different types of billboards offer unique benefits to businesses, servicing distinct areas and targeting specific customers. Whereas spectaculars and billboards capture the attention of a large, diverse audience, smaller options, like posters and (you guessed it) junior posters have a more local focus and provide a lot more benefits.
The Benefits of Junior Posters
Junior posters target consumers where they live. As such, you'll most often see them in densely populated urban settings that get a lot of foot traffic, as pedestrians are their primary target.
They can be free-standing models that sprout up on the side of local roads, or they can be mounted to the sides of buildings such as wallscape advertising. In both cases, they're positioned closer to eye level than larger formats. 
Junior posters are most often used for short-term or seasonal campaigns and to introduce new products or services to the market. They're also highly effective at targeting ethnic populations in densely populated urban areas.
And what they lack in square footage, they more than make up for in terms of the benefits they offer brands and businesses who use them. To that end, the benefits of advertising with junior posters include:
Versatility – Junior posters are small enough to feature advertisements vertically or horizontally, giving you more options for how you orient and design your ad. They're supportive of media diversity and, because they're targeted to customers on foot, they can hold more text than larger formats.
Location-specific – Junior posters are usually located close to the business they advertise, which can lead to greater conversions. Additionally, they're usually popular in areas where larger format options are less prevalent or less available.
Cost-effective – Junior posters are less expensive per thousand impressions than other bulletin options.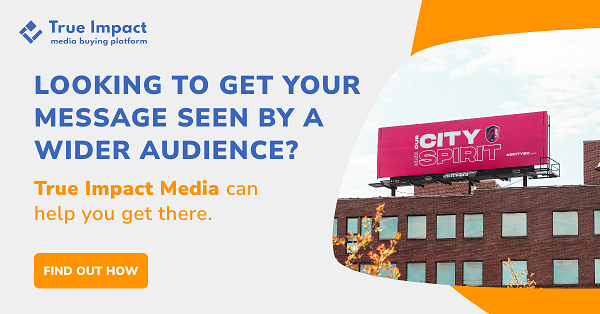 Industries That Can Benefit from Advertising with Junior Posters
Junior posters are a popular form of advertising for a variety of brands and businesses. From your local mom-and-pop hardware shop to big-box retailers, junior posters are an effective way of alerting local consumers to your products and bringing them into your business.
They can be particularly beneficial to:
Retailers
Restaurants
Grocery stores
Local businesses
Businesses that cater to ethnic markets
True Impact Media: Your Guide to the World of OOH
Knowing the benefits that junior posters can have for your business is only the first step to using them in your next ad campaign. The next step is finding a dedicated team of advertising experts to show you how.

That's where True Impact Media comes in. We're big fans of outdoor advertising, and even bigger fans of helping brands and businesses of all kinds break into the game. We can help you manage all of it, from finding the medium that best suits your campaign to printing, shipping, and installing your ads.
Find your audience with True Impact Media. Get started with our OOH services today.
Sources:
Out of Home Advertising Association of America. About OOH. https://oaaa.org/AboutOOH/OOHBasics/OOHMediaFormats/JrPosters.aspx
True Impact Media. What is the Standard Billboard Size. https://trueimpactmedia.com/blog/what-is-the-standard-billboard-size/