Can you remember the last time you landed on a website and it didn't ask you to 'Accept All Cookies' to keep browsing? If not, you're most definitely not alone.
As user data and privacy restrictions continue to ramp up, and with Google Chrome nearing its end of allowing third-party cookie advertising in 2023 to help protect users, advertisers must find new ways to target their audience and measure the effectiveness of their digital advertising campaigns. One solution is Digital Out-of-Home (DOOH) advertising.
For a better understanding of what cookies are and how they're evolving in the world of digital marketing, we're here to break the topic into bite-size pieces and how your business can reap the potential benefits of using DOOH.
What are Advertising Cookies?
In digital advertising, third-party cookies are small text files stored in a user's browser that advertisers can use to collect user data and monitor website activity. Essentially, this type of technology allows companies and marketers to track their user's interests across multiple sites. The user data can include:
Browsing and shopping history
Demographic information (age, income, etc.)
Location
Time of day they visited a website
Quite the (data) collection, right?
From there, marketers can analyze this data and curate personalized advertisements and campaigns to target their desired audiences. This can help them bring in more qualified leads and customers, contributing to increased conversion rates and ROI.
However, as the digital marketing landscape evolves, companies that are over-reliant on cookie data may catch themselves in a sticky situation if they're not ready for a cookie-less world.
Moving Away From Cookie-Cutter Advertising
As of 2022, according to Twilio's State of Customer Engagement Report, over 80% of companies are reliant on third-party cookie advertising, and 55% admitted to not being prepared for a cookie-less world. So, what do companies need to do as the digital ad world changes? Adapt.
Search engines like Safari and Firefox are already blocking cookies and major corporations like Google and Apple are 'en route' to follow suit. And so, advertisers are turning towards more traditional advertising methods once again. The Harvard Business Review shared information from the recent 2022 CMO survey, indicating that as a result of our cookie-changing world, nearly 20% of companies invested more money into traditional marketing methods outside of online advertising.
While advertising with cookies makes it all the easier for companies to hyper-focus their marketing campaigns, this type of data collection is often viewed as an invasion of privacy on the consumer end. That being said, more and more users may opt of allowing browsers to collect their data. Therefore, businesses have to get more creative with how they can target their audiences and sustain year-over-year revenue without the ability to dig their hand into the digital cookie jar.
So, how can digital marketing experts keep up with a third-party cookie-free future? It's time to take a bite out of the cookie conundrum and turn to another effective digital marketing method: digital out-of-home (DOOH) advertising.
What is DOOH?
So, what does DOOH mean? Digital Out-Of-Home (DOOH) is an advanced advertising method that enables you to engage with a wide pool of customers by targeting them based on location. By leveraging physical elements like digital screens and different types of billboards in public places such as shopping malls, transportation hubs, and stadiums, you can display your advertisements in areas that are guaranteed to draw large, diverse crowds. Therefore, it is one of the best ways to approach audience targeting without using cookies.
Unlike other traditional forms of advertising, DOOH is the ultimate interactive client experience that ensures your target customers are exposed to the right message, at the right time, and in the right place––without sacrificing their privacy.
Fortunately enough, advertisers can use digital DOOH advertising to fill the gap left by cookie-based targeting. With DOOH, marketers can use various methods to reach potential customers, such as location targeting, demographic segmentation, and interest-based targeting. For example, an advertiser could target people near a store with an advertisement based on their age group, interests, or even recent purchases.
Benefits of DOOH
To better understand why DOOH might be the best cookie-less advertising alternative for your business and brand as you navigate engaging with customers in new ways, we've listed its key benefits below:
Reach a Wider Audience
Digital Out of Home (DOOH) advertising allows you to reach a much broader audience than other types of traditional media, ensuring you can reach people in the right place and at the right time. It enables you to target users based on location, age, gender, and other demographics, providing you with an opportunity to reach locals and potential customers outside of their existing customer base.
Personalization
DOOH offers the possibility of personalizing messages for different locations or users, meaning you have the creative flexibility and autonomy to create a more impactful user experience for the viewer. Additionally, by using environmental and facial recognition technology, DOOH can track a viewer's age, gender, and expression, allowing you to curate and send tailored messages to users based on their behaviors and surroundings.
Cost-Effective
Despite its reach, DOOH advertising is still cheaper than other forms of targeted advertising, such as television and radio. With DOOH, you can use the same advertisement in multiple locations, significantly reducing production costs and time.
Flexibility
The great thing about DOOH is that it's flexible and can be adapted to fit any type of budget and message. Whether you want to promote a new product or launch, you can leverage this type of marketing campaign to ensure your message is seen day in and day out.
Measurable Results
Unlike traditional forms of targeted advertising, DOOH offers the ability to track user engagement in real time, so you can quickly identify which ads are working and which aren't. Based on your analysis, you can tweak your advertisements and try out different designs and messaging to really hone in on what works for your audience.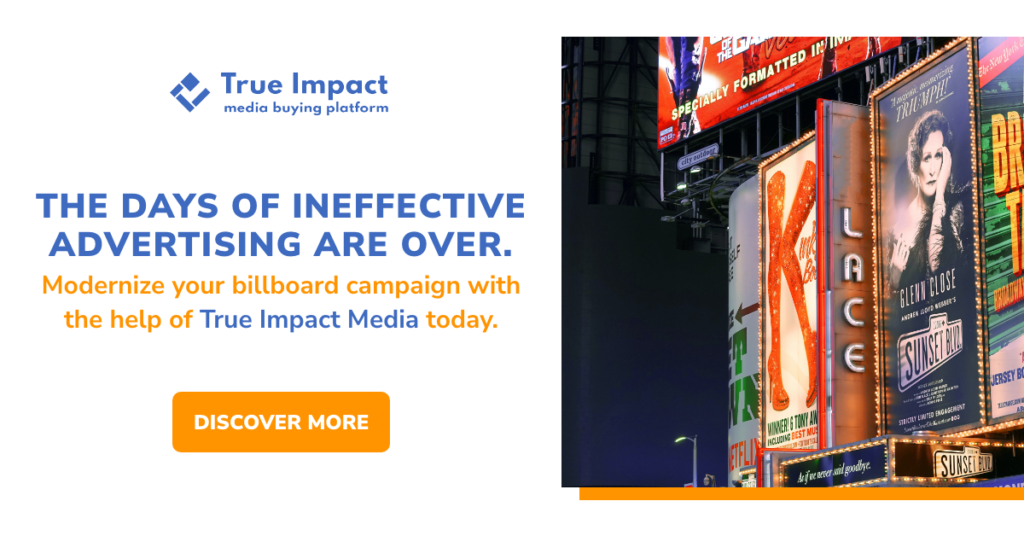 DOOH in a Cookie-less World
Digital Out Of Home (DOOH) is emerging as a viable alternative as the world moves away from tracking cookies for online advertising. By providing a unique opportunity for advertisers and marketers like yourself to reach their audiences in specific areas and locations, DOOH is an excellent advertising medium that offers an additional layer of transparency and privacy.
In addition, DOOH is cost-effective and provides advertisers with a high return on investment. With DOOH, you're able to easily track the performance of your campaigns in real time and make changes quickly if needed. Furthermore, since most people view digital billboards while out and about, they're more likely to take action after seeing one of your ads, making it an effective marketing method.
Start Your DOOH Campaign With True Impact Media
Starting a Digital Out of Home (DOOH) campaign with True Impact Media is a surefire way to meet your marketing goals. Our team specializes in helping you target specific audiences, create fun and engaging billboard designs, and track performance in real time to ensure you understand the impact your billboards are making no matter where they are located.
Contact us today to learn more about DOOH and what it can do for your business.
Sources:
Goel, Vinay. "An Updated Timeline for Privacy Sandbox Milestones." Google, Google, 24 June 2021, www.blog.google/products/chrome/updated-timeline-privacy-sandbox-milestones/. Accessed 27 Mar. 2023.
"2022 Twilio State of Customer Engagement Report." Twilio.com, 2022, www.twilio.com/state-of-customer-engagement. Accessed 27 Mar. 2023.
"Why Marketers Are Returning to Traditional Advertising." Harvard Business Review, 29 Apr. 2022, hbr.org/2022/04/why-marketers-are-returning-to-traditional-advertising. Accessed 27 Mar. 2023.