Modern history is full of iconic partnerships between powerful brands and famous athletes. From Babe Ruth appearing on Wheaties cereal boxes to Simone Biles partnering with United Airlines, the best athlete advertisements are the ones that merge brand recognition with the skills, talents, and achievements that an athlete is known for.
Using athletes in out-of-home advertising (OOH) is a surefire way to reach consumers and boost profits. Here are three sports brands showing all of us how the sports marketing game is played.
#1 Nike
As arguably the most iconic sports brand in the world, it should come as no surprise that Nike is also an industry leader when it comes to using pro athletes in advertisements. Professional athletes and OOH ads are a championship-cinching dream team, and few brands make that as clear as Nike.

Of course, when it comes to pro sports, Nike has pretty much always had skin in the game. As the official uniform provider of the NBA and the NFL, the brand equips players with the high-performance apparel they need to shine at game time. And Nike harnesses the power of those relationships to secure partnerships and sponsorship deals with some of the biggest celebrity athletes in the world, like:
Serena Williams
Michael Jordan
David Beckham
Alex Morgan
Lebron James
Nike has been king of this particular influencer court for decades, so there are hundreds of examples we could point to of the brand using athletes in advertising. But one recent example is their 2018 partnership with the professional athlete and football player Colin Kaepernick.
In 2016, Colin Kaepernick made worldwide news and social media headlines when he took a knee during a pre-game performance of the National Anthem. This decision helped amplify a nascent social justice movement but cost the superstar his career. A few years later, he made headlines again as the face of Nike's legendary "Just Do It" campaign.
Kaepernick's recognizable image appeared on OOH posters everywhere, along with the words "Believe in something. Even if it means sacrificing everything." The ad was timely, relevant, and an instant topic of conversation, generating buzz, collecting clicks, and bringing attention to Nike—the primary goal of any sport advertising message or campaign.
In an age where optics are everything, partnering with such a controversial figure as Kaepernick was a risky move for Nike, as it effectively amounted to the brand weighing in on the Black Lives Matter conversation. And not everyone was happy with the ad. Politicians spoke out against it, and private citizens threatened boycotts and destroyed Nike products.
Even so, you can't say the ad wasn't successful—love it or hate it, everyone was talking about it.
#2 Adidas
Adidas is known for its distinctive tri-striped logo and endorsements with athletes from every corner of the world of professional sports. Their current roster of all-stars includes:
Track and field star Shaune Miller-Uibo
Tennis player Dominic Thiem
Olympia Zheng Ninali
But one of Adidas's best athlete advertisements featured a superstar athlete of legendary importance: "the Greatest" himself, Muhammad Ali.
Back in 2004, Adidas launched its "Impossible Is Nothing" campaign to inspire young people to work hard, take risks, and overcome challenges. Posters featured an iconic image of the boxing legend in the ring, gloves on and a look of fierce determination on his face.
The power of the ad lay in the inspiration it had to offer. By casting Ali as the face of the campaign, the brand was able to capitalize on his importance to the history of sports as well as his well-known commitment to his own values and ethics, even when, like Kaepernick, his personal views landed him in professional trouble.
#3 Gatorade
Gatorade, owned by the Pepsi company, is an iconic drink beloved by professional and amateur athletes alike. And in 1992, they managed to create one of the most famous athlete advertisements ever when they partnered with NBA legend Michael Jordan.
In TV spots and OOH advertisements like posters and billboards, the campaign encouraged consumers to "Be like Mike." Print ads featured Jordan in a series of serious poses or performing on the court. Commercials cut together shots of Jordan dazzling on the court with shots of young people trying to emulate his moves.
Part of what made the ad so effective was Jordan's celebrity. Talented, successful, and generally beloved, he was a safe bet as far as advertising goes. And Gatorade was wise to emphasize these qualities. The advertisement presents Jordan as:
An aspirational figure
A role model
Confident but gracious
The commercial was a hit at the time and is now considered one of the most memorable athlete advertisements ever.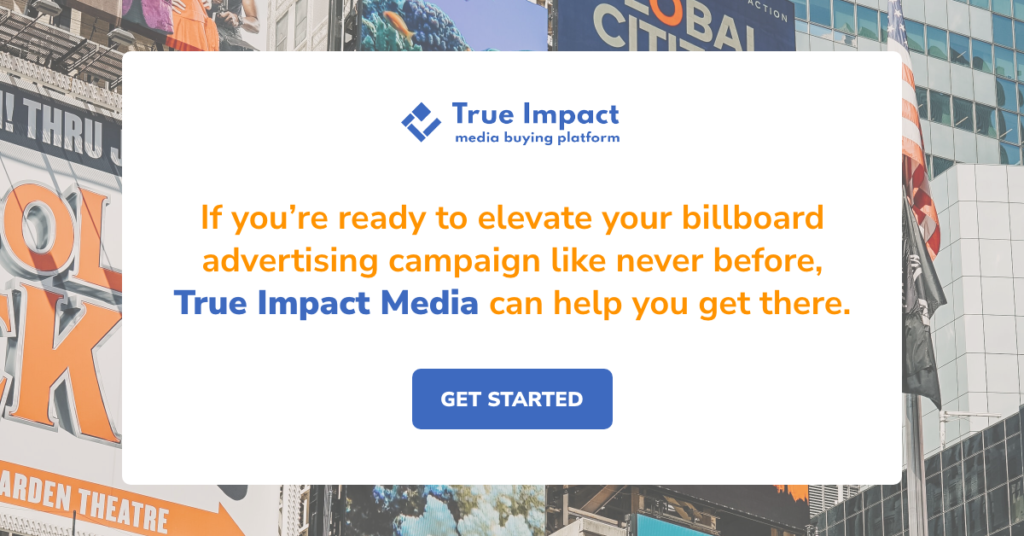 Find Your Audience With True Impact Media
Outdoor advertising has the power to remake brands and impact consumers wherever they are. But for your advertising campaign to be effective, you need experts in your corner that understand how OOH advertising works and can guide you on advertising at sporting events.

Before you launch your next campaign, connect with the experts at True Impact Media. We're big fans of outdoor advertising and know how to play the game. But more importantly, we know how to make it work for your business. Contact us today to get your foot in the game.
Sources:
Investopedia. Nike, NFL Extend Partnership Through 2028. https://www.investopedia.com/news/nike-nfl-extend-partnership-through-2028/
The Guardian. Colin Kaepernick becomes the face of Nike's "Just Do It" campaign. https://www.theguardian.com/sport/2018/sep/03/colin-kaepernick-nike-just-do-it-campaign-nfl
Adidas. Impossible Is Nothing. https://www.adidas.com/us/impossibleisnothing
The Drum. 2004: Adidas Creates "Impossible Is Nothing" Campaign Featuring Muhammad Ali. https://www.thedrum.com/news/2016/03/31/2004-adidas-creates-impossible-nothing-campaign-featuring-muhammad-ali
CBS Sports. Be Like Mike: Gatorade remakes classic Michael Jordan ad with Zion Williamson, Jayson Tatum, Elena Delle Donne. https://www.cbssports.com/nba/news/be-like-mike-gatorade-remakes-classic-michael-jordan-ad-with-zion-williamson-jayson-tatum-elena-delle-donne/