If a billboard stands in a forest and no one's around to see it, does it make an impression?
No matter how compelling an out-of-home (OOH) advertising campaign is, it still needs an audience to be effective. And if you want to maximize the number of eyes your ad catches, there are a few better billboard location options you can choose than placing it in a subway station or among a metropolitan skyline.
But like a bright-eyed, hope-filled protagonist, the big city can quickly intimidate companies looking to take advantage of all the outdoor advertising opportunities. So, if you're considering big city advertising, this is what you need to know to achieve that storybook ending.
Why is Advertising in Big Cities Important?
Walking along any downtown street in a metropolitan area, you're nearly guaranteed to see at least two things: people and ads. That's because OOH advertising is subject to the same advice every business hears regarding marketing strategy—meet your audience where they already are.
To say cities are filled with people is beyond stating the obvious—but do you know how many individuals inhabit them? Projections estimate that more 83% of the US population lives in urban areas, and that figure has only increased year-over-year since at least 1960. So, not only do OOH campaigns in cities benefit from positioning themselves in front of a substantial audience majority, but that majority continually grows.
However, urban audience sizes don't mean much if impressions never become conversions. So, instead, a better question might be, "How effective is big city OOH advertising?" As it turns out, very:
Consumers living in cities with populations greater than one million notice OOH ads with nearly 15% greater frequency than US averages.
34% of city consumers also report those OOH ads influencing their buying behaviors.
Simply put, there's a reason OOH ads rank in the top two fastest-growing channels. Accordingly, businesses are increasing their OOH ad spend—2022's Q1 saw the industry post a historic quarterly revenue surge of 40.5%.
How Does Big City Advertising Compare to Local Advertising?
With the data and OOH technologies available today, there's not too much strategic difference between big city and local advertising. Campaigns can be highly targeted—in their messaging, location, or both—which enables businesses to adopt local strategies when marketing to specific city districts and neighborhoods.
And with the rapid growth of digital OOH, even more capabilities and efficiencies are now available. The ability to show a digital ad on a billboard enables even easier localization for a given campaign and it shortens its time to launch, as there are fewer materials to gather or produce.
These factors and a majority of businesses reporting strong returns on investment (ROI) have led digital OOH to become the fastest-growing OOH segment, posting 57% growth during the same historic quarter mentioned above.
7 Tips for Billboard Advertising in Big Cities
When you're getting started with big city advertising and OOH in the billboard market, keep these tips in mind:
Stand out – With more ads in cities, it can be harder to get noticed if your billboard lacks an "X factor" to catch eyes and compel. Perhaps you run a minimalist campaign designed to coax viewers into learning more on their own, or you could go in the opposite direction with a vivid and striking billboard from which audiences can't look away. Whatever strategy you choose, make sure it distinguishes your ad from the rest.
Maintain brand consistency – Despite standing out being imperative, that "X factor" you embrace for your campaign needs to remain aligned with your branding. Odds are the first action an interested individual takes after viewing a compelling billboard is to look up the business online. But if your ad differs from your website and other branding too much, they might think they clicked the wrong link.
Keep the takeaway brief – Big cities feature much larger pedestrian populations that can more easily spend time fully taking in your OOH ad. However, your audience doesn't exclude drivers—who only have around eight seconds to view it. And brief takeaways are easier for all audiences to remember.
Evaluate new OOH technologies – Digital OOH is revolutionizing the industry and what an OOH ad can be. If Marty McFly thought the Jaws 19 holographic billboard was terrifying, he might faint from today's 3D displays. And remember to consider how other technologies can be integrated too, like QR codes for directing audiences to specific links.
Consult location and placement data – Not every big city billboard location will suit every brand. If your customers tend to represent certain audience segments, you'll want to determine the best spots to reach them—likely their most populous residential, business, and "out-on-the-town" locations. Thankfully, with the wealth of data that exists today and the insight OOH experts provide, this is less of a challenge than ever before.
Place ads in multiple locations – The "Rule of 7" still applies in today's advertising—or, that customers engaging with an ad seven or more times demonstrate increased interest and purchase consideration. So, one billboard on its lonesome might not be enough in the big city for your OOH campaign to generate significant ROI.
Place ads on more channels – Seven billboards in the same district or neighborhood will help you reach the Rule's threshold faster. But that might also increase your audience's ad fatigue, resulting in less effective marketing. Instead, consider distributing OOH ad placement to other areas and launch a complementary digital marketing campaign (e.g., social media) to initiate an "omnichannel" strategy.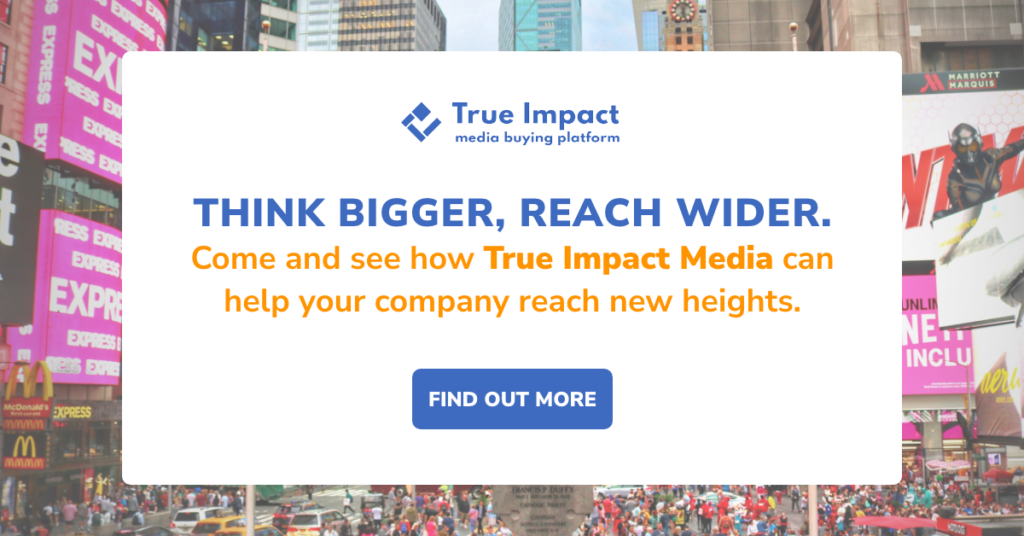 Partner with True Impact Media for OOH Advertising
Despite this introductory guide to big city advertising with OOH, you might still feel a little overwhelmed with getting your metro campaign up and running. And that's completely understandable—big city OOH advertising may be more effective than counterparts outside the city limits, but there remain a lot of variables to factor in even before you reach the stage of tracking multiple vendor quotes.
Fortunately, True Impact Media handles these variables on a daily basis. After growing frustrated with the OOH searching and buying process ourselves, our team decided to create a better experience for others.
Contact us to learn how we can help you win at big city advertising.
Sources:
World Bank. Urban population (% of total population)—United States. https://data.worldbank.org/indicator/SP.URB.TOTL.IN.ZS?locations=US
PR Newswire. Consumer Research Shows Heightened Receptivity To Out Of Home Messaging, Especially In Big Urban Areas. https://www.prnewswire.com/news-releases/consumer-research-shows-heightened-receptivity-to-out-of-home-messaging-especially-in-big-urban-areas-301226044.html
Forbes. Outdoor Advertising Vs. Digital Advertising: What Draws People More? https://www.forbes.com/sites/forbestechcouncil/2022/05/25/outdoor-advertising-vs-digital-advertising-what-draws-people-more/?sh=16ea237c13ed
OOH Today. Out of Home Advertising Up 40.5% in Q1 2022. https://oohtoday.com/out-of-home-advertising-up-40-5-in-q1-2022-heres-the-top-10-by-total-spend/
The Houston Chronicle. Do Advertising Billboards Work? https://smallbusiness.chron.com/advertising-billboards-work-75826.html
Indeed. The Marketing Rule of 7: Tips for Using it to Convert Leads. https://www.indeed.com/career-advice/career-development/rule-of-7-marketing