Whether you're debating indoor vs outdoor advertising, out-of-home advertising can take your business to the next level. From digital postings in online marketplaces to in-person job fairs, business owners have a lot of options for finding employees when they have open positions to fill. But if you're hiring, one option you may not have considered is a hiring billboard. 
In fact, hiring billboards can be an effective way to supersize your recruitment efforts and attract top talent.
Hiring billboards work much like traditional billboards that aim to sell a product. The only difference is that instead of a product, they advertise a job. Much like advertising billboards, a recruitment billboard allows you to reach a wide range of people who are on the move—making them an exceptional way to help you market open positions and reach qualified candidates.
Are There Advantages to Using a Recruitment Billboard?
If you're curious about hiring billboards, chances are you'll start to notice them when you're out and about. Recruitment billboards are a time-tested and popular way for companies of all kinds to market open positions. Huge global businesses like McDonald's and Nike use advertising billboards to promote their products and drum up consumer interest. Hiring billboards can potentially do the same for your business—that is, connect you with potential job applicants.
But are there advantages to using recruitment billboards over other forms of job advertising?
You bet. Not only can hiring billboards come with all the fantastic benefits inherent to any out-of-home advertising campaign, but they also present a range of perks that are specific to finding and hiring new employees. Some of the most desirable factors include:
They attract attention – Billboards are strategically placed in locations that maximize their visibility and reach—and the results show it. Studies show that a staggering 98% of adult Americans drive past at least one billboard every month, with 71% of them actually taking the time to read the billboard.
They reach a diverse audience – Because billboards are often found along major highways and other high-traffic roads, you aren't limiting yourself to a local pool of applicants. Instead, hiring billboards have the potential to advertise your open position to out-of-town talent who may be traveling for business or pleasure.
They offer geo-targeting – Although they can reach a broad range of consumers, billboards can also offer more targeted outreach. Geo-targeted billboards use demographic data sourced from specific regions. This data then allows you to place your advertisement in a location based on its unique social makeup.
Trackable results – With hiring billboards, there's no guesswork involved in gauging the success of a given campaign. Many companies make each billboard unique by directing viewers to call or text a specific number, use a unique code, or go to a specific website. These methods allow you to tally up just how many people your billboard reached.
Effective Hiring Billboards: Examples of What Works
Because of their ability to reach a broad audience, billboards offer an effective way to advertise almost anything. But that doesn't mean that every billboard is a home run.
Like all advertising, designing a successful recruitment billboard means thinking inside and outside the box at the same time. In other words, you have to know the rules of the sandbox you're playing in and be able to kick up a little dirt.

So, what separates the hiring billboards that draw the best job candidates and those that don't? Here are some prime examples of how you can make sure you snag the best new talent with your digital billboard.
#1 Have a Clear & Concise Call to Action
If a billboard advertisement were a dinner, the call-to-action, or CTA, would be the meat and potatoes. In other words, the CTA is the most important part of the information you include in your billboard because it relays the information that's most crucial to generating a response.
Essentially, the CTA guides your viewers to the response or action you want them to perform. It tells your audience exactly what they need to do to learn more, and it does so in as few words as possible.
You want your CTA to capture attention with legible text and attention-grabbing details—but there's no need to go into very much detail with the CTA itself. It should be short, simple, and clear, something along the lines of:
Call now
Apply today
Text for more info
#2 Be Creative
Anyone who's ever driven on a highway knows that there are a lot of billboards out there. And even though billboards are uniquely successful at capturing the fleeting attention of consumers, designing an imaginative billboard can help make sure yours is noticed among its competitors.

Sure, you could slap on a NOW HIRING sign next to your logo and include nothing more than a phone number. But that isn't likely to draw the attention of commuters. When it comes to designing your billboard, look for creative ideas sure to compel the types of employees you hope to hire. Don't be afraid to make it:
Humorous
Memorable
Exciting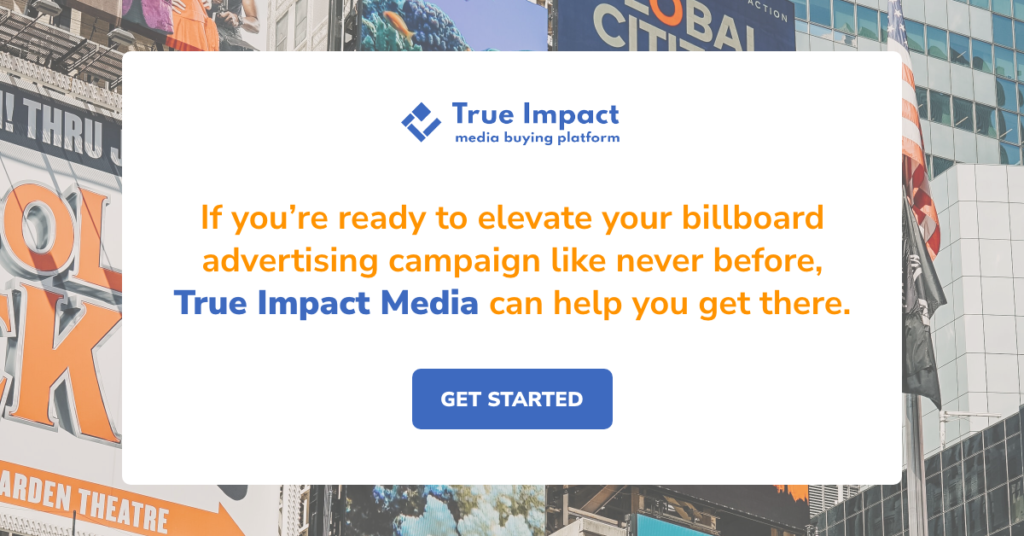 #3 Stay On Brand
Hiring billboards aren't one-way streets—even if they pop up alongside them all the time. Yes, the ultimate goal is to draw potential employees into a company's orbit. But they're also a valuable way for a company to introduce itself to potential hires.
That's why making sure your build aligns with your company's image is immensely important.

Cultural fit—that is, how well a given employee's perspective matches a given company's ethos—is believed to be one of the primary drivers behind employee retention, according to some surveys. But for employees to know that, your company's culture has to be made clear. If you can infuse some of your ethos into your hiring bulletins, you may stand a better chance of attracting candidates whose goals and values are in sync with your company's.
Staying on brand also helps you to create a consistent image, potentially helping to create a memorable impression on potential candidates. This starts with choosing design elements, like fonts, colors, and images, that are consistent with your company's other promotional materials. If you're using other avenues to find talent as well as recruiting billboards, make sure your branding and messaging stay consistent across platforms.
#4 Keep It Simple
At the end of the day, simplicity is key when it comes to recruitment billboards. You want to give your audience just enough information to know the "why" of your billboard and how to take the next step with limited information.
Keep in mind that billboards are often viewed from moving automobiles, and sometimes your audience is the driver.
Additionally, follow these guidelines to make sure your billboard is readable and concise:
Fonts – Go for fonts that are clear and easy to read. Avoid fancy scripts or other styles that may not be universally legible. You should also make sure your font reflects your company branding and goes well with the rest of the billboard design.
Colors – Although you can opt to include some flash, take care not to overload your billboard with overwhelming colors. When viewed from the highway, two to three distinct colors is more than enough. Additionally, the colors should contrast well with each other to help text and images appear clear. If you don't have an eye for graphic design, then consider hiring a graphic designer.
Messaging – Beyond your CTA, you really only need your company name and information that cues people into the purpose of your billboard—again, in as few words as possible. For example, recruitment billboards don't need much more than a simple "Now Hiring" or "Positions Available" to communicate their point across. Aim for wording that gets the message out within 5–10 seconds.
#5 Know Your Target Audience
Like all out-of-home advertising, billboard advertising is about finding audiences where they are. If you want to reach the right candidates for the job you have to offer, you have to advertise in areas where they're likely to see your billboard. Also, including a competitive salary for the particular job can entice and attract a wider range of qualified candidates.
This requires a little bit of research on your part, but the potential pay-off is worth it. You'll want to determine where your desired job seekers live, shop, eat, and spend their leisure time. Then, you'll need to speak with the owners of billboard spaces in those areas.
Fortunately, there are innovations that can make the whole process easier—like working with a media buying platform to snag the spot that's best for you.
Find Your Next Star Employee with True Impact Media
If you're thinking of diving into the exciting world of recruitment billboards to fill vacancies in your company, a compelling, creative message and eye-catching visuals are essential. But you'll also need to find a partner in locating the right billboard space for your ad.
True Impact Media's out-of-home advertising can help you with that.
At True Impact Media, we know that planning, purchasing, and launching an outdoor advertising campaign isn't always the most straightforward process. But we don't believe that it has to be complicated. After all, that's what we're here for—to simplify the process by connecting business owners like you with the best billboard spaces outdoor advertising has to offer.
Our talented team of experts is full of avid outdoor advertising enthusiasts passionate about helping companies plan, implement, and maintain successful campaigns.
Why? Because we believe in the power of traditional OOH to recruit top talent, boost business, and help companies thrive.
Sources:
Arbitron. The Arbitron National In-Car Study.
https://www.arbitron.com/downloads/InCarStudy2009.pdf
HubSpot. Everything You Need to Know About Billboard Advertising.
https://blog.hubspot.com/marketing/billboard-advertising#
Leap Innovation. 9 Tips When Designing a Billboard.