The world of out-of-home advertising is expansive and ever-changing. It's a field that includes some of the most recognizable advertising methods on the planet, like billboards and posters. But it's also thoroughly plugged into innovation, utilizing technological and digital advancements to keep OOH vital and effective.
Most advertising can be categorized as either indoor or outdoor advertising. They both feature unique opportunities and benefits for businesses who want to market their products to eager consumers, whether those consumers are in their cars, out to eat, or enjoying a live show.
But in the breakdown between indoor vs outdoor advertising, which is better?
In such a diverse field, knowing the various opportunities that both indoor and outdoor forms of OOH have to offer can help you devise the advertising campaign that's right for you. With a full comparison at hand, you'll be ready to help your next OOH campaign reach new heights.
What Is Indoor Advertising?
Indoor OOH advertising refers to advertising that happens out of the home, but inside of some other structure. This may include ads that appear in public places, such as:
Indoor ads aim to capture the attention of consumers when they're engaged in other activities and often feature elements that could only be possible in a specific setting.
Types of Indoor Advertising
Essentially, indoor advertising can happen anywhere you have four walls and a roof. That means your options for creating memorable, effective advertisements that engage consumers are virtually endless.
Consider the following examples of indoor advertising:
Place-based media – A branch of OOH advertising known as place-based media encompasses a good deal of what is considered indoor advertising. Place-based media is advertising that uses the unique features of a given setting to reach consumers. Examples include coaster or table tent advertisements in bars and restaurants, ads on movie theater cups or screens, shopping mall kiosks, and ads in sports stadiums.
Transit media – Indoor OOH advertising also includes posters and signage in airports. as well as posters, waste bins, and bench advertisements in subway and bus stations.
Digital kiosks – A popular method of indoor advertising, digital kiosks can appear in a variety of settings. They allow for the display of significant amounts of information as well as programmatic ads, sometimes from various companies at once.
Indoor advertising also includes any advertisements that you encounter in places like bathrooms, fitness centers, and hotels, among other indoor places.
The Benefits of Indoor Advertising
Indoor advertising presents a range of benefits for any company that wants to boost its profile, build their brand, and attract new consumers. The biggest perks of taking your advertising strategy indoors include:
Targeted reach – When it comes to targeted advertising, indoor spaces offer an ideal environment. That's because indoor advertising gives you the opportunity to place your ad in locations where you know your target audience already goes. What's more, places like restaurants, bathrooms, and sports stadiums give you a captive audience.
Creativity – Between time-tested methods like posters and digital options like kiosks, indoor advertising gives you ample room to flex your creative muscles. There's a lot you can do with indoor advertising, from thinking of unique placements to creating interactive ads.
Longer view times – Consumers can spend significantly more time looking at indoor advertising than some other forms of advertising. Whereas a typical consumer has only between 5–10 seconds to look at a highway billboard, for example, research suggests that on average, they'll look at indoor advertising for up to three minutes.
Cost-effective – Compared to other types of advertising, indoor advertising can give you a bigger bang for your buck. Methods like direct mail campaigns or television advertisements can cost a pretty penny, whereas indoor advertising costs less and offers more impressions.
A larger audience – When you place your ads in places like restaurants or movie theaters, you can capitalize on a consumer base that the hosting business or location has already cultivated. Just think of how many people can fit into your local professional sports stadium. When you advertise there, all those people become your audience—without having to do anything extra to draw them to the space.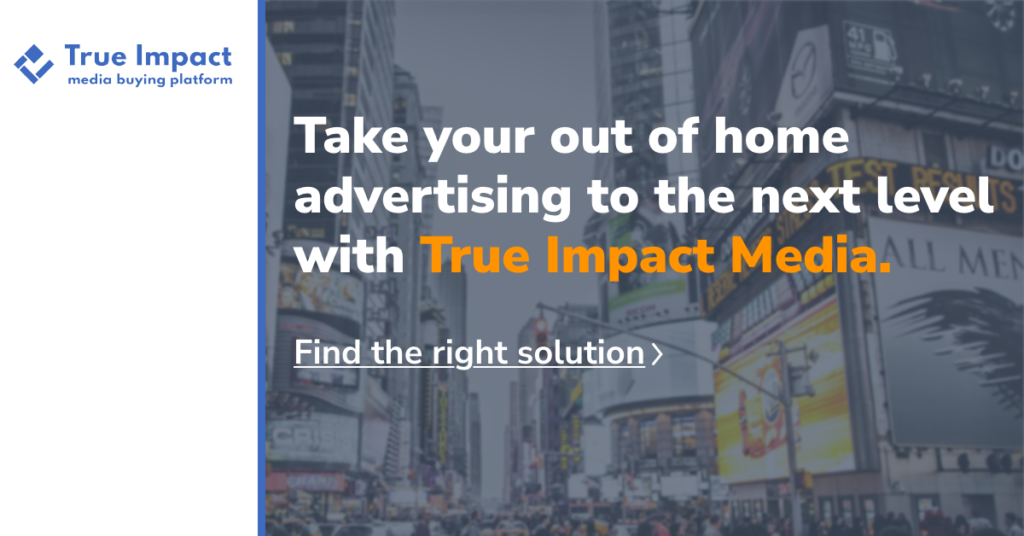 What is Outdoor Advertising?
As the name implies, outdoor advertising happens outside. But it's not just anywhere in the great outdoors—more specifically, outdoor OOH is best implemented in places where consumers are on the move or gathering in groups.
Outdoor advertising is one of the oldest forms of advertising known to man, according to the Out of Home Advertising Association of America. Since we first used languages and images to communicate, human beings have used public outdoor spaces to share information with one another.
In the modern age, outdoor ads have the edge on in-home advertising techniques because it isn't easy for consumers to ignore them. Internet ads can be closed or blocked, radio stations can be switched, and an increasing number of televisions are serviced by streaming services that swap commercials for subscriptions. But outdoor advertising can't be turned off.
That's a big part of the appeal of outdoor advertising, but it isn't the only quality that draws advertisers like moths to the proverbial flame. Let's dive into the various types of outdoor advertising and the benefits you could stand to gain when you launch an outdoor campaign.
Types of Outdoor Advertising
Outdoor advertising includes a diverse array of advertising solutions, from the classic to the contemporary—and all could have something to offer your business. Iconic mediums that are known the world over brush up against some of the newest, most innovative techniques available.
Types of traditional outdoor advertising include:
Billboards
Posters
Street kiosks
Spectaculars
Bus advertisements
Street banners
City trash cans
Murals and wall art
City info pillars
Bus benches
Like indoor advertising, there's an increasing potential for any of these types to become digital. This means that for any outdoor ad you place, you could have a fine-tuned, state-of-the-art digital version ready to wow customers and draw new business.
The Benefits of Outdoor Advertising
Despite its relative age, outdoor advertising hasn't lost any of its appeal over the centuries—nor any of its effectiveness. It's still a method that many, many businesses successfully rely on to communicate their message to consumers.
But what sets outdoor advertising apart from the advertisements that consumers encounter at home, either on the TV, radio, or the internet? Here are some of the features that make outdoor advertising stand out:
High return on investment – When you invest money in an advertising campaign, you want to be sure that your dollars will convert to results. Fortunately, outdoor advertising can offer companies a substantial ROI compared to other types of advertising. According to the OAAA, companies that turned to outdoor advertising saw an ROI of nearly 500% in 2017.
Opportunity to build brand recognition – When it comes to building a company name that consumers can recognize and trust, outdoor advertising is the way to go. The reason for this has to do with the sheer frequency at which consumers are likely to encounter your ad. When your business has a consistent advertising presence, consumers can remember your name and view you as a reputable company. 
Customizability – As we mentioned above, outdoor advertising is all about options. Whether you choose a traditional billboard or opt for a digital kiosk, you have choices for how you want to advertise your message. That means your company is able to launch a campaign that is in sync with your brand image, tailored to your specific audience, and appropriate to your business needs.
Geo-tracking – Outdoor advertising allows you to make use of technological innovations that ensure you choose the best placement for your ad. Geo-tracking uses demographic consumer data so that companies can put their advertisements in the places their customers frequent. 
Improves your other marketing strategies – Outdoor advertising is proven to increase the performance of your other advertising efforts. If your outdoor ad sparks the consumer's interest, there's a substantial chance they'll turn to other forms of media for more information about your brand, like your social media accounts or website. According to the OAAA, outdoor advertisements can increase the impressions on your online ads by 40%.
Step Up Your Advertising Campaign with True Impact Media
Advertising is a crucial aspect of how companies stay in business. When you effectively market your brand and promote your products and services, your business has a better chance of capturing the attention it needs to thrive. And if you're looking to hire more staff, consider different examples of hiring billboards to get started.
That said, the world of out-of-home advertising can be intimidating. Before you invest time, money, energy, and resources into a new campaign, you might feel a lot better if you had a trusted friend to give you a hand.
For a growing number of businesses, that trusted friend is True Impact Media. We're experts in the world of out-of-home advertising and we're committed to making the process as transparent, seamless, and simple as possible for brands and businesses.
Interested in taking your marketing efforts outside with billboards, street spectaculars, or digital kiosks? At True Impact Media, we know how. Wondering how you can reach consumers in the bars, movie theaters, and sports venues in your area? Contact us today.
Sources:
8ways.ch. Indoor Advertising: Appealing to Your Target Market.
https://www.8ways.ch/en/digital-news/indoor-advertising-appealing-your-target-market 
OAAA.org. About OOH.
https://oaaa.org/AboutOOH/OOHBasics/HistoryofOOH.aspx 
True Impact Media. Types of OOH Advertising.
https://trueimpactmedia.com/ooh-marketing-media-types/ 
OOOA. New Study: Out Of Home Advertising Delivers $5.97 In Revenue Roi. https://oaaa.org/stayconnected/pressreleases/tabid/327/id/4923/default.aspx   
Leap Innovation. 9 Tips When Designing a Billboard.