One way brands looking to grow their customer bases can boost business is by turning to local consumers in their communities. Especially for small businesses, local customers are a ready source of repeat business that helps sustain large and small operations. But how do businesses ensure that their messaging reaches their local area?
One way is through the power of hyperlocal advertising, which allows brands and businesses to focus their marketing efforts on consumers just around the corner.
Interested in learning more about how hyperlocal advertising can help your business level up? Keep reading for everything you need to know.
What Is OOH Hyperlocal Advertising?
Hyperlocal advertising is a method by which advertisers can reach a highly targeted audience in a specific location. Generally, that location represents a small area, such as a few blocks or a collection of streets near a business or company. Often, hyperlocal ads are utilized in locations such as:
Public parks
Public transportation centers
Grocery stores
Having a hyperlocal marketing strategy as part of your holistic OOH advertising campaign aims to drum up in-person business, bringing more foot traffic into stores, restaurants, or other physical locations. Advertisers can harness hyperlocal marketing strategies to deftly position their OOH campaigns directly in the vicinity of prospective customers.
It's also important to understand the future of out of home advertising when it comes to targeting local areas. By integrating mobile technologies into hyperlocal campaigns, brands can leverage multiple channels to provide highly engaged ad experiences.
The Benefits of Hyperlocal Advertising
Hyperlocal advertising offers a range of other benefits, including:
Increased brand awareness – Hyperlocal advertising helps businesses raise their profiles among local audience demographics. Advertisers rely on consumer data that enables them to launch targeted advertisements in well-trafficked, highly visible public places. This allows them to have a more effective reach in OOH.
Cost-effective campaigns – Hyperlocal advertising's two primary channels provide effective, budget-friendly marketing. Billboards and other types of OOH strategies generate consumer responses 38-86% of the time. And "pay-per-click" (PPC) advertising targeting "near me" and local search terms can be tailored to budgets—with expenses based on the number of consumers who click the ad.
It offers highly-targeted advertising – Much of hyperlocal advertising's appeal is in the hyper-specificity it offers in terms of connecting with consumers. By piggybacking on the mobile search data of consumers, hyperlocal advertising allows businesses to determine their OOH advertising placement within small geographic areas. This helps reach the audiences that are most likely to be interested in your brand.
It allows for personalized customer experiences – Because hyperlocal advertising focuses on small groups of local consumers, brands can tailor their ad and in-store services to provide a personalized experience.
It could increase your ROI – Combining low overhead costs with super-local outreach and increased in-store foot traffic offers businesses that chance to rake in a higher return on the money they invested in marketing efforts.
Integrating Mobile Technologies with Hyperlocal Advertising
Sophisticated hyperlocal advertising approaches tap into modern mobile technologies that allow people to scan their immediate vicinity for specific businesses or services. In conjunction with OOH campaigns, marketers can use consumer data to advertise their businesses to prospective customers who conduct "near me" searches on their phones and bring them into their stores.
An increasing number of consumers use their mobile devices to find business while they're on the go. In fact, the use of "near me" searches among consumers has ballooned by nearly 130% over the past decade, according to data sourced by Google. From local hair salons to independent wine shops, brands can combine OOH and PPC marketing to better connect with their local community.
It is the potential to tap into trending billboard facts and digital marketing data to bring new business that provides one of the biggest benefits that hyperlocal advertising offers.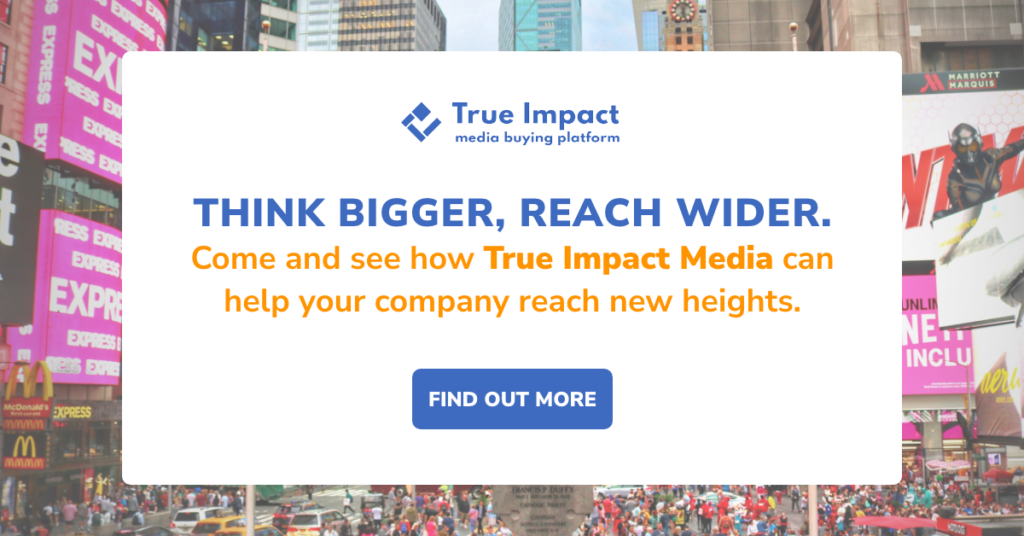 Harnessing the Power of Hyperlocal Advertising to Boost Your Brand
Few tools are as powerful as hyperlocal advertising for brands and businesses that want to reach new, nearby consumers without wasting resources and energy on a marketing campaign that misses their target audience demographic.
That said, getting the most out of hyperlocal advertising means understanding how to optimize the format and tailor it to your needs. Your OOH hyperlocal ad efforts may yield more desirable results if you keep the following hyperlocal marketing strategies in mind:
Keep content local – The highly targeted nature is an opportunity for brands to create messaging that speaks directly to their local community and take full advantage by creating ad content that resonates with the specific needs, interests, or habits of consumers in your local area.
Implement SEO optimization – When consumers encounter your hyperlocal marketing campaign, one of the first actions they're likely to take is searching your brand on their smartphone. But if your business isn't ranking highly on search engine results pages (SERPs), they may not find the information they're seeking. Be sure to optimize your digital presence to ensure the consumers seeking your brand find it.
Don't neglect repeat business – Hyperlocal advertising is an excellent way to attract new customers, but that doesn't mean brands should put customer retention on the back burner. Consider running hyperlocal OOH campaigns aimed at existing customers and encouraging their return. Whether you're creating a busy billboard or minimalist billboard design, try reinventing the wheel to keep your audiences engaged.
Make a Local Impact With True Impact Media
Whether you run a small business and rely on local consumers to keep you afloat or you're the head of a larger brand looking to fine-tune its marketing, the experts at True Impact Media are standing by and ready to help. We'll guide you through planning, launching, and maintaining OOH campaigns that deliver results and drive business.
Our media buying platform irons out some of the most common difficulties that keep brands from taking full advantage of the power of OOH. From building your campaign to purchasing ad space, True Impact Media is with you every step of the way. Contact us to get started.
Sources:
FinancesOnline. Hyperlocal Marketing Guide: Definition, Strategies & Tools. https://financesonline.com/hyperlocal-marketing-guide/
Word Stream. Hyperlocal Marketing: What It Is, Why It Works, & How to Do It Right. https://www.wordstream.com/blog/ws/2018/01/25/hyperlocal-marketing
Sekel Tech. How Hyperlocal Marketing Platform Benefits Your Brand. https://sekel.tech/blog/how-hyperlocal-marketing-platform-benefits-your-brands/
Out of Home Advertising Association of America. Out of Home Advertising Produces Highest Levels of Consumer Recall Versus Other Media Channels, According to Solomon Partners 2023 Benchmark Report Estimates for the U.S. https://oaaa.org/news/out-of-home-advertising-produces-highest-levels-of-consumer-recall-versus-other-media-channels-according-to-solomon-partners-2023-benchmark-report-estimates-for-the-u-s/