Location is crucial for out-of-home (OOH) advertising, but have you ever wondered how you could increase visibility other than through direct lines of sight? At the intersection of social media and OOH is an exciting opportunity for brands and businesses to improve how they perform in both regards.
With the right strategy, you can help your OOH campaign become the most talked about trending topic on social media—exponentially amplifying their reach and boosting your brand.
Curious to learn about the earned media values you can achieve through an OOH social media blend? Keep reading for your complete guide.
Amplify Physical Ads with Digital Sharing Over Social
When it comes to boosting your outdoor advertising strategies and your social media profile, the two fields are uniquely suited to one another. In fact, about 66% of consumers over the age of 16 say that an OOH ad makes them more likely to use their smartphone to find out more information about a company.
The trick is compelling those consumers to look for more information about your brand and offerings, make your ad creative and engaging enough to prevent ad fatigue, and ensure that viewers promote your marketing materials. Whether through humor, striking visuals, thought-provoking copy and images, or any other means, you should strive to make your OOH ads irresistible to share online.
Everyone in an area of town might see your billboard—social media gives you the opportunity to gain visibility from countless people around the world and could contribute to any sustainable advertising efforts you're leveraging.
And as a result, you can start adding "earned media value" (EMV) to your list of favorite marketing metrics and KPIs to track.
What is Earned Media Value?
Earned media refers to the marketing engagement and attention your brand receives as a result of third parties' activities. When someone can't stop laughing at your marketing campaign and chooses to give your brand a shout-out over social media, or someone recommends your products to a friend, that's earned media.
Earned media value is one way to quantify your OOH advertising campaign's efficacy—such as how much revenue you've generated from those activities (or how much you would've paid for similar exposure and engagement). It's an inherently tricky metric to determine since third-party social media engagement is involved. Still, one formula you can use is:
Earned Media Value = Impressions x CPM x Adjustment Variable
For this equation, the variables you need to know are:
Impressions – How many people viewed your ad
CPM – Your "cost per 1000 impressions" for the campaign
Adjustment variable – This is a metric that depends on your OOH ad campaign and its goals. What outcome would make you consider the campaign a success? Is it the likes or shares you gained on social media from the campaign? Is it your customer conversion rate?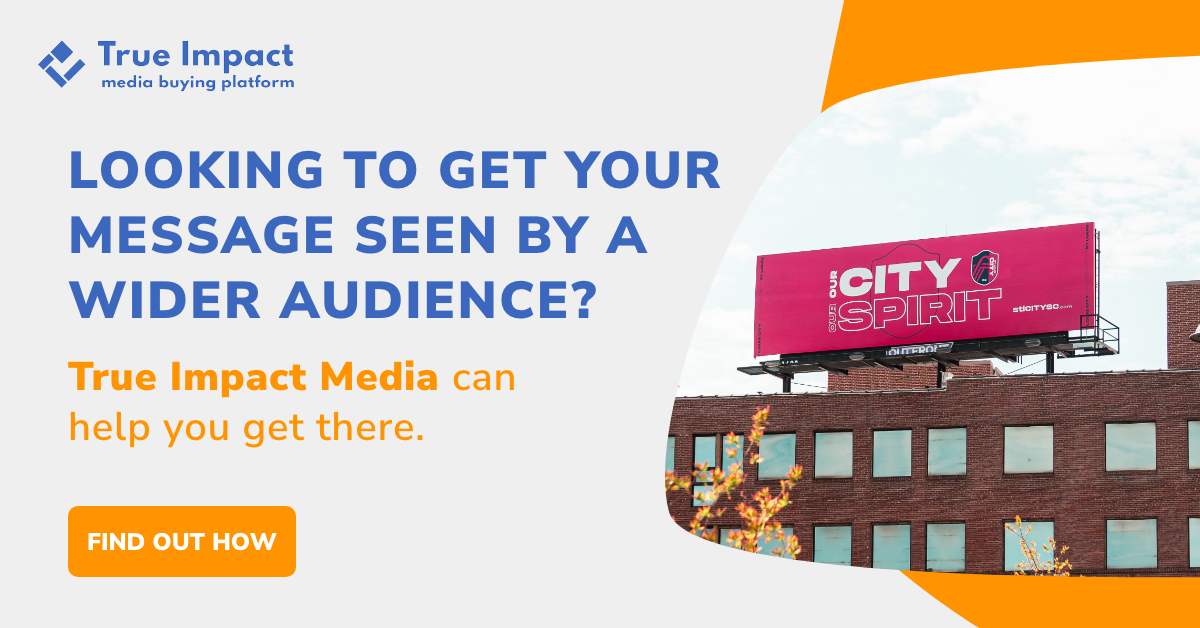 Going Viral with OOH—3 Tips to Try
How can you get your OOH ads to transcend into the digital realm of social media to raise brand awareness and start racking up the likes, shares, and subscribers? Try these three tips.
#1 Capitalize on Timing
The right timing can turn a physical ad campaign into a social media sensation. For example, during the pandemic and the height of lockdowns, Netflix started an OOH campaign with posters that spoiled the plotlines of their own shows. While such a marketing move might sound utterly insane, it capitalized perfectly on the timing.
People were supposed to stay home to avoid spreading sickness. If they had done so, they wouldn't have gotten the plot of the shows they wanted to watch spoiled—and at home, they'd be more likely to throw Netflix on to pass the time stuck inside.
The campaign was simple, direct, and timed to mesh with the moment's most prevalent public discourse. As a result, it blew up on social media and Twitter, in particular.
#2 Build Off Already Trending Topics
In 2019, TikTok saw discussions about gastrointestinal health issues becoming a trending topic as some women began talking about their experiences with irritable bowel syndrome (IBS). And then, in 2021, pink billboards proclaiming "Hot girls have IBS" suddenly emerged over some of America's biggest cities.
The company responsible for the campaign? BelliWelli—which lives up to its name by selling good-for-the-gut snack bars, cookies, and other foods. CEO Katie Wilson soon saw lines of people waiting to take photos in front of the OOH ads that ended up posted to social media sites.
How effective was the campaign for BelliWelli? The brand attributes the following metrics to their pink billboards:
28,000 followers on their TikTok account
95,000 likes on a single post shared by celebrity Camila Morrone
$40,000 in product sales
#3 Hoist Up Heavy Doses of Humor
You might first want to consult with your legal representation before trying something similar to the billboard created by Cory Winn, the CEO and Founder of Lucca International, and his business partner Creed Stump. Still, the humor involved in funny billboards is a takeaway to note.
Loosely related to their eCommerce T-shirt business at best, the pair paid for a billboard to join the Salt Lake City skyline featuring nothing but "Weezer" in Comic Sans font. It may have started as a joke among themselves, but shortly after, the actual band Weezer decided to stand up their own billboard just down the road to thank them for the PR.
The band also promoted the back and forth on their own social media pages, broadcasting Lucca International's brand more than a concert stage stacked with amplifiers.
Boost Your Brand With True Impact Media
When you're trying to merge social media and OOH strategies to make your physical ads go viral, it helps to have an expert in your corner. More and more businesses are finding those experts at True Impact Media.
Whether you're a mammoth brand or a small business, launching a new campaign, or looking for ways to improve your existing one, our media buying platform has the solutions you need. Contact us to find out more today.
Sources:
Out of Home Advertising Association of America. Sales Tip: OOH Drives Engagement Advertisers Seek With Social Media. https://oaaa.org/blog-posts/sales-tip-ooh-drives-engagement-advertisers-seek-with-social-media/
Indeed. Earned Media Value: How To Calculate and Interpret EMV Data. https://www.indeed.com/career-advice/career-development/earned-media-value
The Times. When billboards go viral. https://www.thetimes.co.uk/static/out-of-home-advertising-billboards-viral-campaign-raconteur/
StatNews. From social media to pink billboards, it's suddenly "hot" to discuss gut diseases. https://www.statnews.com/2022/07/07/from-social-media-to-pink-billboards-its-suddenly-hot-to-discuss-gut-diseases/
DigiDay. Why a startup snack and wellness brand is investing more in OOH advertising after viral moment success. https://digiday.com/marketing/why-a-startup-snack-and-wellness-brand-is-investing-more-in-ooh-advertising-after-viral-moment-success%EF%BF%BC/
UPI. Band responds to viral 'WEEZER' billboard in Utah with their own billboard. https://www.upi.com/Odd_News/2022/10/17/Weezer-responds-viral-Utah-billboard/5421666022807/