Sustainable advertising is the practice of applying environmentally conscious tactics and techniques to outdoor marketing. With climate change, pollution, and other concerns becoming ever more pressing, it is incumbent upon companies and advertisers to reconsider how OOH affects the planet and what solutions can be implemented to meet sustainability goals.
But it isn't just an imperative for businesses to address these issues or added restrictions—it can actually be to their benefit too. Many consumers are deeply invested in environmental causes and may gravitate towards a more sustainable brand and business that also shares their concerns. Moreover, certain sustainable advertising strategies could save businesses money on energy bills and supplies.
But how can businesses use sustainable advertising in OOH? Here are five ways.
#1 Switch to Solar Power
One way that brands can make a positive environmental impact and shift to sustainable advertising is by harnessing the energy of the sun to power OOH. OOH formats—from digital billboards to digital kiosks and more—can run on solar power, which reduces the consumption of nonrenewable energy like electricity.
Switching to solar power can be an effective step toward strengthening your business's sustainability efforts; this energy source is:
Renewable
Clean
Becoming more affordable
In the long run, it will likely help reduce your energy expenses by around 50%, with a break-even point (after accounting for solar panels and other expenses) after around a decade.

For sustainability marketing examples that use solar energy, let's look at the utility company Pacific Gas & Electric (PG&E). For a recent ad campaign, PG&E added 24 solar panels to a single billboard, generating enough energy to power the billboard's electrical mechanism and return energy to the local power grid.
#2 Make Sustainability a Strategy
Your aim of sustainability is given the highest likelihood of success when you develop comprehensive strategies featuring multiple approaches to sustainable advertising. Strategies vary among businesses but essentially represent a three-pronged approach that involves finding eco-friendly options or alternatives for producing, displaying, and maintaining advertisements.
In other words, companies aren't stopping at solar panels for sustainable billboards and other OOH formats. Instead, they're reorganizing their broader operations around sustainability too:
Sustainable production materials – Increasingly, companies are working with suppliers that share their commitment to environmentalism. Together, they're finding alternatives to OOH materials that have the biggest environmental impact, like PVC vinyl which takes centuries to biodegrade and printer ink that's full of heavy metals and toxic compounds.
Energy-efficient lighting – Using light sources that put less strain on the energy grid is another way to achieve sustainable advertising. In fact, energy-efficient LED lights can reduce electricity use by over 70%, according to some reports.
Eco-conscious maintenance practices – Many companies are finding ways to lessen the environmental impact of maintaining their advertisements. Solutions can include efforts like replacing fleets with fuel-efficient vehicles to transport maintenance teams to advertising sites and using eco-friendly cleaning products.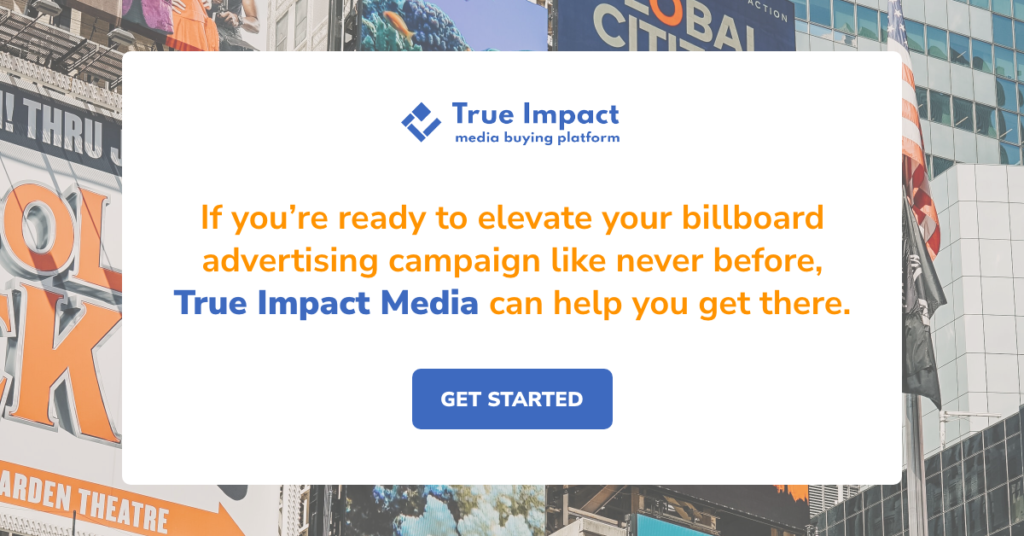 #3 Use Advertising to Raise Awareness
OOh is a highly visible form of advertising seen by scores of people from all walks of life. That makes it an excellent medium for bringing attention to environmental issues and spreading awareness of the importance of sustainability.
Companies can use sustainable billboards and other forms of OOH to:
Share important messaging
Inform the general public
Reflect their commitment to sustainability
As an example, let's return to that PG&E billboard we mentioned earlier. In addition to the solar panels, the billboard text read, "This isn't a billboard. It's a power plant," which served the dual purpose of raising public awareness and advertising PG&E's own sustainability efforts.
#4 Salvage Old OOH
The classic directive, "Recycle, reuse, reduce," is a guiding principle of sustainable advertising. And in OOH, the industry is taking it to heart by repurposing old OOH materials for various uses.
In doing so, they're cutting back on the over 10,000 tons of waste that OOH formats like billboards produce each year. For example, recycled OOH materials have been used to create everyday items like handbags and other accessories.
#5 Invest in Your Community
Supporting local sustainability efforts and using sustainable advertising to effect environmental change in local communities is an important way that brands and businesses can promote sustainability.
One way to do this is to integrate OOH social media practices or include transit media in your OOH marketing strategy. There are many different types of transit media advertising options, including:
Buses and bus stations
Subways and subway stations
Commuter railways
What is transit advertising and why is it effective? Studies show that public transportation like buses and subways reduces carbon emissions by as much as 45%. Advertising on public transportation like buses and subways generates revenue for these important services.
As for posting OOH billboards and campaigns on social media, this can help expand the relevance of OOH and help combat ad fatigue.
Expand Your Reach With True Impact Media
Whether you're considering pivoting from business as usual to a marketing strategy that leans into sustainability advertising or you're launching a new marketing campaign that's eco-friendly from the start, the experts at True Impact Media are who you should turn to.
At True Impact Media, we believe that OOH can powerfully and positively impact business and the planet, and we want to show you how. We'll be with you every step of the way, from planning your sustainable marketing campaign and buying ad space to installation and maintenance.
It's time you discovered the power of OOH. Contact us today.
Sources:
Out of Home Advertising Association of America. OOH is Embracing Sustainability. https://specialreports.oaaa.org/ooh-is-embracing-sustainability/
Sun Run. 5 Advantages of Solar Power. https://www.sunrun.com/go-solar-center/solar-articles/5-advantages-solar-power
Solar.com. How Do Solar Panels Lower Your Electric Bill? https://www.solar.com/learn/lower-your-electricity-bill/
OOH Today. Can Your OOH Campaign Generate Its Own Power? https://oohtoday.com/can-your-ooh-campaign-generate-its-own-power/
WARC. OOH media has a growing role in promoting sustainability. https://www.warc.com/newsandopinion/opinion/ooh-media-has-a-growing-role-in-promoting-sustainability/en-gb/5860
NBC5 Chicago. From Billboards to Handbags. https://www.nbcchicago.com/news/green/green-billboard/1899662/
University of California Los Angeles. 5 Environmental Benefits of Sustainable Transportation. https://transportation.ucla.edu/blog/5-environmental-benefits-sustainable-transportation#