2022 is set to be an incredibly important year in the world of politics. The mid-term elections of 2022 are likely to determine which party controls the Senate and the House of Representatives, thereby affecting what, if any, legislative actions will be taken in the years before the all-important 2024 presidential elections.
That means the political races in 2022 will be hotly contested, and candidates will be looking for any advantage they can find. Political billboards may be one place where campaign managers can increase their candidate's reach and drive turnout.
When we think of political advertising, our minds may immediately jump to TV ads or digital ads through social media companies like Facebook, but it would be a mistake to ignore political billboards and other forms of out-of-home (OOH) advertising. Let's look at some of the ways political billboards can be an effective tool for 2022 and beyond.
How OOH Can Support Your Campaign
Whether you're an established candidate or a newcomer to the political arena, making sure that voters and supporters know who you are and what you stand for is one of the most important goals of any political campaign.
To this end, large billboards and other forms of OOH can be an incredibly useful tool and can bring your candidate a vast amount of attention similar to mcdonald's outdoor advertising. So let's dive into billboard 101. Here are some 2020 statistics on digital billboard engagement to help drive this point home:1
62% of consumers said they noticed digital billboards over a one-month period.

50% said they noticed digital billboards "all" or "most" of the time.

65% of people who noticed billboards said that they then engaged in some action (visiting a website, visiting a physical location, etc.) after seeing the billboard. 52% engaged in actions using their mobile device.
Driving Turnout
When analyzing today's elections, we tend to hear a lot about voter turnout: The presidential election of 2020 set records for voter turnout; the 2021 gubernatorial elections of New Jersey and Virginia showed that turnout is still high and will likely remain so in 2022.2
While turnout alone won't determine the outcome of an election, well-placed OOH can supplement a grassroots get out the vote campaign in multiple ways:
Location – High turnout may not determine the outcome of an election, but high turnout in certain areas might. By targeting your "get out the vote" OOH political advertisements in areas that are historically more favorable to your political affiliation, you can drive turnout that is more likely to be favorable to your candidate. This added turnout can be the difference between a winning campaign and a close loss.

Education – Sometimes, lack of turnout is due to people simply not knowing where or when to vote. People lead busy lives and may not be following politics too closely. This can be especially true in local elections. By combining OOH strategies with grassroots education, you can ensure that all of your voters know their local polling locations and when elections are being held.

Registration – In 2020, many analysts credited activists like Stacey Abrams for Joe Biden's win in Georgia.3 Why? New voter registration drove high turnout among minority and young voters who favor Democrats. Because OOH is an effective driver of calls-to-action, it can be a useful tool in driving people to register to vote and thereby expand your potential voter base.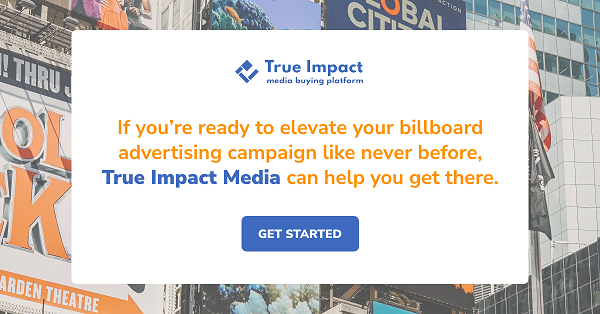 OOH Strategies to Maximize Effectiveness
Whether it's politics or business, anyone purchasing OOH advertising is cognizant of their return-on-investment (ROI). Simply putting up a billboard should not be an end in itself—there are factors you need to consider to make sure you maximize your ROI. Some examples include:4
It's worth taking a closer look at each of these factors to show how a billboard (or any form of OOH) can be most effective.
Location
We already spoke about how targeting your most likely voters can help improve turnout for your preferred candidate. On the other side, negative ads concentrated in more contentious areas or areas more likely to swing for your opponent may also be effective.
Beyond targeting your ads in this way, there are some other thoughts about location worth considering:
Choose high-traffic areas – You maximize your ROI by concentrating your ads in high-traffic areas, such as near a highway. However, you need to keep your specific campaign in mind. If you're running a local race, posting along an interstate may reach many voters, but not the ones voting in your local election. In that case, you may want to focus on smaller roads in your area.

Utilize CTAs smartly – If you plan on using calls-to-action (CTA) like QR codes or websites, think about where those will be most effective. A highway where people are driving by too fast to notice your CTA may be a wasted effort. Then again, if there's regular traffic, people may have more time to digest the information on your billboard.
Design
Not all billboards are created equal. The most effective OOH advertising will have eye-catching visuals and a simple message that people can digest easily. Now is not the time to try to write a political mission statement. Keep things simple, and people are more likely to remember your message. Other things to keep in mind include:5
Customize imagery – Certain images are associated in people's minds with one political party. For instance, images of donkeys are typically associated with the Democratic party, while elephants are associated with Republican candidates.

Know your candidate – Political messaging is more effective for lesser-known candidates. Once the public associates a candidate with one party or ideology, a political ad is unlikely to change their view. As such, start your campaign early and use effective messaging to share your candidate's propositions quickly and accurately.
Messaging
The messaging you use on your OOH advertising is also important. Many campaigns talk about avoiding negative messaging, but it's still widely used. Why? Because it works.
Anger tends to motivate voters more than positive feelings. However, voters can be turned off if they feel your candidate is too negative. This is why campaigns often rely on political action committees (PACs) to provide negative messaging while their official campaign tries to stay positive and issue-based.
A good rule of thumb is that if you are ahead in the polls, focus on positive messaging. If you are behind, it may be worth pivoting to more negative messaging to try and turn things around.
Other OOH to Support Your Campaign
While the main focus here has been about political billboards, they're not the only form of OOH advertising that can be beneficial to your 2022 political campaign. Politics is local, and you'll want to meet people where they are with your messaging—literally.
Sometimes that means erecting a billboard along the highway, but often a more subtle approach will be warranted. Other forms of OOH that might aid your campaign include:6
Different sized billboards – The standard billboard size is called a bulletin. However, there are other sizes such as posters and junior posters that provide smaller options, which may be better suited to advertising on city streets or in pedestrian areas.

Street furniture – Objects like bus benches and traffic shelters provide opportunities to reach people during their daily lives. If you manage to reach people while they're waiting on a commute, they're also more likely to engage with something like a CTA.

Transit – Buses, subways, and taxis circulate throughout cities. As such, advertising on these types of transportation allows your message to reach various neighborhoods and demographics. This can be especially useful for advancing the name recognition of your candidate within a local area.

Place-based media – Whether you're advertising in a shopping mall or a restaurant, subtle place-based media can infuse your candidate's message into voters' lives and breed positive associations.
A Note on Lawn Signs
One staple of political campaigns is the lawn sign. You know that an election is imminent when signs start popping up around the neighborhood endorsing a candidate. These signs serve multiple purposes:
They signal an upcoming election so that the community is aware.
They help increase the name recognition of your candidate.
They allow potential voters to associate friends and family with your candidate.
While lawn signs aren't typical OOH media, as there is no cost to rent the space, the same rules apply when it comes to design. Colors, fonts, and whether or not to show a photo of your candidate are all worthy of careful consideration. Much like a billboard, you want to make a fast impression that passersby will remember.
Create Political Billboards and OOH with True Impact Media
The success or failure of a political campaign often comes down to the experts associated with it. When it comes to OOH advertising, there are no better experts than True Impact Media. Our interactive online inventory map can zero in on the areas where you want to focus and show you what real estate is available and at what cost.
Our experts can also help you curate design and utilize analytical tools to ensure your OOH advertising is reaching your intended audience.
Your team has expertise on politics and people. At True Impact Media, we've got you covered when it comes to effective OOH advertising—team up with us today to create change tomorrow.
Sources: