It's no secret that billboards are a key ingredient for nourishing a brand's relevancy. Like any effective and traditional OOH, billboards offer broad reach and attention-grabbing displays. Consider them a catalyst for communication with your target audience.
The question then becomes: How can I take my billboard to the next level? Well, what about the next dimension?
With technology and urban sprawl constantly expanding, three-dimensional billboards have become the pinnacle of modern advertising and digital OOH. With an asset like this in your corner, you can watch your ad campaigns come to life.
Start looking at your business from a brand new perspective. Here's everything you need to know about 3D billboards.
What Makes a Billboard Three-Dimensional?
A three-dimensional billboard can be a relatively general term when considering the numerous ways to execute them. This creative freedom is exciting, but how can we define it?
Put simply, three-dimensional billboards give the illusion of dynamic, moving imagery that appears to pop out of the very screen it lives in. The 3D objects depicted in the billboard also look more tangible and appealing compared to static billboards.
Boasting creativity and personality, it's no surprise that these cutting-edge designs are popping up more and more. Let's talk about why 3D billboards are becoming the advertisement method of choice among the most innovative brands.
Benefits of a 3D Billboard
Beyond the eye-catching spectacle of three-dimensional billboards lie a myriad of benefits for your business. There's a laundry list of reasons to jump on the 3D bandwagon, but we'll start you out with just a few:
Increased viewer retention – In a 2008 study, it was concluded that 3D advertisements "achieve greater attention, ad recall and ad recognition" than 2D advertisements.1 Whether your billboard uses optical illusions or digital projection, creating a head-turning display can make a remarkable difference in the retention rate of your audience.
Positive brand experience – The very nature of three-dimensional imagery draws in your audience. To create an advertisement in three dimensions is to invite consumers to immerse themselves in your brand. Interrupting the public's routine with a positive, engaging experience may lead to further action on their end. If nothing else, it'll get them talking about your ultra-realistic ad that, quite literally, stopped them in their tracks on the way to the office.
Memorability – A study done by SocialVibe reported that 83% of consumers see more than five OOH ads every day.2 With two-dimensional advertisements being as common as the infrastructure surrounding them, it's more important than ever to ensure that your brand will make an impact.
If you're feeling excited about the prospects of 3D advertising, you're not alone. However, to be sure it's more than a fleeting feeling, let's look at a few real-life examples to see how 3D ads can ensure a clear path to memorable marketing.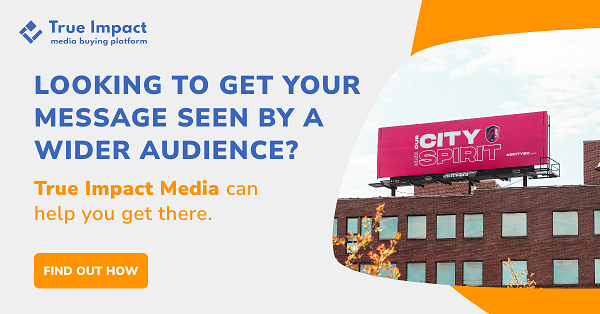 Examples of Three-Dimensional Billboards
If you live in or near a city, it's possible that you've already experienced a 3D billboard. These advertisements may have included one or more of the following:
Optical illusions
Digital imagery
Forced perspective
3D additives/extensions
Transparency
Texture
Frames
Cut-outs
With a plethora of unique design tools to make your advertisement pop, your brand could be one step closer to standing out in a big way. On a small scale, three-dimensional billboards invite consumers to engage. On a large scale, they can greatly enhance your cultural relevance.
Let's take a closer look at what we mean in the following case study.
Case Study: Fortnite x Balenciaga
In September of 2021, monolithic gaming company Fortnite and well-known designer brand Balenciaga unveiled a three-dimensional spectacle in New York City, London, Seoul, and Tokyo. The billboard showcased a popular Fortnite character dressed in a Balenciaga hoodie.3
Let's closely examine how this three-dimensional billboard was a key factor in their successful campaign:
Exciting announcement – Though this partnership may seem unlikely on the surface, it actually makes perfect sense. Consider Fortnite's overwhelming cultural significance and Balenciaga's recent push to marry luxury and videogame culture. A collaborative product launch this exciting needed to grab attention in a big way. This billboard allowed the public to see both entities unite in a way that seemed both tangible and meaningful.
Effective location – By constructing 3D billboards in high-traffic, cosmopolitan areas, these brands achieved an incredible boost in interest. The content and ad placement likely appealed to their existing target audience and perhaps caught the eyes of pedestrians who, until then, may have been unfamiliar with the brands.

Engaging invitation – Fortnite invites the public to delve into online gaming. Balenciaga invites the public to immerse themselves in luxury clothing (literally). With a larger-than-life billboard, this duo presented an unforgettable and stimulating experience. Bystanders and onlookers engaged with these buzzworthy products before stepping foot in stores.
This highly-successful collaboration clearly shows that thoughtful promotions can very well lead to fascination, positive buzz, and follow-through when launched in a creative new medium. And if you want to take it to the next level, you can even use 3D digital billboards for a more interactive advertising feel. A perfect example would be the viral giant 3D cat in the Shinjuku district of Tokyo.
Stand Out With True Impact Media
In a world that's saturated with two-dimensional advertisements, it's easy to blend into the background. However, with the right OOH strategy, you can effectively put the spotlight on your brand's message.
At True Impact Media, we're passionate about helping brands of any size realize their full potential. Our team of technological and advertising experts can help simplify the media buying process so you can focus on what matters.
With expertise in a diverse selection of OOH practices and digital billboard practices, True Impact can help identify, execute, and uphold everything your brand brings to the table. Whether your needs involve distribution, installation, or a simple consultation, we're here to help.
True Impact Media aims to elevate your brand to the next level and bring it into the next dimension.
Bring your brand to life. Make a True Impact today.
Sources:
Journal of Customer Behaviour. The Effects of 3D Billboards on Consumers' Attention and Awareness. https://www.researchgate.net/publication/260601854_The_Effects_of_3D_Billboards_on_Consumers'_Attention_and_Awareness
OAAA. Consumer Response to Advertising Wearout. https://oaaa.org/Portals/0/pdf/research/Consumer%20Response%20to%20Advertisng%20Wearout.pdf?ver=2020-03-11-102407-147
MarketingMag. The Endless Possibilities of 3D Billboards. https://www.marketingmag.com.au/news-c/the-endless-possibilities-of-3d-billboards/