Today, consumers can block, mute, and skip just about every ad that they come across in their homes. There are simple hacks to avoid digital ads as well as entire programs designed to eliminate them.
But if you're walking down the street, you can't block a billboard. That's one reason why billboard advertising has an average return on investment (ROI) of about 497%.1 While this form of outdoor advertising may be more traditional, it is a great marketing tactic to gain brand awareness and reach your target audience.
For every dollar you spend, you could potentially get back $5.97. To be clear, the ROI on billboard advertising is the average from a number of factors from location to design style.
That's why this article will take you through the various choices for a great ROI on your billboard, allowing you to create a solid outdoor campaign.
Analyzing Cost and Benefits of Billboard Advertisement
Depending on where you're looking to advertise, billboards can be easily affordable or prohibitively expensive. If you are planning to advertise in a rural area, you could pay as little as $250 per month for your outdoor campaign, while a billboard in a major metropolitan area could cost thousands of dollars.2
And that's without factoring in design costs, printing, and construction for your outdoor signage, which may run many thousands of dollars more.
When deciding cost vs. benefits, it's also important to consider factors such as:
Campaign Size – Is this a single billboard, or one of many working synergistically with other advertisements? The size of your advertising campaign and its overall strategy are important factors when considering return on investment for your Out of Home advertising (what is OOH?).
Combination With Other Advertisements – Typically, billboard advertisement is even more effective when combined with digital, radio, or TV ads. When OOH is added to a media plan, it can increase reach by 18% for TV and up to 316% for mobile advertising.3 Transit advertising can also be a good idea to get a farther reach. Perhaps a billboard is the final piece of your advertising campaign puzzle.
It's fairly easy to stick to a budget while working on a billboard advertisement because of the vast array of options. If you plan your New York billboard and use your resources wisely, you'll likely be looking at a solid ROI.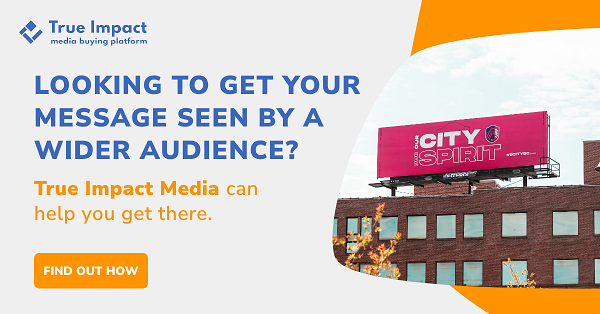 Choosing The Right Location For Your Billboard
No matter what product or service you're promoting on your outdoor signage, you have a target demographic, which means you'll want your billboard to be somewhere to be seen by those you're marketing to.
Choose geographic locations that line up with your demographic research. For products marketed toward a younger audience, find locations near high schools and colleges. When dealing with healthcare and pharmaceutical products, place a billboard near hospitals and medical centers.
Besides targeting a demographic, here are some factors you have to consider when choosing a location that can offer good billboard ROI:
Visibility – Is there a building blocking the view from one angle? Is there a competing billboard obscuring part of your advertisement? Analyze possible locations for their visibility.
Traffic Density – Your billboard doesn't just need to be seen—it should be seen by as many as possible. Every driver and pedestrian is a possible customer, so picking an area with heavy motor or foot traffic is important for a billboard with a high ROI.
Creating an Effective Design
You want your billboard to line up with your company's brand identity, but you also want to create something that can be read from hundreds of yards away, most often in a speeding car.
Billboard ads have different requirements than typical digital ads, so it's important to recalibrate your design style to work with this medium of outdoor signage.
Whether you are designing bus advertising or plane advertising or any other type of OOH ad, how you create your campaign will also influence how it performs. When designing a billboard ad that will yield a high ROI, implement the following:
Short Messages – It's rather difficult to parse out a large sentence while you're trying to focus on the car in front of you. That's why the most successful billboards have as few words as necessary. Just one or two could be enough.
Images – Often more immediate than a word or phrase, an image can be highly effective in conveying a direct message to your audience. Whether it's a photo of the product itself or an aspirational image, a passerby should be able to take in the entirety of the billboard image in an instant.
Eye-Catching and Unforgettable Elements – Depending on the tone of your advertisement, you might attempt a flirty, flashy, or outrageous billboard that will stay in the viewer's head for a long time. However, if you veer towards elegance, sophistication, and luxury, you might captivate your audience just as well with a different design. The most important thing is to be unforgettable.
True Impact Media Makes Billboard Advertising Simple
Now that we've investigated how and why billboards have such a strong ROI, you should feel prepared to create your own eye-catching advertisement.
If you're ready to invest in reliable out-of-home (OOH) advertising media, there is no greater method to do it than through True Impact Media.
The quickest and safest way to find, buy, and oversee your billboard advertising campaign, True Impact Media has millions of advertising spaces available at this very moment. With an online inventory map and comprehensive campaign analytics, True Impact Media can be your partner in creating the ultimate billboard for your service or product.
Visit us today and see why True Impact Media is the best place to build your next ad campaign.
Sources:
OAAA. New study: out of home advertising delivers $5.97 in revenue ROI. https://oaaa.org/StayConnected/PressReleases/tabid/327/id/4923/Default.aspx
Business.com. Is billboard advertising effective. https://www.business.com/articles/is-billboard-advertising-effective/
"Take Your Message Further." OAAA, Outdoor Advertising Association of America, 2013, oaaa.org/portals/0/public%20pdfs/take%20your%20message%20further.pdf