When you think of iconic advertising mediums, there's a good chance that the classic, bold-printed billboard is among the first examples that springs to mind.
Since the first documented billboard lease was signed in the 1860s, billboards have become one of the most recognizable and effective forms of advertising.1
While innovative geofencing technologies and interactive digital advertisements are trends in out of home advertising, traditional OOH billboards are still a trusted and compelling medium for advertisers looking to reach consumers on the go. To that end, here are the top 10 advantages of using billboards in your next marketing campaign.
#1 Visibility
When it comes to advertising, bigger is always better. As such, one of the best advantages of using billboards is that they come in a variety of eye-catching sizes to reach a large number of consumers.
The smallest size billboard, called a "poster," measures about 12 feet by 24 feet.2 At their biggest, billboards can be as large as 20 feet high by 60 feet wide, making them:
Visible – Even bland billboards with uninspired designs can catch the attention of morning commuters from miles away.
Attention-getting – Billboards also attract attention—especially on the highway, where there might not be much else to look at. Static billboards with eye-catching designs or digital options can be especially effective and attract new customers.
#2 Always On
Sure, Internet, TV, and even radio ads might be impressive for their digital glitz. But advertising in those mediums can mean that, unless the consumer decides to turn on a specific device, your ad might not be seen.
Billboards, on the other hand, are always on—and what's more, consumers don't have the option of turning them off if they don't like your ad. That means more impressions on your advertisement. In fact, studies show that 71% of people consciously look at billboards when driving.3
Even if a consumer looks away from your billboard after seeing it, they've most likely noted important information like the name of your company or information about the services you offer. Additional surveys have found that 26% of passersby noted a billboard's phone number and 28% retained a website address listed on a billboard.4
To that end, billboards offer 24/7 exposure to help advertisers target a diverse audience.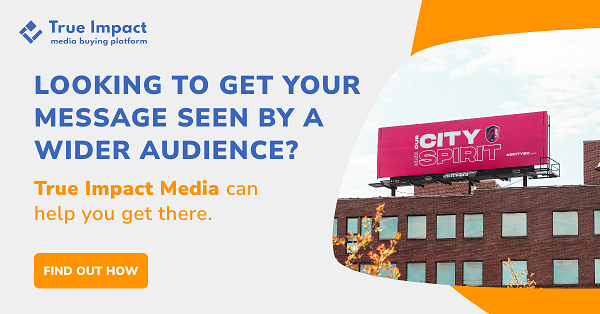 #3 Location
When it comes to successful billboard advertising, location is key. And one of the biggest advantages of using billboards is the options you have when it comes to placing your advertisement.
A well-placed billboard ad can potentially reach not only people in their cars, but also cyclists, pedestrians, and people who use public transportation. For instance, when selecting a billboard rental in Atlanta, choosing a billboard along the highway vs. the downtown area might produce different results.
But aside from the obvious benefits of advertising in high traffic areas, billboard advertising provides you with a few other geographic advantages as well, such as:
Directional information – Billboards commonly include directional information that can encourage potential customers to visit your business. "Take the next exit" or "Ahead on your left" are common examples.
Consumer proximity – You can use billboards to advertise your business and let consumers know that you're only a mile away or just around the corner. Additionally, you can position your billboard in an area that needs your services. For example, a home improvements company can post near a neighborhood, rather than in an industrial area of the city.
#4 Audience Diversity
Billboards offer unique opportunities for businesses to reach a large and diverse range of consumers. Other advertising methods might give you better options for targeted advertising, but billboards can reach consumers you never even knew existed, and who might need your product most.
On highways, billboards are seen by most drivers, from local commuters to visiting families. But even smaller posters and bulletins on local roads can help your business attract a wider variety of local consumers.
#5 More Exposure
It might not seem obvious, but another advantage of using billboards is the exposure rate they can offer—even in a world where it feels like most of us are always looking at one screen or another.
This is because the average American spends at least one hour in their car every day, driving an average of 25 miles.5 This also means that there's a good chance that consumers will see your billboard more than once, for instance, twice a day on their trips to and from work, or even multiple times a week. This kind of exposure can:
Increase brand awareness
Build consumer trust
Attract new customers
Provide consumers with a visual reference for your business
#6 Reach a Captive Audience
Speaking of our screen-saturated society, how can billboards ever hope to compete with the myriad options for digital advertising that are available? The fact is, about 97% of Americans own a cell phone6—which is more than those who own cars.7
But one of the key advantages of using billboards to advertise is that they are primarily targeted at consumers behind the wheel. That's good news for advertisers, as cars might be one of the last places in the world where people's eyes are focused on something besides their phone—for instance, your billboard.
#7 Greater Impressions
Billboards are also a great way to increase impressions on your advertising. That's because, even if they seem old-fashioned, billboards remain a type of advertising that consumers notice, trust, and remember. Couple that with the captive audience we mentioned above and you've got a winning combination.
In fact, studies show that 37% of Americans look at billboards whenever they pass one, and almost 71% do this intentionally.8
#8 Increase Sales
Perhaps the one of billboards' greatest assets are their ability to increase sales—and widen your profit margin.
Billboards can increase your sales in a number of ways. While some of their power is derived through prolonged exposure and their ability to reach a diverse audience, their sales power has everything to do with consumer habits:
Impulsivity – Billboards play to the habit of Americans for impulse purchases, just like the candy rack at the grocery store. And as it turns out, consumers feel particularly impulsive when they're behind the wheel, with 68% reporting that that's when they make purchasing decisions.9
Turnover rate – Billboards offer a surprisingly high turnover rate when it comes to getting consumers who saw your ad to visit your store. In fact, 32% of Americans report visiting a business they saw advertised on a billboard within a week of seeing the billboard, according to Chron.com.
#9 Digital Options
Don't think that just because they've been around for a while there's not a lot you can do with a billboard to make an impression. While traditional static billboards haven't gone out of style, newer digital versions provide businesses with more options for compelling and effective advertising.
Digital billboards can be especially eye-catching to billboard viewers with attractive LED displays, playable videos, and other features that grab the attention of consumers. These features allow advertisers to advertise in ways that are:
Timely – Although static billboards can be limiting—once the design is up, you can't really change it—digital billboards allow your advertisements to change their message based on the time of day.
More creative – The possibilities offered by digital billboards can translate to more creative, unique, and effective advertising.
Mobile app integration options – Using GPS technology and smart location-based functions known as geofencing, billboards can interact with certain navigation apps, alerting drivers when your business is nearby and even giving them directions to your front door.
#10 Cost-Effective
Finally, one of the biggest advantages of using billboards for your OOH advertising is how cost-effective they can be.
It's easy to balk at the price of billboards. Even junior posters or smaller bulletins can cost businesses a pretty penny. But when you consider the number of people who are likely to see your billboard—especially if it has been thoughtfully placed in a high-traffic area—they're actually very cost-effective, in terms of the impressions they stand to gain.
True Impact Media: Your OOH Advertising Experts
Now that you know some of the main advantages of using billboards for advertising, you're probably excited to get started with OOH media planning in your marketing strategy. And if so, you've probably got a lot of questions, like how to get started, how to make the most impactful impression, and where to place it for optimal results.
For all of your OOH advertising needs, go with the experts. At True Impact Media, we know the complicated ins and outs of launching an effective OOH advertising campaign. That's why we've made it our mission to simplify the process.
At True Impact Media, everything we do is guided by four key values:
Strategy – Our data-driven approach assures that your ads target the right markets using the right formats—all while staying inside your budget.
Access – Our innovative platforms make True Impact Media your one-stop shop for all of your OOH advertising needs, whether you're going traditional or digital.
Execution – We take care of every aspect of your campaign, including the technical stuff like printing, shipping, and posting.
Management – We manage your entire campaign while keeping you up-to-date on everything we're doing with regular performance reports, posting proof, and more.
With True Impact Media, your OOH campaign is just a click away. Get started today.
Sources: