Augmented reality (AR) advertising is new, exciting, and only growing in popularity. Smartphone apps that allow customers to engage with augmented reality ads and other marketing campaigns were downloaded one billion times in 2016. By the end of 2022, that number is expected to reach over five billion.
In short, augmented reality advertising is the wave of the future for OOH marketing campaigns, and businesses that want to remain competitive, reach customers and increase their ROI are turning to the medium to revitalize their ad campaigns.
The first step to integrating augmented reality into your advertising is understanding exactly what AR marketing is, how consumers interact with AR advertising, and how brands everywhere leverage them for real-world benefits. Keep reading for everything you need to know about this type of AI and advertising campaign.
Augmented Reality Advertising: The New OOH Frontier
The first augmented reality campaign dates back to Munich, Germany, in 2008. For the car manufacturer BMW, advertising designed an AR print ad for magazines that featured an image of a car. When the image was held in front of a computer, the car appeared on the screen, where viewers could manipulate the angles of how the car was presented to gain a more realistic look.
Over the past decade, augmented reality advertising has come a long way, largely thanks to the rise of the smartphone and 5G wireless connectivity. Advanced technologies have enabled marketers to combine the real world with the artificial to create an AR advertisement that consumers can experience, not just look at.
So, what is augmented reality advertising?
An augmented reality advertisement is an ad that takes place in the "real world" and in a virtual reality. Many AR ads are accessed via special augmented reality glasses. However, an increasing number rely on smartphone apps that use the front-face camera to scan the physical world and pepper it with enhanced digital effects and interactive experiences.
AR ads are changing the way consumers think about OOH advertising. Where most traditional advertising campaigns operate under the logic that consumers are an audience that must be entertained, the advantages of augmented reality in advertising are that you invite each potential customer to participate. Depending on the content and the product it's promoting, consumers may be able to:
Test and customize products – In the world of augmented reality technology, a consumer can "try on" an item of clothing before they buy it or see how a particular sofa might look in their living room. They may also be able to tweak products and make customizations.
Experience surroundings – Augmented reality advertising gives consumers the chance to digitally alter their location.
Have shared experiences – Inside the augmented reality experience, a potential customer can interact with other people from the real world.
Why Augmented Reality Advertising Is Good for OOH
AR ads are improving advertising for businesses and consumers. They make for more enjoyable experiences and more effective ads. The benefits include:
Improved customer engagement – According to surveys, consumers like augmented reality advertising. By and large, consumers find AR ads pleasing.
Shareability – These days, even advertisements need viral potential. Fortunately, consumers can easily share their experiences with augmented reality advertising. For businesses, that means your ad could experience a much wider reach.
Engagement tracking – AR ads can tap into a range of GPS features that fine-tune the engagement tracking process, delivering a more accurate idea of how your ads perform.
How Brands Are Using Augmented Reality in OOH
For brands and businesses worldwide, creative advertisers are envisioning unique and compelling ways to use augmented reality to reach consumers through experiential marketing. Here are just a few stand-out examples:
Burger King, "Burn This Ad" – In Brazil, the fast food retailer launched a digital marketing campaign that allowed consumers to set virtual fire to the ads of competing brands. It was a good move for Burger King. The app was downloaded over one billion times and resulted in a 56% increase in in-app purchases.
Ally Bank Monopoly – Ally Bank partnered with the iconic board game Monopoly for an augmented reality advertising campaign that put consumers in the world of the game. The ad, which sent consumers on an augmented reality treasure hunt, used scannable squares throughout six cities that unlocked augmented reality experiences for the more than 100,000 people who played it.
NHS Blood Drive – The National Health Service in the UK used augmented reality marketing to draw attention to the need for blood donations. Consumers could virtually "give blood" through an app connected to a billboard. On the billboard, the image of an ill person was projected. When consumers "gave blood," the person on the billboard started to feel better.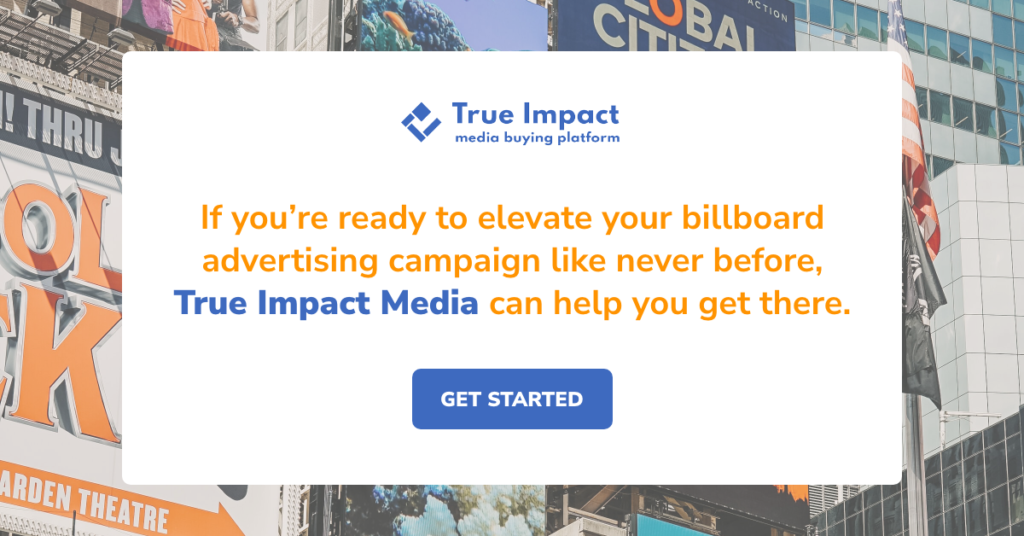 True Impact Media
Whether you step into the future with augmented reality advertising or stick to the classics like billboards and posters, turn to True Impact Media if you want your marketing strategy and ads to resonate and impress.
Our innovative media buying platform enables brands and businesses to tap into the best that OOH advertising (and interactive OOH) has to offer. We simplify and streamline the process so you can focus on crafting compelling ads that help you meet your business goals.
We are also here to answer any advertising-related questions that you may have for your business, such as if marketing in a recession is a good idea. Get started today.
Sources:
Rock Paper Reality. Augmented Reality in Out Of Home Advertising Examples. ​​https://rockpaperreality.com/ar-use-cases/out-of-home-advertising-examples/
Harvard Business Review. The Mainstreaming of Augmented Reality: A Brief History. https://hbr.org/2016/10/the-mainstreaming-of-augmented-reality-a-brief-history#
Vertebrae. Survey Findings Report. https://cdn2.hubspot.net/hubfs/4660705/Vertebrae_Survey-Findings_Full-Report-2018.pdf