When the economy takes a downturn, it can be difficult to know how your business should respond. Do you reduce advertising spending and cut costs in an effort to preserve resources? Or do you hold steady and sail full-tilt through the rough patch? And when it comes to advertising, is it still worth dedicating funds to marketing efforts when your target audience is managing less disposable income?
When the economy suffers, businesses need to make adjustments across the board, including their advertising strategies. But that doesn't necessarily mean you should scale back your marketing efforts. In fact, a glance at how some businesses have fared during past periods of economic turmoil suggests that marketing during a recession significantly helps companies mitigate a recession's effects and see positive long-term outcomes.
That said, there are some ways that a recession can change how you advertise. Keep reading for what you should know about recession marketing.
Focus On the Long-Term
The answer to the question "should you advertise during a recession" is yes, and there's one big reason why: the long-term success of your business.
During a recession, it's all too easy to adopt a short-term mindset and focus on navigating the challenges directly in front of you. Wariness over market projections, employment levels, the dollar's volume, and more lead to questions over what marketing budget expenditures are necessary or could be scaled back. The rush to find savings anywhere is more than understandable.
But it's important to keep in mind that recessions are temporary. Cutting costs or slashing your marketing budget might seem wise for the next few months, but the long-term consequences may not be worth it. And once the economy does turn back around and consumer spending goes back up, starting ad campaigns from a standstill leaves you further behind your competitors than you might expect.
To that end, there are two guiding principles for marketing in a recession:
Don't cut your ad budget – It might be prudent to scale back your ad marketing spend very slightly, but generally, a recession is no reason to neglect your advertising spend altogether. In fact, companies that have cut ad spending during previous recessions have seen sales plummet by 16% after a year and 25% after two years.
Make adjustments – Instead of cutting your ad spending budget, businesses benefit when they respond to economic downturns by coming up with solutions. Reshaping your advertising strategies and marketing campaign tactics so that they address current conditions can help you navigate the terrain.
Learn From The Past
Things can seem extreme during a recession, but it's important to remember that businesses and marketers have weathered these kinds of storms before. For that reason, looking to the past to see how industry leaders managed previous economic downturns can help you envision solutions for your brand's current predicament.
One important lesson that history can teach us is the value of staying the course. When the economy takes a beating, it may seem like good business to scale back on manufacturing or developing new products. But in previous recessions, businesses that have continued to create and promote new products for existing customers have also managed to boost sales, win over new customers, and navigate the turbulent seas unscathed.
Despite the 2008 recession that left many businesses with slumping sales, Amazon managed to boost profits by 28%. The online behemoth did so by leaning into strategies that keep business afloat during the best economic situations, like:
Diversifying products
Expanding services
Launching new products
Adapt To the Changing Needs of Customers
Your new and existing customers are the beating heart of your business whether the economy is good, bad, or somewhere in between. But during a recession, they're even more critical for your brand. You need the reliability of your long-time patrons, of course, but you also need to devote some resources to attracting new business.
There are two ways that recession marketing can do just that:
Adapt to changing needs – During a recession, consumers may be trying to pinch pennies. But that doesn't mean they don't still need the goods and services your company offers. Meeting their current needs could mean developing new products and increasing brand awareness.
Be relatable – Recessions take a financial and emotional toll on consumers. In the past, businesses have successfully navigated recession advertising by playing to the complicated emotions consumers are experiencing. Ads that acknowledge the tough times can drive engagement and increase your ROI.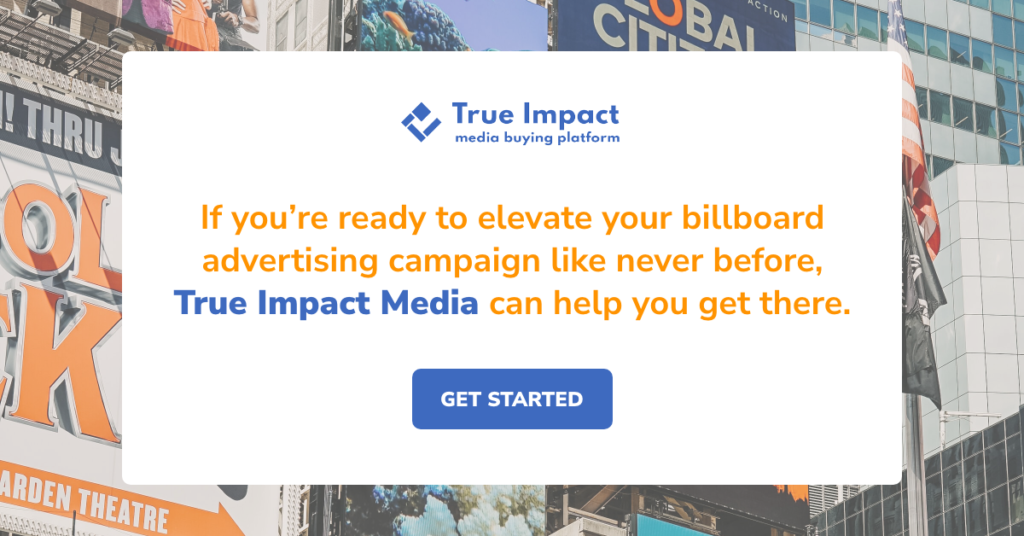 Weather Any Economic Storm With True Impact Media
A bad economy is no reason to back-burner your OOH advertising campaigns. But it is a good reason to partner with experts who know how to leverage OOH best during economic rough patches.
At True Impact Media, we believe in the power of OOH to drive sales and boost profits, even during a recession. But we also know that even in the best economic conditions, OOH advertising can be a complicated and confusing process.
The good news? It doesn't have to be. Our innovative media buying platform makes planning, implementing, and tracking OOH advertising campaigns easy and worry-free.
 
We can also help you learn more about other marketing strategies for your business, whether it be the implementation of AI in advertising or augmented reality advertising. Whether you're just starting out or scaling your efforts, we have the tools to help. Start building your regular or interactive OOH campaign today.
Sources:
Forbes. When A Recession Comes, Don't Stop Advertising. https://www.forbes.com/sites/bradadgate/2019/09/05/when-a-recession-comes-dont-stop-advertising/?sh=301cd4174608
Harvard Business Review. How to Market in a Downturn. https://hbr.org/2009/04/how-to-market-in-a-downturn-2
Marketing Science. What Happens When Brands Stop Advertising? https://www.marketingscience.info/when-brands-stop-advertising/