Different types of billboards are everywhere. That begs the question: Are billboards effective? Whether you're driving on your morning commute or walking around a city, you're passing by billboards as you go. This omnipresence is one reason they're such an effective outdoor advertising platform. In fact, a recent study concluded that out of almost 88% of adults who notice OOH ads, nearly 80% of them are inspired to take action—which can include visiting the site, making a purchase, and more.
But before strategizing your billboard campaign, there's a question you must answer: is a billboard ad the best choice for your business? There are many factors to consider when asking yourself that question, but one factor looms large:
How much does a billboard cost?
Let's get some answers. In this guide, we'll go over the factors that affect billboard advertising costs and look at a range of billboard advertisement prices. Hopefully, with this information, you can get a better idea of whether a billboard advertising campaign will be a good fit for your business.
Types of Billboards
When we try to figure out how much a billboard space is, we first have to answer: What type of billboard? Billboards come in a variety of types and sizes, which affect the billboard price.
Digital vs. Physical
Two main types of billboards you can choose from are a digital billboard or a more traditional, physical billboard. When discussing digital billboards vs. traditional billboards, they each have their own benefits to consider.
In the case of digital billboards and electronic billboards (or even digital marketing signage in general), the benefits include:
More dynamic, eye-catching options
Better targeting, as you can change your focus during different times of the day
More adaptable, as you can change or edit your advertising space more easily
But there are some drawbacks to digital billboards that you won't have to deal with if you opt for traditional billboards:
Scarce Inventory – There are simply more places that can accommodate a physical billboard over digital billboard advertising. This gives you more options for where you locate your ad.

Glitches – One of the benefits of billboard advertising is that once you put it up, it works 24/7. That is, unless your digital billboard glitches and goes dark. This is a concern you won't have with a traditional billboard advertising space.
And, of course, there's a difference in billboard costs. Because of the scarcity of inventory and the technology used, a digital billboard will cost more than a traditional one. If you have an idea that will only work digitally, the cost may be worth it, but if your ad can work on a traditional billboard, the savings might make that a better option for your business.1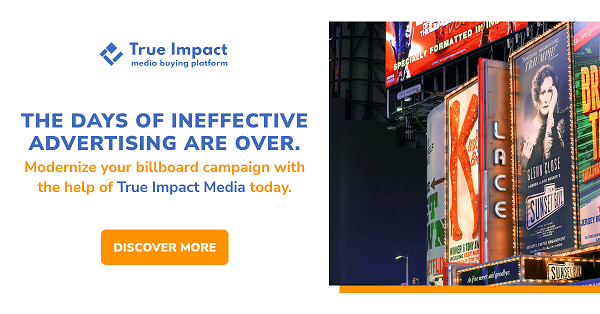 Size
Do you need a large billboard or perhaps a small ad space to help increase brand awareness? Billboards come in many sizes, which are designated by various categories, including:
Bulletins
Posters
Junior Posters
Spectaculars
Wallscapes or murals
The size you opt for will affect your billboard cost, with larger billboards being more expensive than smaller ones. When deciding what size billboard is right for you, you need to consider your budget, but also what your goals are—certain sizes may suit your needs better than others. 2For this reason, it's really important to know the mindset and habits of your target audience. To help you decide the right size, you can ask the experts at True Impact Media to see some billboard advertising examples.
Average Costs
How much would a billboard rental cost? Since the most common type of static billboard is a bulletin, we can use that to look at average billboard costs. Unfortunately, choosing only one billboard size to look at leaves a huge range of potential prices because of another factor: billboard location.
Ultimately, billboards are another form of real estate, and as the old real estate saying goes: location, location, location. Want to see what we mean?
Let's take a look at high-end and low-end examples of how location affects billboard cost:
Rural Texas

Lower end: $75 per month
Higher End: $1000 per month
Compare that to the billboard advertising cost of a more high-traffic area, such as:
Los Angeles, California

Lower end: $1,000 per month
Higher End: $10,000+ per month
As you can see, location plays a major role in determining how much it will cost to rent a billboard or other type of outdoor ad.3 Location also plays a role in determining how many impressions your billboard location will gather. For more information on how to calculate impressions for your billboard advertisement, our resource center can help you find more ways to measure your impact on a target audience.
Additional Costs
Renting space is your main cost when purchasing a billboard ad space, but it isn't your only cost. Some other costs you need to factor in include:
Materials – Most modern billboards are made using vinyl. Vinyl prices will vary depending on where you get them, but $2 per square foot is a good starting point.

Installation/Removal fees – Whatever company you rent your billboard space from will also charge you for installation and removal. They may include these fees in your rental contract, but be sure to double-check so you aren't hit with any surprises.

Design – There are design firms that specialize in billboard advertising, and prices will vary. But whether you're asking a firm to completely create your ad or just implement your billboard design, you should expect this to be another expense.
Let True Impact Media Help
How much does a billboard cost? As you can see, there's no straightforward way to answer that question without first asking a few others. Figuring out what your cost will likely be can be a complicated and confusing process.
That's why True Impact Media is here to help you reap the advantages of out of home advertising. Our experts can work with you to give you an idea of average prices for an outdoor advertising campaign in your area and connect you with a billboard owner looking to rent out space. Let us help simplify the process for you to get the most bang for your advertising buck!
Sources: