Even in our digital age, there are still billboards on highways, and in malls, markets, and other prominent places. This begs the question: Are billboards effective? While advertising your business online can help you reach a wide audience, billboard advertising remains a powerful and effective marketing campaign tool. If you think about it, there's a reason why billboards have been used for outdoor advertising purposes since the 1860s—they work.1
People can't skip past a billboard advertisement the way they can with a television, radio, or YouTube ad. There's no fast-forwarding or muting, and you don't have to hope people are watching or listening at the exact time your ad plays. Billboards stay up 24/7 for the full duration the space is rented. Plus, billboards provide a literal blank canvas for you to showcase your business to a target audience in a way that's as interesting and eye-catching as possible. 
With all the benefits of out of home advertising, you're likely wondering how to get a billboard advertising space. Fortunately, you've come to the right place. This step-by-step guide will show you how to buy a billboard ad or other OOH ad campaign medium so you can start taking advantage of this timeless marketing strategy. 
Step 1: Decide What Type of Billboard is Right for You
Before even beginning the process of securing a billboard advertising space, you need to ask yourself what type of billboard is right for you and if it's the best advertising option for your business. Should you go for a traditional billboard or a digital billboard ad? Read up on the pros and cons of digital billboards vs. traditional billboards to find out which one works best. This means considering the following aspects of billboard advertising: 
Cost – Nothing in this world is free, and billboards are no exception. Size, location, and billboard type all factor into how much a billboard costs. Your monthly billboard rent can range anywhere from $75 for a small billboard in a rural area to over $10,000 in some cities. It's important to consider your budget when choosing the right billboard so that you can find a size, type, and location that matches.

Duration – Your billboard works 24/7 while it's up, so you need to determine how long you think you'll need the advertisement to stay up to make an impact and see gains. If you think you'll need an extended duration, you may want to offset this cost by choosing a smaller billboard size or a different location.2 Make sure to read up on how to calculate impressions so you can measure the impact that outdoor advertising has made on your business.

Restrictions – Certain restrictions may affect whether you're able to advertise with a billboard. For instance, if you're selling tobacco, you can't advertise on a billboard. There may also be restrictions based on your state and the billboard company you're working with, so be sure to check that what you're planning on doing is allowed before deciding to rent billboard space.

Control – With a traditional, physical billboard, changes can't be made to your advertisement once it's been installed (unless you remove the ad and start again from scratch). While digital billboards provide you with more control and adaptability, they cost significantly more than traditional billboards. 
Once you've considered these aspects, you'll be able to determine the best type of billboard for your business and needs.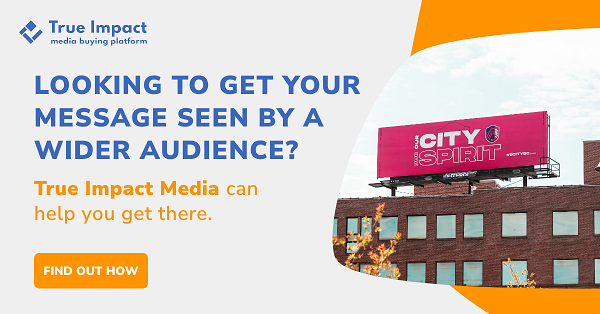 Step 2: Scout Your Ideal Location
Now that you've fully considered your billboard choice, what comes next?
You should probably start looking around to determine the exact location you want to advertise. Location is one of the most important factors when it comes to successful billboard campaigns and gathering high impression numbers for your brand awareness. In theory, you could get in touch with a billboard advertising company and see what locations are available for an OOH campaign, but do you really want to purchase a billboard blind? The last thing you want is to rent a billboard that you later find out no one actually sees. Drive around areas where you'd ideally want to advertise and see what's available. Ideally, the location you choose should be a high-traffic area for increased visibility from potential customers.
Once you see a spot you like, you can reach out to the company that owns the Atlanta billboard and enquire about renting. Many billboards are owned by major companies like:
Lamar advertising
Intersection
JCDecaux
Outfront media
Clear channel outdoor
However, that doesn't account for all available billboards, as there are also local and regional companies. So, once you find a location you like, check the bottom skirt of the billboard to see if it lists the billboard owner. If it doesn't, you're going to have to do some research.
Step 3: Negotiate Your Deal
Once you figure out who owns the ad billboard space you want to rent, you can reach out and start negotiating your rental agreement. The first thing you'll want to do is confirm the billboard's availability and whether it fits with your planned advertising window. If it looks like something is available, then you can start talking about cost.
Aside from the size, location, and billboard type, your ability to negotiate a good deal will also impact the cost of your billboard rental. When negotiating your agreement, it can be beneficial to ask the following questions:
Can I get a discount if I take on a longer lease?
Can I get a discount if I rent more than one billboard?
While these possibilities are worth exploring, make sure not to spend too much time negotiating, especially if your space is in high demand (as it might get snatched up in the time it takes for you to finalize your deal).3 Try to find a balance between haggling for the best price and ensuring you get the billboard location that will most benefit your business.
Step 4: Secure the Necessary Materials
Once upon a time, a billboard advertisement may have been painted, but that's a technique that's rarely seen these days.4 Instead, most modern billboards are made using either plastic or (more likely) vinyl. Fortunately, you may be able to secure the vinyl from the same company that you rent the billboard space from. They may even give you an installation discount if you do. 
However, it's always best to shop around before committing. Look for bids from other companies and see what the lowest cost is. But be wary of being too blatant about this with your billboard rental company, as some companies may try to raise the price if they find out you're not purchasing materials from them.
Finally, be sure you get all of the pricing upfront, so there are no surprises later.
Step 5: Design the Billboard of Your Dreams
Now that you've secured all the basics, it's time for the fun part—designing the billboard you've always envisioned. To start, ask yourself: How do I want to present my company on my billboard design?
If you have trouble with visual messaging, consider reaching out for help from companies that specialize in billboard design. A specialized agency will understand how to effectively turn your ideas into a reality.
Regardless of whether you get assistance or create your own design, there are a few factors you'll want to consider before you go to the drawing board.
Size
Did you know billboards come in many different sizes? The following categories represent the different sizes of billboards there are to choose from:
Bulletins – 14 feet high by 48 feet wide
Posters – 12 feet high by 24 feet wide
Junior Posters – 5 feet high by 11 feet wide
Wallscapes – Dependant on the wall used
Before you rent a space, you should consider the size you want. After you rent the space and know the size, you can consider how best to get your message across in that amount of space.
Impact
Billboards are big, but that doesn't mean you can treat them like a book. People will likely only see your billboard for a few seconds as they drive past it, so you need to find a way to get their attention fast. Once you've caught someone's eye, you also need to get the right information across to achieve your goals.
Some tips are:
Use bright colors
Use images more than words
Include a memorable website name (rather than a phone number)
Personality
If you're going to have many people see your billboard, you may as well show them who you are. No one remembers a billboard because of its professional restraint. Be memorable, and creative, and let people know what you're all about. Who knows? Your billboard might just make it to the list of top billboard advertising examples.
Consider using photos of yourself, your business, or your products. And don't be afraid to have fun with it. After all, the fact that you're advertising on a billboard is an exciting step in your business venture!
Step 6: Let True Impact Media Help
Purchasing a billboard isn't as simple as going down to the billboard store and picking out what you like. You can't comparison-shop on Amazon and have one delivered to the site of your choosing. The truth is, getting a billboard can be a complicated and time-consuming process. Then there's also the added worry of how much does a billboard cost?
This is where we at True Impact Media can help. We understand that a billboard is a major investment for you and your business, so let us work with you to help you achieve your dreams.
We can answer your questions, give you a sense of what you can expect throughout the entire process, and connect you with property owners so you can get the best deals possible (without feeling like you have to search forever).
Choose True Impact Media, and experience the positive impact that billboard advertising can have on you and your business.
Sources: