In today's digital age, traditional advertising methods are no longer as effective as they used to be. With the advent of digital technology, the advertising industry has evolved to include new and innovative ways of reaching consumers. One such method is the use of digital posters. From creative designs to different sizes and use-case scenarios, a digital poster might just be what your business needs to boost your regular or big city advertising campaign.
But before diving into how to use a digital poster and make the most out of your visual content, let's scale back to the basics and cover what they are and the benefits of using them for your business.
Digital Poster 101: What is It?
Simply put, a digital poster is a high-resolution digital display screen used for advertising and communication. They work by using high-resolution screens that are connected to a media player. The media player is responsible for storing and playing back the visual content that is displayed on the screen and is typically connected to the internet, allowing for real-time updates and content changes.
Regular and interactive digital posters are also designed to be dynamic and visually engaging, making them a more effective way for you to communicate with your target audience and demographic compared to traditional posters.
Additionally, you can install them in various indoor and outdoor locations like shopping malls, stadiums, or transit stations, and program them to display different types of content.
Benefits of Using Digital Posters
When it comes to finding new and exciting ways to enhance your advertising efforts, digital posters offer numerous benefits over traditional advertising methods like radio or television. We've outlined a few below:
Interactive
Interactive digital posters are a newer form of digital poster that incorporates touchscreen technology. This allows your audience to interact with the displayed content, providing a more immersive experience. These digital posters can be used to display various content, including product demos, games, and social media feeds. And we can be sure to expect more of them as the world of AI and advertising evolves.
Versatile
Digital posters can display multiple types of content, including images, videos, animations, and live feeds. This versatility allows your business to embrace creativity and develop more engaging and interactive advertisements to capture the attention of your target audience. Better yet, you can test out different digital designs and customizations to see what best resonates with your consumers.
Cost-effective
Unlike traditional posters, which require printing and installation costs, digital posters only require an initial investment in the hardware and software needed to operate them. You can also manage them remotely, making it easier for you to update or change the content on the fly. Overall, digital posters are extremely cost-effective for long-term marketing campaigns in comparison to regular print posters.
Not sure if digital posters are right for your business? Think again…According to a study conducted by Grand View Research, the global digital signage market size was valued at nearly $25 billion in 2022 and is projected to grow at a compound annual growth rate (CAGR) of 8% from 2023 to 2030. That being said, the digital signage market is on the up-and-up, meaning your business can be, too. All it takes is finding the right design to resonate with your brand and audience.
Designing Digital Posters
Ready to design your digital poster? We've outlined key design elements you'll want to consider as you begin the design process and experiment with different concepts and visions.
Colors & fonts: First off, make sure the colors and fonts match the style and message of your brand. Secondly, consider the impact these factors can have on the effectiveness of the poster design, especially when it comes to readability and the overall aesthetic appeal.
Images & Graphics: The use of images and graphics can also be impactful as long as they are high quality and relevant to your brand's message.
Placement design: As you design your digital poster, make sure the placement of your text and images is strategic and designed to draw your viewer's eye to the most important information. This is also your chance to test out different designs to see what works best for the message you're trying to convey.
Overall, a successful digital poster design requires careful consideration of all these elements to create a visually appealing and effective communication tool.
How to Use Digital Posters: Best Practices
You can leverage the power of digital posters in countless ways. Whether you're using them for product promotions, event announcements, or general brand awareness, they can be a great addition to your marketing campaigns.
But to truly maximize the benefits of digital posters, consider the following best practices when designing and deploying them:
Location: When it comes to selecting the best poster billboard location, opt for high-traffic areas to ensure your custom posters are seen by the right audience and at the right time is critical. Additionally, consider the height and angle at which your poster will be viewed at different locations, as well as any surrounding environmental factors that may impact visibility.
Messaging: Clear and concise messaging that can be quickly understood at a glance is essential, as viewers may only have a few seconds to process the information before moving on. A well-crafted message that resonates with your target audience can make all the difference in capturing their attention and driving engagement.
Routine updates: To keep viewers engaged over time, it's also important to update the content of your digital posters frequently. This could mean rotating different messages or images on a regular basis or incorporating dynamic content that changes based on external factors, such as weather or time of day. By keeping your poster's content fresh and relevant, it can remain effective at capturing attention and driving engagement over the long term.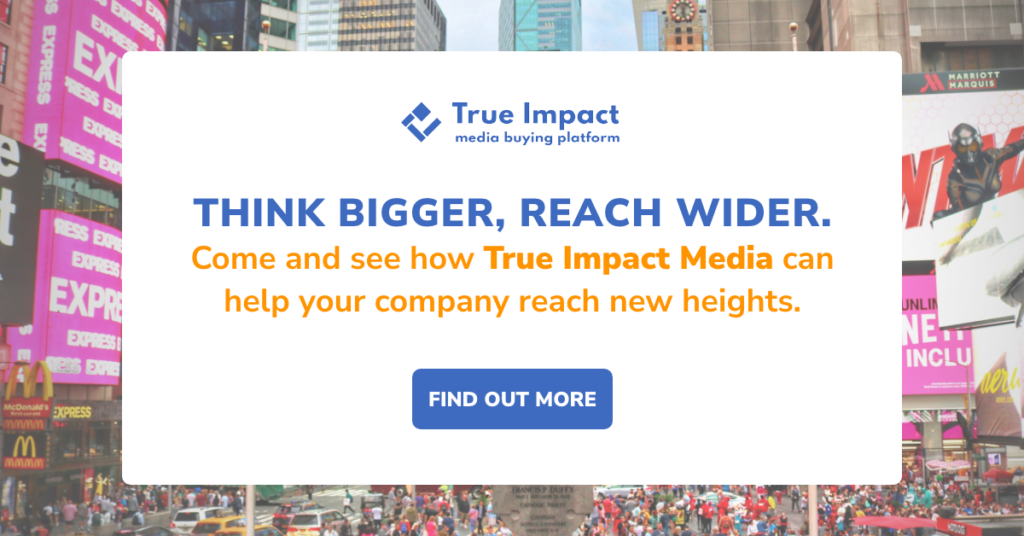 Reach Your Digital Poster Potential With True Impact Media
Digital posters offer an innovative solution for businesses looking to enhance their marketing and communication strategies. However, designing effective digital posters requires expertise and experience.
This is where our team at True Impact Media excels. As one of the leading outdoor advertising companies, we're here to help your business succeed with the right OOH and billboard market strategy from start to finish.
Our team of experienced and creative professionals works with you to help your business stand out from the competition and connect with your target audience. So, why wait? Contact us today to get your campaign underway!
Sources:
Digital Signage vs Print and Traditonal Media. Troudigital. https://troudigital.com/digital-signage-blog/digital-signage-vs-print/#:~:text=On%20the%20surface%2C%20traditional%20posters,digital%20screen%20will%20be%20cheaper.
Digital Signage Market Size & Growth Report, 2030. Grand View Research. https://www.grandviewresearch.com/industry-analysis/digital-signage-market