When it comes to outdoor advertising, you may have to decide between direct and programmatic advertising for different types of billboards and display ads to ramp up your campaign. But luckily, you're not alone!
Direct vs programmatic advertising for billboards is a hot topic in the marketing and advertisement world; many industries are attempting to determine which ad campaign method to lean on as they strive to attract wide audiences. While each approach has its advantages, you'll want to select the best choice for your business––and we're here to help you do just that.
Before choosing between direct and programmatic billboard advertising, let's break down the key differences between the two, the benefits of each, and when to opt for one over the other.
What is Direct Billboard Advertising?
Direct billboard advertising is a traditional form of out-of-home (OOH) advertising involving the direct media buying of a specific billboard space. A direct ad will help promote your brand and message—whether you're advertising at sporting events or using big city advertising methods.
This approach has become an increasingly popular choice for businesses and marketers over the years due to a few outstanding factors:
Increased control and flexibility of design, sizing, and messaging
Ability to capture large audiences quickly by increasing ad impression reach for longer periods of time
Simple integration with other marketing campaigns
When it comes to direct billboard advertising, and depending on your marketing campaign goals, you can rent or purchase a billboard ad space for a period of time ranging from several weeks or months to a year or more.
During the rental term, you have full control of the content that appears on the board. So, be sure to create a compelling and unique billboard design that your target audience will learn to love and recognize. This especially applies if you're honing in on your hyperlocal advertising efforts. Direct billboard advertising can help you increase brand recognition, boost direct sales in the area, and draw attention to local businesses and visitors alike.
When combined with other marketing efforts, direct billboard advertising can be a powerful tool for your business as you expand your reach and maximize visibility. Learn more about OOH social media.
What is Programmatic Billboard Advertising?
Ever wondered how a good advertiser can target their advertisements at the right place, right time, and in front of the right people? Well, programmatic billboard advertising allows you to do just that. But, how exactly does this approach work? We're here to break it down.
In simple terms, programmatic billboard advertising is a targeted and automated method of buying advertising space on billboards, using real-time bidding technology and data to purchase space for a particular location at a specified time. For example, if you're looking to broaden your brand's visibility to frequent travelers, programmatic technology allows you to make automated transactions for ad space in crowded spaces like airports, along busy highways, or in the bustling streets of a big city.
This type of advertising allows you to customize your business's advertisements based on the locations and demographics you're looking to target. Used carefully and correctly, you can use programmatic to tailor more effective messages and relevant ads to increase ROI.
If you're leaning towards this approach, be sure to have accurate audience data and a clear plan for using those numbers when targeting your ads. This technology allows you to test various locations and times to find the best fit for your campaign. So, don't be afraid to try different tactics to see which one sticks.
Ultimately, by combining data with creative and attention-grabbing ads that stand out from the competition, programmatic advertising can prove to be very effective for your business.
When to Use Programmatic or Direct Advertising
Now that you know the basics of direct and programmatic advertising, the decision between using one method over the other for your billboard campaign depends on a few key factors like your:
Industry
Audience
Budget
Flexibility of your marketing campaign
If you're looking to reach a specific audience, want to be in control of your ad placement, and prefer a long-term preference to make a lasting impression, direct advertising may be your best bet. This approach allows you to rent or purchase a billboard for an extended period and be in control of the exact ad space location, design, and messaging.
On the flip side, if you're looking to capture a wide audience, are budget conscious, and require flexibility regarding where your advertisements are placed, you may want to lean on programmatic ad buying. By offering real time bidding, you can efficiently target audiences with specific demographics and interests and measure your ad's overall effectiveness.
Ultimately, deciding between direct and programmatic advertising will depend on your budget, industry, and the type of audience you're trying to reach. If you're stuck between both methods, why not test both?
Regardless of which OOH method you choose, it's bound to be effective. As of 2022, OOH advertising revenue increased by nearly 30%, totaling approximately $2.7 billion in revenue. As the marketing landscape shifts day-to-day, you can expect to rely on OOH for your campaigns. As you start your outdoor advertising journey, be sure to lean on a team of OOH professionals that can help you reach your marketing goals from start to finish.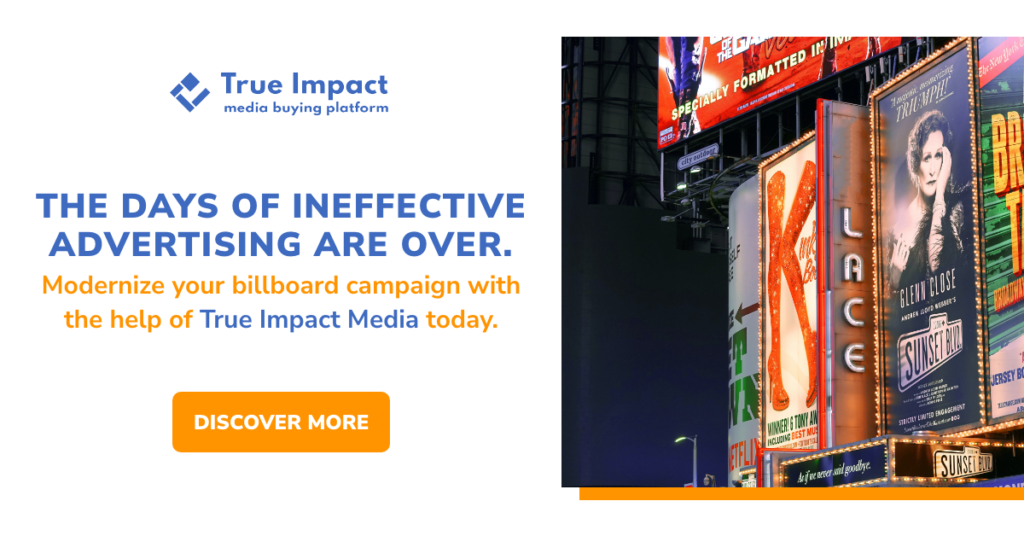 Make a Lasting Impression with True Impact Media
Choosing the right marketing method for your business can be overwhelming, especially when it comes to programmatic and direct advertising billboards. However, by taking the time, energy, and patience to craft an effective strategy, your billboard ads can significantly impact your business and marketing goals––and we're here to see to it.
With years of experience in the industry, our team at True Impact Media knows how to best leverage both programmatic and direct advertising strategies to get the most out of your budget. Our specialization in developing targeted campaigns is designed to help you reach the right audience with the right message.
Contact us today to learn more about how we can help with your billboard advertising campaign. Whether you're looking to go programmatic or direct, True Impact Media has the experience and resources to get you the results you're looking for.
Sources:
OAAA. Annual & Quarterly Revenue. https://oaaa.org/resources/annual-quarterly-revenue/