When you think of long-standing advertising mediums, billboard advertising is certainly one of the first methods that come to mind. Since their emergence in the mid-nineteenth century, they've come to dot US federal highways, backroads, and metropolitan areas, proclaiming services and announcing new products with grandeur.
Like Rome, any road you drive or walk down seems to lead to a billboard.
But have you ever wondered just how many billboards are in the US? In 2021, over 350,000 big format outdoor displays could be found across the country. And of those, roughly 9.6 thousand featured digital billboard displays.
But this number looks to keep rising—trends in the out-of-home (OOH) are showing strong signs of growth. Let's take a closer look at what's driving the growth of outdoor ads.
US Billboard Numbers Showing a Resurgence
Looking at the number of billboards recorded annually over the last few years, 2017 was the high mark in the outdoor advertising industry—with 368,839 found across US skylines. And although that count dipped in 2018, the following years saw steady growth return.
That one-year decrease hasn't left a sizable impact on the OOH advertising industry—even with the 2020 decline in OOH ad spending attributable to the pandemic.
Instead, 2021 saw businesses' total OOH allocations increase to $8.72 billion, and 2024 projections currently expect $10.5 billion will be spent next year. Moreover, the first quarter of 2022 saw OOH advertising revenue set a new record, with 40.5% growth overall and 57% in digital billboards alone compared to the close-out months of 2021.
So, it's a good thing the number of billboards is increasing again, as the demand for these locations should rise with businesses increasing their OOH budgets.
Why are Businesses Increasing Their OOH Spend?
OOH budgets and the total number of billboards have likely grown due to several relevant factors:
Effectiveness – Some new marketing entrants may wonder whether a traditional OOH advertising format like roadside billboards has a place in today's digital and social media-driven world. However, the numbers show not only the continual effectiveness of billboard advertisement campaigns but also their strong performance:
Nearly three out of four drivers responding to a survey said they look at billboard advertisements while driving on regular roads or the highway.
Half of those respondents report being "highly engaged" with those billboards.
Cost efficiency – Marketers are always looking for new channels and tools enabling them to do more with less investment. In that regard, outdoor advertising signs and billboards stand and deliver with a low "cost per 1,000 impressions" (CPM), averaging between $3 and $18. And billboards still perform the best compared to other traditional media formats, like:
Direct mail – Sending your ads via USPS can rack up a CPM of about $300 per mail campaign, with variation depending on the mailer's size and the delivery method.
Radio – Reaching consumers over the airwaves can cost $200 to $5,000 per week for every 1,000 impressions, depending on location, audience size, and when the ad spot runs during the day.
TV – At the highest price, CPMs for TV ads in Los Angeles reach nearly $35. However, this varies by location; New York City's is slightly over $27.
Print ads – As with radio and TV, this will depend on your local newspaper––primarily due to varying prices per column inch for a given publication. Using the Bozeman Daily Chronicle for reference, the Houston Chronicle estimates print ads' CPM at roughly $25.
ROI – Cost efficiency is only one side of ad spending; your channels and campaigns still need to deliver a return on that investment (ROI) through sales or other metrics. But billboards provide high ROI compared to other channels as well: 497%. And the overwhelming majority of brands—96%—reports that a traditional billboard can help them reach their ROI and other goals, like digital engagement and brand awareness.
Digital ad fatigue – Whether we've become conditioned to ignore websites' banner ads automatically, the recent emphasis on staying inside led to a new appreciation for getting outside and OOH ads, or some other reason: consumers report noticing billboards more.
The Downside to More Billboards
Unfortunately, adding more billboards does nothing to help businesses' most significant challenge with OOH: Determining what placements to buy. With a plethora of billboard location, opportunities, sizes, costs and other OOH considerations, many lareg and small businesses alike struggle to find an entry point into this long-standing yet still-impactful medium (or a way to increase their current investment):
Over 80% find the OOH advertisement buying process difficult to navigate.
Managing OOH campaigns and assets add an additional 17 hours of work per week.
Over 75% state that these challenges present a barrier to increasing their OOH budgets.
More billboards going up around the US doesn't alleviate these issues.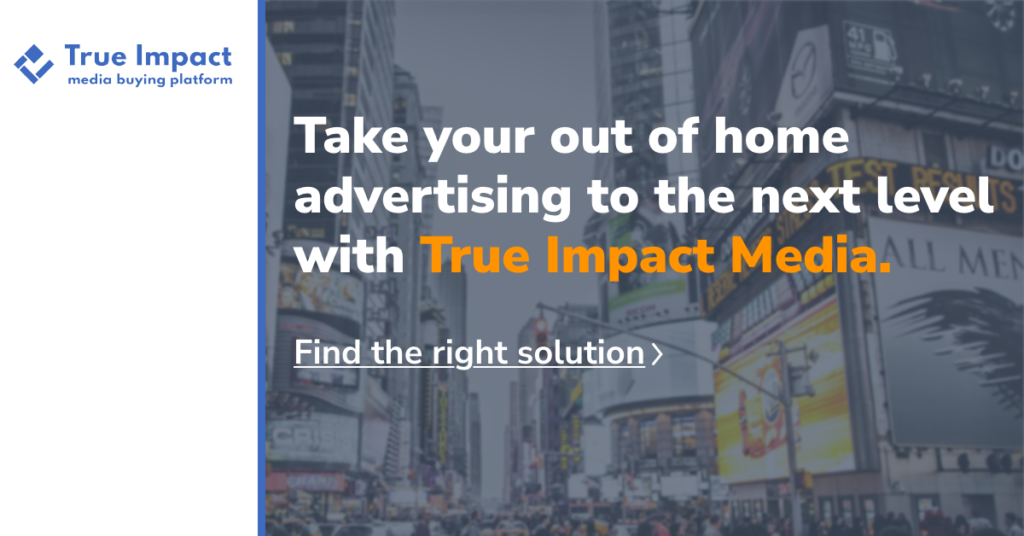 Enter OOH with the Experts to Achieve a True Impact
At True Impact Media, we intimately understand the challenges preventing businesses from taking advantage of the growth opportunities OOH advertising enables. In fact, we found the process cumbersome enough that we built our universal OOH media buying platform.
So, if you've been considering how to implement an OOH strategy for your businesses but don't know where to start, contact us today! From hyperlocal advertising to big city advertising, we'll guide you through everything you need to know and provide you with the tools to make your strategy as impactful as possible.
Sources:
OOOA. History of OOH.https://oaaa.org/resources/history-of-ooh/
Statista. Number of billboards in the United States from 2016 to 2021. https://www.statista.com/statistics/686026/number-billboards-usa/
Statista. Outdoor advertising spending in North America from 2000 to 2024. https://www.statista.com/statistics/882020/outdoor-advertising-expenditure-in-north-america/
OOH Today. Out of Home Advertising Up 40.5% in Q1 2022. https://oohtoday.com/out-of-home-advertising-up-40-5-in-q1-2022-heres-the-top-10-by-total-spend/
Business Wire. 96% of Marketers Achieved ROI Goals with Out-of-Home Marketing Campaigns, Says New Research. https://www.businesswire.com/news/home/20220914005125/en/96-of-Marketers-Achieved-ROI-Goals-with-Out-of-Home-Marketing-Campaigns-Says-New-Research
Houston Chronicle. What is a Typical CPM? https://smallbusiness.chron.com/typical-cpm-74763.html